Pristyn Care
Pristyn Care is one of the best health care providers in India that has several branches of clinics and hospitals. At this clinic, we have experienced General Surgeons, ENT Specialists and Opthalmologist. They use the latest and advanced technological medical devices and USFDA approved surgical methods to treat diseases and disorders like Tonsillitis, Adenoiditis, Hearing Loss, Piles, Hemorrhoids, Mulvyadh, Fistula, Perforated Eardrum, Gallstones, Anal Fissures, Pilonidal Sinus, Deviated Nasal Septum, Cataract Surgery and Vision problems.
We follow world-class healthcare guidelines to provide the utmost care and safest surgical experiences to all the patients.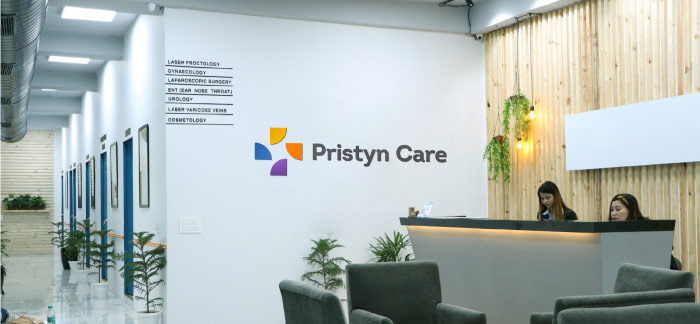 Timings: Monday-Saturday (10:00 AM-8:00 PM)
Speciality: General Surgeon, Ent Specialist, Opthal, Gynaecologist
Addresses
No. 76, HVV Plaza, 15th Cross, 4th Main Rd, Malleshwaram, Bengaluru, Karnataka 560055
KHB Colony, 5th Block 17th B Main Rd,,Koramangala,Bengaluru,Karnataka 560095
No 610, 1st Floor, C Block AECS Layout, Kundalahalli,Whitefield,Bengaluru,Karnataka 560037
741, Outer Ring Rd, KR Layout, JP Nagar Phase 6, JP Nagar ,Bengaluru,Karnataka 560041
No. 76, HVV Plaza, 15th Cross, 4th Main Rd,Malleshwaram,Bengaluru,Karnataka 560003
266/C 80 Feet Road,Indiranagar,Bengaluru,Karnataka 560038
Manipal Hospitals, HAL Airport Road
Manipal Hospitals are medical units created under the Manipal Health Enterprises group. Bangalore has 3 branches of its multi-specialties. The patient-centric approach of doctors and paramedical staff has garnered the hospitals a dedicated patient base. The ENT department has finest medical talent and creamiest of the lot. Patients have a happy smile after getting treated at Manipal, which alone is a marker of its success in Bangalore.
Salient Features
Ranks in 5 best hospitals surveyed by Ministry of Consumer Affairs of Govt. of India
Accreditation from National Accreditation Board for Hospitals and Healthcare Providers
First in South India to introduce Radio Frequency Surgery for Somnoplasty (snoring) and Turbinoplasty (nasal obstruction)
24*7 facilities for emergencies of patients of ear, nose and throat
Complex procedures like Dacryocystorhinostomy are carried out for treating issues of nasal cavity
Screening programs for detecting hearing ability and possible auditory defects in new-borns
Auditory Verbal Therapy programs for deaf children
Esteemed Panel of Doctors
Dr. Anitha Kumari A.M- Consultant (ENT)
Dr. Bathi Reddy- Consultant (ENT)
Dr. E.V.Raman- Consultant (ENT)
Dr. Girish Rai- Consultant (ENT)
Dr. Shalina Ray- Consultant (ENT)
Dr. V.T. Anand- Consultant (ENT)
Address
Manipal Hospital Bangalore
98, Opposite, Leela Palace Rd,
Kodihalli, Bengaluru, Karnataka 560017
---
Fortis Hospital, Bannerghatta Road
Fortis Hospital, Bannerghatta Road is among the leading ENT health-care institutes across Bangalore city. It follows world-class health-care delivery system rendering the finest medical assistance to its beneficiaries. The ENT unit is updated with modern innovations with an ideal combination of people, process and technology to ensure best medical care to those in need.
Salient Features
Capacity of 276 hospital beds
Accredited under Joint International Commission
NABH accredited hospital
Certified by Medical Travel Quality Alliance
Special speech therapy sub department to help patients with speech impairments
Department of audiology is backed with latest technologies and equipment to enhance communication for patients with hearing aid
Exclusive sleep labs available at the ENT department to treat patients suffering from sleep apnoea
Travel desk operational 24/7 to fulfill Foreign Regional Registration Form (FRRO) formalities, accommodation assistance, visa extensions, etc.
Esteemed panel of doctors
Dr. Athira Ramakrishnan – ENT, Head & Neck Surgeon
Dr. H K Susheen Dutt – Minimal Access ENT Surgeon
Dr. Karthik Shamanna – ENT Surgeon
Address
Fortis Hospital
154/9, Bannerghatta Road,
Opposite IIM-B, Bangalore - 560076
We have composed a comprehensive list of the best ENT surgeons in Bangalore for your reference.
---
Manipal Hospital, Whitefield
The center for Otolaryngology at Manipal Hospital serves finest quality of healthcare solutions to manage all types of disorders associated with the ear, nose and throat. The clinical units under the ENT section conduct state of art general check up programs; especially for children and elderly patients on a regular basis. The surgical units for ENT provide laser based technological assistance aiming towards better results and faster recovery.
Salient Features
Hospital well equipped with 280 beds
Honored NABH center
All laboratories certified under NABL accreditation
Blood bank services accredited under NABH standards
Clinical and interventional provisions delivered following global standards
Laser technologies used in many interventional and complex surgery areas for ear, nose and throat
State of art infrastructure for ENT emergencies to provide full scaled services
High end systems used for ENT cancer and palliative ENT care procedures
Trauma and intensive care medical assistances catered on a full time basis
Pharmaceuticals available within the same campus 24/7
Esteemed Panel of Doctors
Dr. Anitha Kumari A M – ENT Specialist
Dr. Shalina Ray – ENT Surgeon
Dr. Vijay Rangachari – ENT Specialist
Dr. Alok Banka – ENT Surgeon
Address
Manipal Hospital, 143, 212-2015,
KR Puram, Hobli, Off. Hoodi Village,
EPIP, Industrial Area,
Bangalore, Karnataka - 560066
---
Apollo Hospital, Jayanagar
Apollo Hospital, Jayanagar is among the most trusted medical facilities in Bangalore. It is known for constantly innovating and delivering care with a compassionate approach to all its patients. The Department of ENT at this hospital is always ready to treat a variety of disorders affecting the ears, nose & throat, thanks to a team of highly qualified medical experts. Equipped with state of the art diagnostic and therapeutic technology, treatments are given here keeping in mind the interest and health of patients.
Salient Features
JCI approved hospital
Compliant with AAHRPP guidelines
Ambulance services available to provide basic and advanced life support off the hospital premises
24/7 accident and emergency services
On call team of physicians and para-medical staff to tackle with medical emergencies at any time
Imaging modalities like MRI, CT scan, ultrasound, digital radiography, doppler, CBCT, etc. to detect hidden pathologies
Operation theaters equipped with HEPA filters for high quality sterilization
Facilities to aid testing procedures like audiometry, nasal endoscopy, tracheoscopy, etc.
Dedicated speech therapists to help improve speech problems
Treatments for hearing loss offered with good clinical outcomes
Collaboration and opinion sharing with doctors from other specialties to improvise approach to treatment
Esteemed Panel of Doctors
Dr. Ravi Manohar, ENT Surgeon
Dr. Sunil Narayan Dutt, ENT Surgeon
Dr. Mahesh Babu M, ENT Surgeon
Address
21/2 Old No.2, 14th Cross Rd,
Jayanagar East, Jaya Nagar 1st Block,
Jayanagar, Bengaluru,
Karnataka 560011
India
---
Columbia Asia- Hebbal
Columbia Asia is a successful health-care provider in the country. Of the fleet of hospitals owned by the group, Bangalore has 2 multi-specialty facilities. The Hebbal facility has 90 bed capacity and is also flagship hospital of the group. It has expert specialists attached to it for treating patients and giving them a normal and disease-free life. The ENT surgeons and specialists have wide experience in otolaryngological procedures.

Salient Features
Received accreditation from National Accreditation Board for Hospitals and Healthcare Providers
The ENT specialists make use of endoscopic treatment techniques for sinus, rhinorhea, skull injuries and polyps' removal
Treatments for skull injuries other than the usual ENT disorders available
Infants born in the hospital are made to undergo screenings for checking defects in hearing, for providing treatments at earliest if required
The hospital has a distinct speech and sleep laboratory
The ENT specialists provide totalistic treatments for sleep apnoea and sleep disorders
Rhinoplasty, Corrective and cosmetic enhancement surgeries of nose are performed by ENT specialists
Esteemed Panel of Doctors
Dr. Santhosh S- Consultant (ENT)
Dr. Girish Anand M.S- Consultant (ENT)
Dr. Vasanthi Anand- ENT Surgeon
Address
Kirloskar Business Park, Bellary Road,
Hebbal, Bangalore - 560 024
---
Aster CMI Hospital, Hebbal
Aster CMI Hospital is a performance driven health-care enterprise located in Bangalore. ENT department has set up a base of state-of-art infrastructure, treatments and diagnosis. It utilizes multi-disciplinary approach to work closely with departments like speech pathology, neonatology and paediatrics.
Salient Features
14 operation theaters
JCI accredited center
Operating rooms utilize virtual technologies for real time imaging and sharing of pictures, videos and medical reports
Operation theaters equipped with isocentric C arm
High-end anesthesia work station to deliver anesthesia gases
Auto-pilot machines available for administration of anesthesia
Full-fledged medical team for infection control
Video endoscopic facilities available surgical interventions of ENT patients
Interventional radiology center operational 24 hours
Speech pathological center available to help patients with speaking skills
Interpretation services on demand offered to patients & their families visiting from different countries
Esteemed panel of doctors
Dr. Prateek Nayak – ENT Surgeon
Dr. Pramod Pandurang – Interventional ENT specialist
Address
Aster CMI Hospital
No. 43/2, New Airport Road,
NH 7, Sahakara Nagar, Bangalore - 560092
---
Dr. Malathi Manipal Hospital, Jayanagar
Diverse surgical, therapeutic and diagnostic audiological procedures practiced at the ENT center of Dr. Malathi Manipal Hospital are among of the finest in the city. The center of ENT is comprised of dedicated ENT specialists, surgeons, therapists and audiologists to nurture the lives of those suffering from various ailments. Modern interventions like radio frequency surgery for snoring utilized here is first of its kind in the southern part of India
Salient Features
7 bedded accident and emergency rooms
Laboratories function under accreditation and quality assurance
24 hours of emergency services
Intensive care unit and critical care unit follow 1:1 nurse-patient ratio on ventilators and 1:2 ratio for other emergency cases
24 hours of services offered by diagnostic and laboratories medicine unit
24 hours of radiology services available
Turbinoplasty surgery available for patients with nose obstruction
Round the clock doctors visit at the critical care department
Neonatal hearing screening tests available to monitor hearing capabilities of newborns
Esteemed panel of doctors
Dr. N R Shankar – ENT surgeon
Dr. Purushotham Chavan – ENT specialist
Dr. Sandhya Patil – ENT specialist
Dr. Sanjay Kumar – Interventional ENT Specialist
Dr. Shanthala M N – ENT Specialist
Address
Doctor Malathi Manipal Hospital
45/1, 45th Cross, 9th Block,
Jayanagar, Bangalore - 560069
We have put together a list of the best ENT doctors in Bangalore for your reference.
---
Columbia Asia Hospital, Whitefield
The ENT department at Columbia Asia is full-fledged with highly qualified ENT surgeons, otolaryngologists, head & neck surgeons, intensivists and radiologists. It utilizes exclusive picture archival communicator system to provide efficient inter-departmental communication with health-care providers. Centralized sterile services are adopted in the campus for easy assess of medical tools.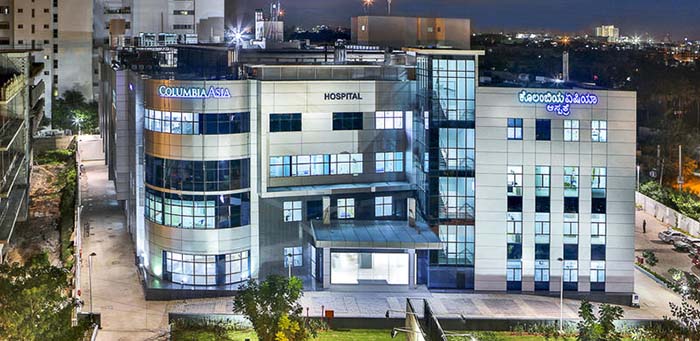 Salient Features
Ambulance services available round the clock
Chemists operational 24/7
Full-scaled emergency rooms functioning 24 hours
Lab services are operational round the clock
Diagnostic & radiology centers function 24/7
Special tele-radiology section infrastructured for international patients and also for patients located at remote locations
Mandatory hearing tests available for newborn babies
24/7 helpline services for national and international patients
Esteemed panel of doctors
Dr. Debasish Datta Majumder – Paediatric ENT Surgeon
Dr. Geeta Nandakishore – Visiting ENT Surgeon
Dr. Leena Balachandar – Interventional ENT surgeon
Address
Columbia Asia Hospital
Survey No. 10P & 12P,
Ramagondanahalli, Varthur Hobli,
Whitefield, Bangalore - 560066
---
Fortis Hospital, Cunnigham Road
The Department of Ear Nose Throat at Fortis Hospital, Cunningham Road has been raising the bar of patients care every year. It is one of the esteemed centers for treating various disorders of ear nose and throat. This department renders newest forms of technologies and innovations in imaging, monitoring and operating areas of health-care sciences.
Salient Features
150 full-fledged hospital beds
34 bed capacity available for intensive care unit including coronary care unit (CCU), medical intensive care unit (MICU) and surgical intensive care unit (SICU)
Intensive care units have separate high dependency unit
Sleep laboratory available to monitor patients with sleep apneoa
Speech therapy sessions conducted to improve the quality of life for patients who find difficult speaking
Audiology sub center available to monitor treatments of patients with hearing impairments
24 hours of comprehensive care offered by the critical care department
24 hours of emergency and trauma care services available
Esteemed panel of doctors
Dr. Ravimanohar – ENT Specialist
Address
Fortis Hospital
14, Cunningham Road,
Vasanth Nagar, Bangalore - 560052