Pristyn Care
Doctors at Pristyn Care are highly educated and qualified to treat patients suffering from diseases like Deviated Nasal Septum, Throat Infection, Tonsillitis, Adenoiditis, Muffling of Speech, Hearing Loss, Gallstones, Piles, Hemorrhoids, Anal Fistulas, Hernias, Fissure, Nose Infection, Mastoiditis, Sinus, Trouble Sleeping. They follow the high standards of medical guidelines to make sure every patient receives the best and safest surgical experience. We follow all precautionary and safety measures recommended by WHO like wearing PPE kits to avoid the contamination of COVID-19 and regular sanitization of hospital equipment.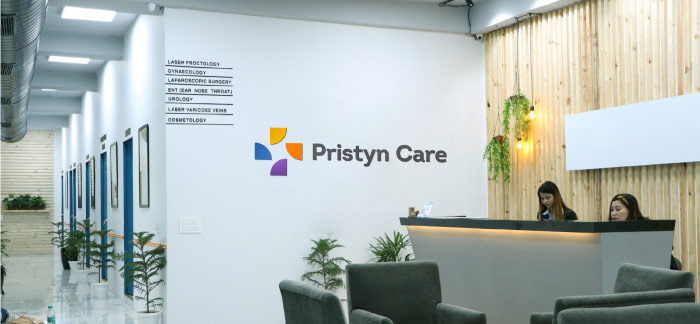 Timings: Monday-Saturday (10:00 AM-8:00 PM)
Speciality: General Surgeon, Ent Specialist
Address
No 2, Old No 7B, Dhandeeswaram Nagar, Velachery, 1st Main Road, Chennai, Tamil Nadu 600042
Apollo Hospital, Greams Road
Apollo Hospital located on Greams Road in Chennai is a top-notch multi-specialty medical unit. It was established in 1983. ENT department at the hospital has all required technological support to facilitate diagnosis and surgical procedures.
Salient Features
Cochlear implant services
Facility of otoplasties or surgical reconstruction of ear to cure deformities
Treatment for hearing and balance issues
Provision of inner ear and skull-base surgery
Facility of trans-septal surgery for pituitary tumors
Provision for Functional Endoscopic Surgery of Sinus (FESS)
Acoustic neuroma treatment facility
Speech audiometry section
Speech therapy to cure speech and language problems
Management of otosclerosis
Establishment of vertigo clinic – ENG
Vestibular rehabilitation programmes
Esteemed panel of doctors
Dr. Babu Manohar, Sr. ENT Consultant
Dr. P S Reddy, Sr. ENT Consultant
Dr. Prabhakaran M, Sr. ENT Consultant
Dr. Ramadass T, Sr. ENT Consultant
Dr. Venkata Karthikeyan C, ENT Specialist
Dr. Balaji R, ENT Specialist
Dr. Ganapathy H, ENT Specialist
Dr. Nithya Narayanan, ENT Specialist
Address
21, Greams Lane,
Off Greams Road,
Chennai - 600006
---
Fortis Malar Hospital, Adyar
Fortis Malar Hospital was previously known as Malar hospital. It was established in the year 1992 and is a renowned tertiary care unit. The hospital has capacity of more than 180 beds. Ear-nose-throat department of the hospital provides effective and best treatments for various ENT disorders at affordable prices.
Salient Features
Implementation of innovative technologies to perform ENT surgeries
Provision of cochlear implant, skull base surgeries and endoscopic nasal surgeries
ENT treatment is provided for both children and adults
Separate department for ENT oncology
The Speech Therapy Department at the hospital performs diagnosis and provides effective treatment for communication impairments, swallowing problems and cognitive impairments
Audiology department handles problems of hearing loss in adults, adolescents and infants
Facility of sleep lab where treatment is provided for people suffering from sleep apnoea
Esteemed panel of doctors
Dr. M N Shankar, Senior ENT Consultant
Dr. Manu Vergis, Consultant for ENT
Dr. R. Ramakrishnan, ENT Consultant
Address
No.52, 1st Main Road,
Gandhi Nagar, Adyar,
Chennai, Tamil Nadu 600020
---
Apollo Spectra Hospital, Alwarpet
Apollo Spectra is the latest offering of Apollo, an esteemed medical chain in India. This branch is managed by over 200 medical consultants and specialists that are the best in their disciplines. The ENT institute offers a wide range of treatment options to people of all ages suffering from ear, nose and throat infections.
Salient Features
4 state-of-the-art operation theaters
Highly updated treatment technologies for surgical use
Complex procedures like cochlear implant, head and neck cancers, micro-ear surgeries are done in the facility
Diagnostic testing for detecting hearing loss, sinus infections, deviated septum, tonsils and other throat infections available
ENT department of this hospital is the largest center for diagnosis and treatments of sleep disorders
Esteemed panel of doctors
Dr. Rajasekar M. K. - ENT Specialist
Dr. Prabha Karthik - ENT Specialist
Dr. Ramadass T - ENT Specialist
Dr. Vikram P. S. J. - ENT Surgeon
Dr. Sunny K. Mehera - ENT Surgeon
Dr. Niraj Joshi - ENT Surgeon
Dr Kiruba Shankar - ENT Surgeon
Address
12, CP Ramaswamy Iyer Rd,
Natesan Colony, Alwarpet,
Chennai, Tamil Nadu 600018
---
Prashant Hospitals
Prashant hospitals offers finest medical care across broad spectrum of specialties. All the medical services provided by the hospital are at par with international standards. The hospital also follows strict protocol of hygiene and safety. ENT specialists at the hospital provide best treatment for various ENT disorders and ensure complete recovery of the patient.
Salient Features
Expert ENT specialists
Facility of Cochlear implant
Use of innovative and latest technologies and internationally approved medical procedures
Consultation, diagnosis and treatment provided for all ENT disorders
ENT-oncology management and treatment
Management of head and neck cancer
Well-equipped laboratory
State-of-art operation theaters
JCI accredited
Esteemed panel of doctors
Dr. Praveen Kumar J, ENT Surgeon
Dr. Raj Praash Y, ENT Surgeon
Dr. S Rajasekaran, ENT Surgeon
Dr. Jagadeesh Marthandam, ENT Consultant
Dr. Ahilasamy, ENT Consultant
Address
Velachery Address:
No.36 & 36A, Velachery Main Road,
Velachery, Chennai - 600 042.
Chetpet Address:
76 & 77 Harrington Road,
Chetpet, Chennai - 600 031
---
Apollo Hospital, Vanagaram
Apollo hospital situated at Vanagaram is a 260 bedded tertiary medical care unit. It is the 50th hospital of the Apollo group. Effective medical treatment is provided for all specialties. Problems associated with ear-nose-throat are resolved by highly qualified and trained ENT specialists.
Salient Features
Expert ENT specialists
Cochlear implant service
Consultation and diagnosis of hearing problems
Facility of speech therapy
Facility to conduct rhinoplasty- surgically enhancing appearance of nose
Correcting of nasal deformities
Tonsillectomy surgery for tonsils patients
Round the clock access to pharmaceutical services
Esteemed panel of doctors
Dr. Ganesh R, Sr. ENT Specialist
Dr. Govindaraj S, ENT Specialist
Dr. Indra T, ENT Consultant
Dr. Shyam kumar S, ENT Consultant
Address
No.64, Vanagaram to Ambattur Main Road,
Chennai-600 095
---
Billroth Hospital, Shenoy Nagar
Billroth Hospital located at Shenoy Nagar is a 600 bedded multi-specialty medical unit that has been delivering quality medical services since 30th November, 1990. ENT section of the hospital is well-equipped with new technologies that play an important role in diagnosis and treatment of ear-nose-throat disorders.
Salient Features
NABH accreditation
NABL certified laboratory
ENT surgeries that are performed include myringoplasty, myringotomy, tympanoplasty, modified radical mastoidectomy (MRM), stapedectomy, mastoidectomy, ear lobe repair surgery, post aural fistula closure surgery etc.
Nose and PNS surgical procedures include FESS, endoscopic polypectomy, endoscopic removal of nasal tumors, septoplasty, septum removal surgery, turbinoplasty, turbinectomy etc.
Throat surgeries that are conducted include adeno-tonsillectomy or tonsillectomy, vallecular cyst excision and styloidectomy
Provision for micro laryngeal surgery is performed to cure vocal cord polyp, vocal cord nodule, vocal cord paralysis and laryngeal papilloma
ENT diagnostic procedures include OTO endoscopy,
video laryngosopy (VLE), diagnostic nasal endoscopy (DNE)
etc.
Esteemed panel of doctors
Dr. Ilambharathi, ENT Surgeon
Dr. R. Parthasarathy, ENT Surgeon
Dr. S. Sundara Pandian, ENT Surgeon
Address
Billroth Hospitals
43, Lakshmi Talkies Road,
Shenoy Nagar, Chennai-30
Vijaya Group of Hospitals, Chennai
Vijaya Group of Hospitals first came into existence in the year 1972. The hospital has been in medical service, providing for health needs of Chennai residents since then. All the departments of this hospital are managed by experienced surgeons and consultants. This improves accuracy and precision of diagnosis. The ENT facility has surgeons, specialists and super-specialists attached to it.
Salient Features
Hospital has NABH (National Accreditation Board for Hospitals & Healthcare providers) and National Accreditation Board for Laboratories (NABL) accreditations
Surgeons handle complex procedures like rhinoplasty, head and neck cancer treatments, advanced micro-ear surgeries with lot of expertise
There are treatments and surgical facilities for sleep disorders, snoring, insomnia and related issues in adults
Surgeries for reconstruction of structures inside ear are also offered
Endoscopic and laser techniques are also available for treatments of ear, nose, throat issues
Esteemed panel of doctors
Dr. P Nataraj - ENT Surgeon
Dr G. Gananathan - ENT Surgeon
Dr. Shyam Kumar S - ENT Surgeon
Address
No. 434, N. S. K. Salai,
Vadapalani,Chennai - 6000 26
Apollo Spectra Hospitals, MRC Nagar
Apollo Spectra hospitals are reliable medical facilities in few Indian cities. The MRC Nagar branch is a 47-bedded facility catering to residents of Chennai. The branch has 5 state-of-the-art operation theaters for surgical use. ENT department of Apollo Spectra is handled by experienced surgeons and specialists that are both permanent and visiting consultants. They are assisted by equally experienced radiologists and pathologists in the diagnosis of ENT illnesses.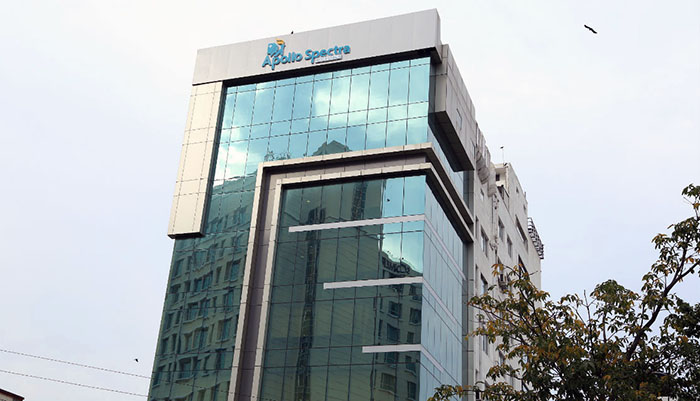 Salient Features
State-of-the-art equipment available for cochlear implants for treating hearing loss
ENT department has been associated with Europlus, an industry leader for treatment of sleep disorders
Advanced surgical techniques are used for treatments of ENT diseases. They reduce blood loss and discomfort for patients.
Diagnostic procedures like laryngoscopy, audiometry, nasal endoscopy, microscopy are performed in the center
Image-guided and stereotactic surgical methods are also used by ENT surgeons in this hospital
Cancers of head, neck and larynx are treated by surgeons expert in its treatment
Esteemed panel of doctors
Dr. Shankar Kumar - ENT Specialist
Dr. Rajasekar. M.K. - ENT Specialist
Dr. Muraleedharan. K - ENT Specialist
Address
41/42, Sathyadev Avenue,
Annamalai Puram, MRC Nagar,
Chennai, Tamil Nadu 600028
---
Gleneagles Global Health City, Perumbakkam
Gleneagles Global Health City in Perumbakkam is spread across 21 acres and has facility of over 1000 beds. The hospital employs spectrum of advanced medical facilities to treat ENT disorders. They have panel of esteemed ENT specialists who thrive to solve ENT problems and provide complete relief.
Salient Features
Pure tone audiometry diagnostic test to assess hearing capacity
Speech assessment diagnostic test
Provision for tonsillectomy surgery
Septoplasty or turbinectomy provision
Hearing and deafness treatment
Cochlear implant facility
Provision for nasal surgeries
Provide myringotomy tubes or ear ventilation tubes
Esteemed panel of doctors
Dr. Krishna Kumar K, ENT Surgeon
Dr. Sundhari V, ENT Specialist
Address
439, Cheran Nagar,
Perumbakkam, Chennai 600100