Pristyn Care
Pristyn Care is one of the best health care providers in India that has several branches of clinics and hospitals. At this clinic, we have experienced General Surgeons and ENT specialists. They use the latest and advanced technological medical devices and USFDA approved surgical methods to treat diseases and disorders like Tonsillitis, Adenoiditis, Hearing Loss, Piles, Hemorrhoids, Mulvyadh, Fistula, Perforated Eardrum, Gallstones, Anal Fissures, Pilonidal Sinus, Deviated Nasal Septum, and Throat Infection.
We follow world-class healthcare guidelines to provide the utmost care and safest surgical experiences to all the patients. Our doctors perform all the surgical procedures with no or minimal scars and reduce the risk of infection.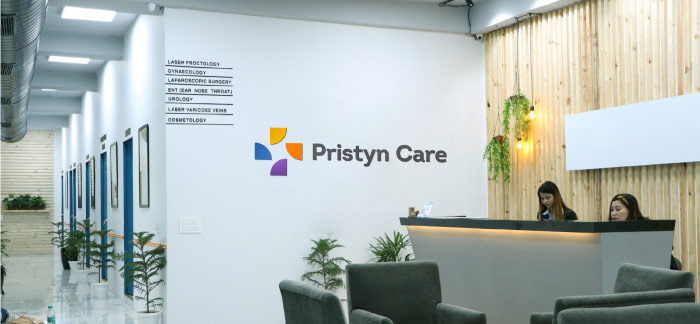 Timings: Monday-Saturday (10:00 AM-8:00 PM)
Speciality: General Surgeon, Ent Specialist
Addresses
3rd Floor, Divine Castle, Cross Rd No 4, Liberty Garden, Malad West, Mumbai, Maharashtra 400064
Infinity Mall, Mum, Twinkle Apartments Adarsh Nagar Rd,Andheri West,Mumbai,Maharashtra 400053
3A/79, Ekta Residency ,Chembur,Mumbai,Maharashtra 400089
Nanavati Super-specialty Hospital, Vile Parle
Founded in 1950, Nanavati Super-specialty Hospital is another oldest multi-specialties Mumbai has. It is an acclaimed multi-specialty having state-of-the-art infrastructure and best of medical specialists for its patients. The ENT specialists and surgeons are highly qualified and experienced in treating any illness related to ears, nose and throat of a patient. Timely and evidence based treatment is what they believe in providing to every patient coming to their hospital.
Salient Features
The hospital was honored with the Healthcare Excellence Award by Indus foundation, Indian Medical Association, Government of Telangana and Federation of Indian Chambers of Commerce & Industry (FICCI) in 2014
A state-of-the-art Electrophysiology and Electroacoustic Centre of Audiology and Speech Therapy Audiology Centre were opened in 2008 for treating patients having speech disorders
The specialists treat patients suffering not only from infections of ear, nose and throat, but also patients suffering from head and neck cancer
The department has high-tech medical equipment for treating patients suffering from every disorder of ear, nose and throat
The hospital offers various packages for full body checkups to their patients
The hospital has tie-ups with many leading private and public sector undertakings
Esteemed Panel of Doctors
Dr. Agneesh Patial- ENT Surgeon
Dr. Jayant Gandhi- ENT Specialist
Dr. Prabodh Karnik- ENT Surgeon
Dr. Narayan Jayshankar- ENT Surgeon
Dr. Manohar Shaan- ENT & Skull base Surgeon
Dr. K.P Morwani- ENT Specialist
Dr. Uday Vora- ENT Specialist
Dr. R.K.Oza- Audiologist
Dr. Ramesh Shah- ENT Surgeon
Address
S.V. Road, Vile Parle (West),
Mumbai 400 056.
---
Global Hospital, Parel
Global Hospital is part of the Gleneagles Global Hospitals Group. It is an elite multi-specialty with highly experienced surgeons available at all times for patient care. World class infrastructure, highly updated treatment technologies, easy connectivity to international airport have made this hospital a viable alternative for patients coming from other countries. The ENT facility is a highly reliable medical center for people to get treated for their ear, nose and throat worries. The department has very genial and agreeable doctors to treat patients suffering for every small and big ENT disorder.
Salient Features
National Accreditation Board for Hospitals & Healthcare Providers (NABH) accreditation given to hospital
Treatments for curing deafness, hearing problems, speech disorders etc. imparted by experienced ENT surgeons
Hearing tests like Pure Tone Audiometry and Ear Ventilation Tubes are the 2 commonly conducted diagnostic procedures
State-of-the-art Intensive Care facilities for dealing with emergencies
12 advanced operation theaters for surgical purposes
Advanced diagnostic machinery like MRI and CT scan technologies
Esteemed panel of doctors
Dr Maqsood Ali:Consultant (ENT Surgery)
Dr Dipak L Desai: Consultant (ENT Surgery)
Dr Prarthana Jagtap: Consultant (ENT Surgery)
Dr Prabodh Karnik: Consultant (ENT Surgery)
Dr Milind Navalakhe: Consultant (ENT Surgery)
Address
35, Dr. E Borges Road,
Hospital Avenue,
Opp Shirodkar High School,
Parel, Mumbai – 400012
We've put together a list of the best ENT surgeons in Mumbai for your reference.
---
Kohinoor Hospital, Kurla
Kohinoor hospital came into existence in 2009. Since then, it has created a niche for itself in the medical industry of Mumbai. The hospital has state-of-the-art infrastructure requisite for treating every major and minor health concern suffered by humans. The ENT facility is geared with high end technological support and equally high standards of hygiene. The department has audiometry and endoscopic surgical facilities as well.
Salient Features
Asia's only LEED Platinum & NABH Certified multi-specialty hospital
175 bedded unit
Hospital has Brain-stem Evoked Response Audiometry (B.E.R.A) testing facility for evaluation of deafness in newborns and adults
Separate facility for treating vertigo and deafness
Specialists perform laser surgeries for treating ear, nose and throat infections
Cancers of head and neck are also treated by specialists in this hospital
Esteemed panel of doctors
Dr. Pragnya Parikh - ENT Specialist
Dr. Sonali Pandit - ENT Specialist
Dr. Sanjay Helale - ENT Specialist
Address
Kirol Road, Off LBS Road,
Kurla (West), Mumbai,
Maharashtra 400070
---
SevenHills Hospital
SevenHills hospital is a celebrated multi-specialty in Mumbai. It provides treatment facilities across 36 medical branches. It makes use of superior technological equipment for treating disorders of eyes, nose and throat. The hospital offers best-in-class treatment facilities for curing congenital deformities of eyes, nose and throat. The hospital is known to be frequented by patients from multiple countries for their health worries as well.
Salient Features
Accredited by Joint Commission International, USA
American Hospital Association certified medical care center in the State of Maharashtra
Has National Accreditation Board for Hospitals and Health-care Providers (NABH) accreditation
Empaneled in Central Government Health Scheme (CGHS)
120 consultation rooms
Highly updated diagnostic machinery for detecting disorders of ear, nose and throat
Surgical facilities available for treating every ear disorder ranging from ear ache to ear deformities and facial paralysis
Surgeons perform surgeries for treating sinus problems, tonsils, thyroid problems, swallowing disorders regularly
Hospital gets cases of patients suffering from nose fractures, voice disorders, stuffiness of nose quite commonly
Reconstructive surgeries of nose for enhancing it or for medical purposes are done
Esteemed panel of doctors
Dr. Jaini Lodha: ENT Consultant
Address
Marol Maroshi Road,
Andheri East, Mumbai 400059