Best Hospitals in Ahmedabad
Following are the top 5 hospitals in Ahmedabad:
Pristyn Care
General surgeons at Pristyn Care are the best and well-known medical professionals in India. We follow world-class health care guidelines to treat diseases like Anal Fistulas, Fissures, Piles, Hemorrhoids, Bawaseer, Pilonidal Sinus, Hydrocele, Varicocele, Hernias, Gallstones, Circumcision and Varicose Veins. We use the latest and advanced medical devices along with USFDA approved surgical techniques to provide the utmost care and reduced risk of infection to all the patients.
All our general surgeons are experts in providing the safest and risk-free surgeries like Laser Fistula Surgery, Laser Pilonidal Sinus Treatment, Laparoscopic Hydrocelectomy, Laser Piles Treatment, Laparoscopic Hernia Repair Surgery, Laser Circumcision, etc.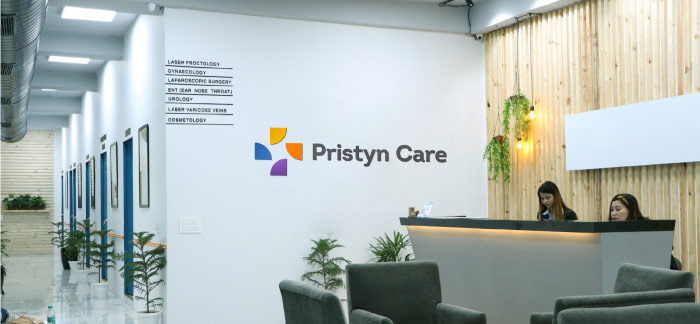 Timings: Monday-Saturday (10:00 AM-8:00 PM)
Speciality: General Surgeon
Address
No 218 & 219, Maple Trade Centre, SAL Hospital Rd, Surdhara Circle, Thaltej, Near Aarogya Multispecialty Clinic, Ahmedabad, Gujarat 380052
Sterling Hospitals
Accredited by NABL and NABH, Sterling Hospital in Ahmedabad is considered as the topmost tertiary care center here. Advocating ethical practices, this hospital is known for provision of world class facilities, surgical and medical care to patients. The hospital specializes in treatment of various critical diseases.
Salient Features
115 ICU unit beds making it the largest set up for Intensive care in Gujarat
Honored as Best Hospital in Ahmedabad in the years 2007, 2009 and 2011
24X7 trauma and emergency care available
Accredited by NABH as a center for quality health care and excellence
NABL has accredited the laboratory of this hospital for providing highest quality diagnostic and testing facilities
Esteemed panel of Doctors
Dr. Abhilash Chokshi, General Surgeon
Dr. Ajay Krishnan, Surgeon (Spine)
Dr. Ajay Desai, Radiologist
Dr. Ajit Sowani, Neurologist
Dr. Ajitkumar Rawal, Gyneac and Obstetrics
Dr. Amol Agrawal, Cardiologist
Dr. Apurva Vyas, Surgeon (Obesity)
Dr. Ashok Patel, Anesthesiologist
Dr. Ashutosh Malvankar, Surgeon (Joint Replacement and Orthopedic)
Dr. Bijal Parikh, Cosmetic Surgeon
Dr. Chirag Desai, Oncologist
Dr. Sanjeev Shah, Pathologist
Address
Sterling Addlife India Limited,
Sterling Hospital Road,
Memnagar Ahmedabad,
Gujarat, India Pincode: 380052
Phone : (079) 40011111 Emergency No. : (079) 40011177
---
Apollo Hospital
Spread on a wide stretch of 10 acres, Apollo Hospital in Ahmedabad has ensured that the reputation of the group as being providers of excellence in terms of medical care and service is maintained. Specializing in above 35 medical disciplines, this hospital renders holistic health care including prevention, care, treatment and education.
Salient Features
More than 270 beds with an expansion plan of upto 400 beds
Pioneer of liver transplant in Gujarat
Above 85 Intensive care unit beds
Accreditation to Blood bank and hospital by NABH
Dedicated units for solid organ and stem cell transplant
Esteemed panel of Doctors
Dr. Anjana Chauhan, Oncologist (Gyneac)
Dr. Sameer Dani, Cardiologist
Dr. Shravan Bohra, Specialist (Organ Transplant and Gastroenterology)
Dr. Vinita Bhagia, Specialist (ENT)
Dr. Mukesh Sharma, Neurologist
Dr. Nandini Vyas, Ophthalmologist
Dr. Darshan Shah, Urologist
Dr. Anagha Zope, Oncologist (Surgical)
Dr. Kamlesh Wadhwani, Surgeon (Cosmetic and Plastic)
Dr. Chirag Shah, Dentist
Dr. Anshul Warman, Dermatologist
Address
Plot No.1 A, Bhat GIDC Estate,
Gandhinagar - 382428, Gujarat, India
Phone: +91 79 66701800 / 01 / 03
Tele Fax: +91 79 66701843
---
SAL Hospital
With provision of high class intensive care, therapeutic and diagnostic facilities at one place, has made SAL Hospitals rank amongst the top centers for patients in Gujarat. Patients from all over India along with the UK, USA and other countries visit this hospital for medical treatment and care.
Salient Features
Around 10,000 patients treated annually
Above 10 specialty clinics and more than 300 beds (75 ICU beds out of the total numbers)
Round the clock emergency and accident care, ambulance, radiology, pathology and pharmacy services
Pick up/Drop facility from Airport available on request
Largest Hospital (Private) in Gujarat
Esteemed panel of Doctors
Dr. Apurva Parikh, Nephrologist
Dr. Ayyappan Thangavel, Surgeon (Cosmetic)
Dr. Manish Goyal, Surgeon (ENT)
Dr. Paras Shah, Sexologist
Dr. Mehul Shah, Cardiologist
Dr. Riddhi Shukla, Gynecologist
Dr. Ketan Shukla, Urologist
Dr. Ajay Upadhyay, Radiologist
Dr. Mrugesh Vaishnav, Psychiatrist
Dr. Sudhir Pujara, Dermatologist
Address
Opposite Doordarshan, Drive-in Road,
Ahmedabad - 380 054, Gujarat, India
Landline: + 91 79 6611 5600 (16 Lines)
Fax: + 91 79 6611 5620
---
Shalby Hospital
Considered amongst the topmost multi specialty hospitals in Western India, Shalby Hospital is a provider of world class treatment for multi-disciplinary diseases at affordable prices. Continuous improvement is a benchmark that the hospital always adheres to. The hospital is specifically known for its expertise in Joint replacement surgery.
Salient Features
ISO 9001:2008, NABL and NABH accreditation
Received many awards including FICCI and Rajiv Gandhi National Quality award
Treatment facilities for more than 25 medical ailments
Revolutionary "OS Needle" invented by founder for Joint replacement surgery that reduced treatment time
Esteemed panel of Doctors
Dr. Keyur Shah, Anesthesiologist
Dr. Shalin Thakore, Cardiologist
Dr. J.A. Pachore, Specialist (Arthoplasty)
Dr. Kajal Shah, Oncologist
Dr. Bhaumik Shah, Surgeon (ENT)
Dr. Nimish Sharma, Radiologist
Dr. Binita Thakore, Ophthalmologist
Dr. Mahendra Chauhan, Neurosurgeon
Dr. Parthiv Agarwal, Cosmetic Surgeon
Dr. Sebasis Bisoi, Specialist (Obesity)
Address
Opposite Karnavati Club, S.G. Highway,
Ahmedabad, Gujarat 380015, India
Phone: +91 79 4020 3000
---
Care Institute of Medical Sciences
Care Institute of Medical Sciences (CIMS) is a leading multi specialty hospital in Ahmedabad. Rendering an unique combination of latest technology and best minds in the medical domain of India, CIMS provides par excellence treatment and service to patients. Patients can find diagnostic, surgical and medical facilities of highest standards at this hospital.
Salient Features
Around 200 beds to treat patients for multi-disciplinary ailments
Accreditation by NABH and NABL
Spacious facilities spread across 17,000 sq yards
Infrastructure facilities include atriums and courtyards (Unique for Hospitals in India)
Unique "Care At Home" facility for serving patients post discharge from hospital
Esteemed panel of Doctors
Dr. Dhaval Rajde, Oncologist (Surgical)
Dr. Anjana Chauhan, Oncologist (Gyeac)
Dr. Urmil Shah, Cardiologist
Dr. Raj Mandot, Nephrologist
Dr. Deepak Patel, Neurosurgeon
Dr. Mihir Mehta, Surgeon (ENT)
Dr. Hema Shah, Surgeon (Plastic)
Dr. Dariya Singh, Surgeon (Joint Replacement)
Dr. Yatin Patel, Gastroenterologist
Dr. Pravin Chandarana, Dentist
Dr. Tejas Shah, Pediatrician
Address
Off Science City Road, Sola,
Ahmedabad - 380060, Gujarat, INDIA
Phone: +91-79-2771 2771-75 [5 Lines]
Fax: +91-79-2771 2770
Mobile: +91-98250 66664 , +91-98250 66668
Ambulance: 09099 011 234 , 098244 50000