Best Hospitals in Bhopal
Following are the top hospitals in Bhopal:
Pristyn Care
General surgeons at Pristyn Care are the best and well-known medical professionals in India. We follow world-class health care guidelines to treat diseases like Anal Fistulas, Fissures, Piles, Hemorrhoids, Bawaseer, Pilonidal Sinus, Hydrocele, Varicocele, Hernias, Gallstones, Circumcision and Varicose Veins. We use the latest and advanced medical devices along with USFDA approved surgical techniques to provide the utmost care and reduced risk of infection to all the patients. All our general surgeons are experts in providing the safest and risk-free surgeries like Laser Fistula Surgery, Laser Pilonidal Sinus Treatment, Laparoscopic Hydrocelectomy, Laser Piles Treatment, Laparoscopic Hernia Repair Surgery, Laser Circumcision, etc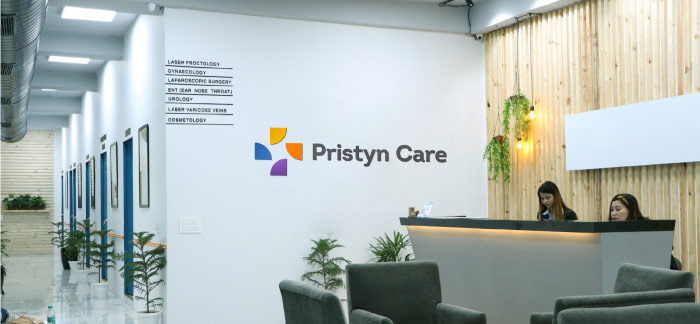 Timings: Monday-Saturday (10:00 AM-8:00 PM)
Speciality: General Surgeon
Address
Plot # 344, 345, Mandakini Society JK Hospital roda, 80 Feet Rd, Kolar Rd, Bhopal, Madhya Pradesh, 462042
Chirayu Medical College & Hospital
Known for its excellence in serving patients with high quality treatments, the Chirayu Medical College & Hospital in Bhopal has become a known health care destination here. With the best doctors available here and use of top quality equipment, the hospital is able to successfully treat patients for various medical ailments.
Salient Features
NABH & NABL accredited hospital
ISO certification
671 hospital beds
40 ICU beds
10 major and 5 minor fully equipped operation theaters
Spread across 25.6 acres
Serene and lush surrounding to aid healing
Diagnostic, emergency, blood bank and laboratory services available
Esteemed panel of Doctors
Dr. Ravi Saxena, Physiologist
Dr. Amar Nath Seth, General Surgeon
Dr. Pradip K. Bhattacharya, Anesthesiologist
Dr. Meena Agarwal, Surgeon (ENT)
Dr. Subhash Sahu, General Surgeon
Address
Bhainsakhedi, Near Bairagarh,
Bhopal-Indore Highway,
Bhopal, M.P. - 462030
Phone No.: +91-755-6679000,6679101,6679102,6679103
Bhopal Memorial Hospital & Research Center
Adhering to its core values of committed care and comprehensive treatments, the Bhopal Memorial Hospital & Research Center provides tertiary care to thousands of patients each year from its inception. The high class infrastructure facilities at this institution are strategically designed to aid treatments.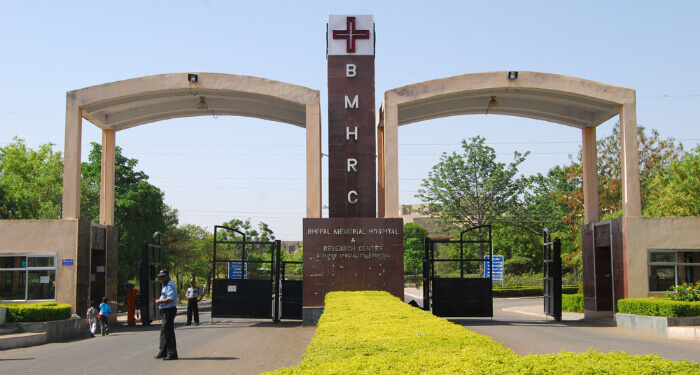 Salient Features
Known doctors and surgeons
350 hospital beds for multi disciplinary medical treatments
Modern technology used to serve patients
Experienced support staff
Comprehensive laboratory and physiotherapy units
Best diagnostic facilities
Different units and departments that are well equipped
Naturist surroundings to aid proper healing
Esteemed panel of Doctors
Dr. Archana Jiganwal, Anesthesiologist
Dr. H.K. Pande, Surgeon (Cardiothoracic)
Dr. Vishakha Singh, Gastroenterologist
Dr. Mallika Sinha, Neurosurgeon
Dr. Vaishali Rai, Ophthalmologist
Dr. Navin Kumar, Oncologist (Surgical)
Dr. Sandeep Kumar Prajapati, Urologist
Dr. Mayank Jain, Specialist (Pulmonary Medicine)
Dr. Murthy Vasant Meghna, Psychiatrist
Address:
Raisen Bypass Road, Bhanpur,
Bhopal, Madhya Pradesh 462038, India
Phone: +91 755 274 2212 - 16
Akshaya Heart Hospital
Akshaya Heart Hospital is one of the most recognized multi specialty hospitals in Central India. Known for globally acclaimed doctors and an efficient support and nursing staff, this hospital provides comprehensive treatments and care at its state-of-art infrastructure facilities.
Salient Features
Modern and well equipped operation theaters, CCU's, ICU's
24X7 laboratory, ambulance and emergency services
Comprehensive diagnostic and pharmacy services
Equipped blood bank
Doctors available round the clock
Hi-tech infrastructure and equipment used
Quality care at affordable costs
Esteemed panel of Doctors
Dr. N.P Mishra, Consultant (Internal Medicine)
Dr. Arvind Joshi, Urologist
Dr. Sushil Jindal, Endocrinologist
Dr. Sandeep Sharma, Consultant (Orthopedics)
Dr. Anand Kale, Plastic Surgeon
Dr. Sarita Chaturvedi, Pathologist
Dr. Sunil Malik, Neurologist
Dr. Sunil Pandit, Neurosurgeon
Dr. Amit Ganguli, Specialist (ENT)
Dr. P.C. Manoria, Cardiologist
Dr. Ashwin Apte, Pediatric Surgeon
Dr. Sumeet Upreti, Radiologist
Dr. G.M. Lale, Ophthalmologist
Dr. Jayshree Bidkar, Gynecologist
Dr. Shyam Agarwal, Oncologist
Address:
Rishi Nagar, Char Imli,
Opposite Ekant Park, Bhopal (M.P.) - 462016
Phone No. - +91-755-2411307, 2422305, 2422307
Fax - +91-755-2422306
Bansal Hospital
Bansal Hospital in Bhopal is known to provide quality medical treatments at low costs to patients with regards to multi disciplinary health care needs. With world class facilities and expert doctors to boast about, this hospital has gained the recognition of being a preferred health care destination in Bhopal.
Salient Features
Every medical and paramedical facility available
Affordable treatments
Round the clock pharmacy and emergency services
300 hospital beds for super specialty treatments
Every specialty has separate OPD
Central air-conditioning
Acclaimed doctors and surgeons
Salient Features
Dr. Skand Kumar Trivedi, Cardiologist
Dr. Ashok Gupta, Rheumatologist
Dr. Ashima Malhotra, Specialist (Dentistry)
Dr. Vidyanand Tripathi, Nephrologist
Dr. Nitin Verma, Consultant (Pediatric)
Dr. Shraddha Agarwal, Gynecologist
Dr. Atul Agarwal, Surgeon (Minimal Invasive & Gastrenterology)
Dr. Vasant H. Trivedi, Surgeon (Orthopedics)
Dr. Nand Kishor Arvind, Surgeon (Urology)
Dr. Sachin Kumar Jain, Neurologist
Dr. Kamlesh Taleshra, Radiologist
Dr. Atul Kumar Samaiya, Oncosurgeon
Address:
Near Shahpura Lake, Shahpura,
Bhopal M.P., (India) - 462016
Phone: +91-755-4086099, +91-755-4086000
Noble Multi Specialty Hospital
Technological advancements and an expert team of surgeons and doctors for multi disciplinary medical ailments makes the Noble Multi Specialty Hospital in Bhopal a trusted name for health care needs. Personal care and accountability of medical team and support staff are aspects that this hospital adheres to while treating patients.
Salient Features
110 hospital beds for treatments
7 storied hospital spread across 62,000 square feet
24X7 pharmacy, ambulance, diagnostic and emergency facilities
Array of clinical specialties treated
NABH and NABL accredited hospital
ISO certification
Visa assistance for international patients
International standards adhered to for patient safety
Esteemed panel of Doctors
Dr. Prashant Srivastava, Cardiologist
Dr. Mohan Firke, Consultant (Critical Care)
Dr. K. K. Kawre, Consultant (Orthopedic)
Dr. Narendra Kumar, Gastroenterologist
Dr. Arvind Namdeo, Oncologist
Dr. A.D. Suri, General Surgeon
Address:
Plot No. 269/1 Opp. Misrod Police Station,
Misrod, Bhopal, Madhya Pradesh 462026, India
Phone: +91 75571 10711