Best Hospitals in Bhubaneshwar
Following are the top hospitals in Bhubaneshwar:
Pristyn Care
General surgeons at Pristyn Care are the best and well-known medical professionals in India. We follow world-class health care guidelines to treat diseases like Anal Fistulas, Fissures, Piles, Hemorrhoids, Bawaseer, Pilonidal Sinus, Hydrocele, Varicocele, Hernias, Gallstones, Circumcision and Varicose Veins. We use the latest and advanced medical devices along with USFDA approved surgical techniques to provide the utmost care and reduced risk of infection to all the patients.
All our general surgeons are experts in providing the safest and risk-free surgeries like Laser Fistula Surgery, Laser Pilonidal Sinus Treatment, Laparoscopic Hydrocelectomy, Laser Piles Treatment, Laparoscopic Hernia Repair Surgery, Laser Circumcision, etc.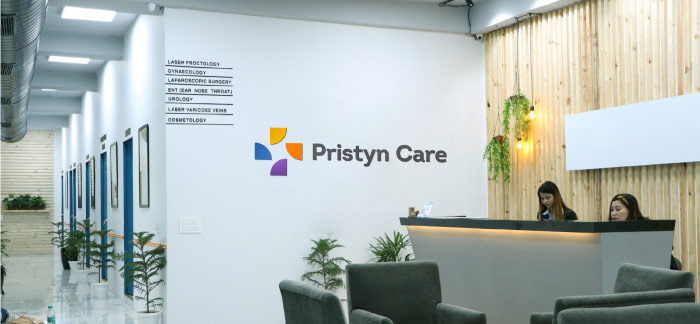 Timings: Monday-Saturday (10:00 AM-8:00 PM)
Speciality: General Surgeon
Address
No 693, Saheed Nagar Road, Saheed Nagar, Bhubaneshwar, Odisha 751007
Kalinga Hospital Ltd
The pioneers of multi super specialty in the state, Kalinga Hospital Ltd. is one of those names that people seek at times of health distress. Focusing not only on effective healing, but also delivering a compassionate care, Kalinga Hospital is definitely one of the best hospitals in Odisha.
Salient Features
An ambience breeding hope and healing, accommodating 250 beds
Certified by the Directorate of Medical Education and Training for conducting Kidney transplantation and has successfully performed more than 300 kidney transplants till date
Has the largest number of apparatus required for dialysis
Up to date trauma and accident care unit available 24/7
A highly equipped cardiac, neuroscience and various other specialties
Also provides complete orthopaedic care including Total Knee Replacement and Hip Replacement surgeries with utmost accuracy
Patients regard this as one of the most affordable as compared to other hospitals of similar potential
Esteemed Panel of Doctors
Dr. Susanta Kumar Patra (Surgeon – Cardio Thoracic and Vascular)
Dr. Sudipta Acharya (Cardiologist)
Dr. Sukanta Chandra Mallick (Dermatologist)
Dr. Amod Chandra Mahakur (Nephrologist)
Dr. Pradeep Kumar Mishra (Surgeon – General)
Dr. Dilip Kumar Kar (Surgeon – Oncology)
Dr. Sunil Kumar Rout (Plastic Surgeon)
Dr. Sadananda Barik (Pulmonologist)
Dr. Rabindra Kumar Das (Psychiatrist)
Address
Near Jagannath Temple, Chandrasekharpur,
Bhubaneshwar, 751014, Odisha
Phone: 0674-230-0570
Ambulance/Emergency Contact: 0674 230-1724
Apollo Hospital
Keeping up with the name, Apollo Hospital Bhubaneshwar has reached millions of inhabitants and delivered phenomenal health care services to people, in and around the city. Focusing on various health care departments, the hospital is definitely serving as a one stop destination for people.
Salient Features
A health care center accommodating 350 beds in totality with 64 ICU beds
37 consultation chambers and three NICU
Round the clock pharmacy and blood bank facilities
Well designed and equipped diagnostic center and laboratories
Made a record by performing a laparoscopic surgery on a 97 year old patient with best outcome
Brought Neonatal Retrieval System in Odisha for the first time. This facilitated safe transportation of new borns from one unit to other.
Esteemed panel of doctors
Dr. Nisith Kr. Mohanty (Nephrologist)
Dr. Sushant Kr. Sethi (Gastroenterologist)
Dr. Antaryami Nanda (Neurologist)
Dr. Brajaraj Das (Cardiologist)
Dr Prasant Kumar Sahoo (Cardiologist)
Dr. Nachiketa Mohapatra (Pathologist)
Dr. Satyabrata Dash (Psychiatrist)
Dr. Sushmita Misra (Psychologist)
Dr. Sambit Das (Endocrinologist)
Address
Plot No. 251, Old Sainik School Road
Bhubaneswar - 750015, Odisha
Phone: 0674-666-1016/66
Emergency Contact: 1066
Neelachal Hospital
Known for making more than accurate diagnosis with special mention of Spiral CT scans, CAPD and renal care, Neelachal hospial has been a known name for health care assistance in Bhubaneshwar. Apart from first rate treatment, the hospital offers affordable cure and thus is accessible for people coming from different walks of life.
Salient Features
Aiming at being a 300 bedded hospital soon
Among few of the hospitals to use spiral CT scan and CAPD
One of the hospitals that uses non invasive procedure for kidney stone removal
24 hour Pharmacy and other emergency services
Well equipped diagnostic centers open for 24 hours
Fast ambulance services with wireless networks
Apart from different medical branches, also known for providing one of the best speech therapies
Esteemed Panel of Doctors
Dr. Mohit Siddhore (Neurosurgeon)
Dr. G.C. Nayak (Endocrinologist)
Dr. K.P. Tripathy( General Medicine)
Dr. J.S Mohapatra (Laparoscopic Surgeon)
Dr. Aparna Behura (Pathologist)
Dr. A.S Tripathy (Ophthalmologist)
Dr. Pratap Behera (Gastroenterologist)
Dr. Laxmikanta Mishra (Plastic Surgeon)
Dr. Alok Patnaik (General Medicine)
Address
A/84, Kharvel Nagar, Unit-3,
Bhubaneshwar, Odisha – 751001
Phone: 0674 253 6591/92/90/94
Vivekanand Hospital
A premiere name in Health care facility in Bhubaneshwar, Vivekanand Hospital is the most sought after hospitals in the city. The hospital has been referred to as a multispecialty hospital in true sense. Mastering in all medical branches, Vivekananda Hospital is one of the perfect destinations to reach for any medical assistance.
Salient Features
A multispecialty hospital accommodating 106 beds
18 ICU beds attached with pressure monitoring devices and ECG recording machines
Well known for its 24 hours accident, trauma and emergency care units
Popular for housing the best medical professionals and supporting staff for displaying a humanitarian behavior
Exceptional services in the neonatal equipped with first rate amenities
Offers preventable health check up at a very affordable price
Esteemed Panel of Doctors
Dr. Ashok Panda (Nephrologist)
Dr. S.K. Mohanty (Gen. Surgeon)
Dr. Ritesh Bhoot (Neurosurgeon)
Dr. Manisha Mandan(Radiologist)
Dr. Manas Ranjan Pradhan (Urologist)
Dr. Y.J. Reddy (Cardiologist)
Dr. Lopamudra Yeddy (Audiometrist)
Dr. Ratan Das (Pediatrician)
Dr. S.K. Singh (Medicine)
Address
A 54/1, Near Fire Station, Fire Station Square
Baramunda, Bhubaneswar – 751003
Phone: 0674-256-5357
Ambulance/Emergency Contact: 0674-256-1402
Ayush Hospital and Trauma Care
Ayush Hospital was initiated to provide first rate critical care to patients that was initially missing in the state. However, today it has become a household name for any type of medical assistance for its cost effective and quality health care services in various medical faculties.
Salient Features
A multispecialty with 120 beds and 35 ICU beds
An exceptionally well trained medical experts and supporting staff team
Provides one of the best diagnostic facilities in the city
Infrastructure meeting international standards; inclusive of all newest technical advents in the domain
NABL accredited laboratories
Esteemed Panel of Doctors
Dr. A.K Das (Pathologist)
Dr. Ganesh Nagrajan (Oncologist – Bone and Soft tissue)
Dr. K.K Samataray (ENT Specialist)
Dr. Rashmi Ranjan Mohanty (Medicine)
Dr. Kali Prasad Mishra (Urologist)
Dr. Binayak Dwari (Dermatologist)
Dr. Jagannath Sahoo(Orthoaepedic Surgeon)
Dr. Surai Murmu (Radiologist)
Dr. P.K. Swain (Medicine)
Address
NH 16, Bhoinagar Basti, Bhoi Nagar,
Bhubaneswar, Odisha – 751022
Phone: 0674-711-1100
Emergency Contact: 0674-711-1199