Best Hospitals in Ghaziabad
Following are the top hospitals in Ghaziabad:
Pristyn Care
General surgeons at Pristyn Care are the best and well-known medical professionals in India. We follow world-class health care guidelines to treat diseases like Anal Fistulas, Fissures, Piles, Hemorrhoids, Bawaseer, Pilonidal Sinus, Hydrocele, Varicocele, Hernias, Gallstones, Circumcision and Varicose Veins. We use the latest and advanced medical devices along with USFDA approved surgical techniques to provide the utmost care and reduced risk of infection to all the patients. All our general surgeons are experts in providing the safest and risk-free surgeries like Laser Fistula Surgery, Laser Pilonidal Sinus Treatment, Laparoscopic Hydrocelectomy, Laser Piles Treatment, Laparoscopic Hernia Repair Surgery, Laser Circumcision, etc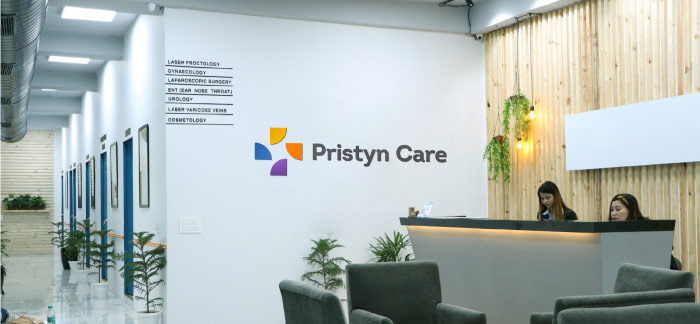 Timings: Monday-Saturday (10:00 AM-8:00 PM)
Speciality: General Surgeon
Address
No 343, Padmana Naidu Marg, Shakti Khand 3, Indirapuram, Ghaziabad, Uttar Pradesh 201014
Sarvodaya Hospital and Research Center
Sarvodaya Hospital has accomplished some exemplary work in bringing modern health care facilities to the people of Ghaziabad. With efficient team of doctors, medical support experts and technical brilliance; the hospital is one of the best medical destinations for the inhabitants. Sarvodaya Hospital has become one of the first names in multispecialty services and making efforts to spread across various parts of the territory.
Salient Features
A multispecialty hospital with 150 beds
Apart from employing the best of the talents nationwide, the hospital emphasizes on skill upgradation
Advanced diagnostic facilities with latest technical support along with Cath labs
24/7 Ambulance facilities
A prompt emergency unit serving maximum number of patients with utmost accuracy
Special emphasis on treating Arthritis with finest biologic agents
Esteemed Panel of Doctors
Dr. Pravesh Gupta (General Physician)
Dr. D.K. Gupta (Nephrologist)
Dr. Fahim (Dentist)
Dr. Naveen Jain(General Surgeon)
Dr. Abhinav Gupta(Neurologist)
Dr. Vinita Diwakar (Gynecologist)
Dr. V. R Mittal (ENT Specialist)
Address
KD-3, Industrial Area, Kavi Nagar,
Ghaziabad, UP - 201002
Phone: 085-2749-9256
Ambulance: 91-886-007-4646
Emergency Contact: 01202701694
---
Shreya Hospital
Driven by the spirits of care and excellence, Shreya Hospital is one of the premiere institutes providing trusted health care services to the inhabitants of Ghaziabad. Apart from skilled services, latest technologies of patient care, the hospital has touched the hearts of millions by the compassionate ambiance it possess. An infrastructure fitted with all modern amenities at an affordable price, Shreya Hospital has become a household name for medical help.
Salient Features
Accommodates different types of inpatient rooms with the latest amenities
C- ARM facilities governed by highly experienced doctors
24/7 ambulance and emergency facilities
Diagnostic facilities from Dr. Lal Path Labs available for 24/7
Special non invasive key hole surgeries that do not involve any stitch or cut are performed
Houses the latest technologies in child and mother care sections
Known to provide one of the best optical care to their patients
Also boasts of having best supportive care faculty - Physiotherapy, Psychoanalysis, Marriage counselling and Personality test
Emphasizes on cleanliness and safety
Esteemed Panel of Doctors
Dr. K.C. Mishra (Orthopedic Surgeon)
DR. A.K Mehrotra (General Physician)
Dr. Usha Singh (Gynecologist and Obstetrician)
Dr. Sachin Kumar (Dermatologist)
Dr. O.N. Hakeem (Radiologist)
Dr. Rakhi Varshney (ENT Specialist)
Dr. Nitin Saxena (Paediatrician)
Dr. Deepa Jindal (Dentist)
Address
Plot NO. 837, Shalimar Garden, EXT-1,
Sahibabad, Ghaziabad, UP - 201005
---
Columbia Asia Hospital
Keeping up with all the various centers spread nationwide, Columbia Asia Hospital in Ghaziabad is one of the most desired health care destination for residents. A multispecialty hospital that caters to health care needs of inhabitants of Ghaziabad; irrespective of their age, health need and affordability. In a short span of time, Columbia Asia has earned the fame of being one of the top most hospitals in Ghaziabad.
Salient Features
Won the NABH accreditation for health care excellence
A multi specialty hospital accommodating 100 beds that is spread across different medical faculties
A team of expert professionals and supporting staff
An infrastructure that is advancing regularly and aspires to meet national standards
Exceptional administration as it is one of those hospitals that maintain Electronic Medical Records Management systems
Round the clock ambulance facilities
Similar to all other branches, Columbia Asia Ghaziabad also runs a 24 hour Chemist shop and emergency facilities
A separate High Dependency unit and health screening packages
Esteemed Panel of Doctors
Dr. Ashok Kumar Gupta (Cardiologist)
Dr. Rajesh Bharadwaj (Critical Care Consultant)
Dr. Bhavuk Mittal (Dermatologist)
Dr. Swapnil Jain (Endocrinologist)
Dr. Amit Agarwal (General Surgeon)
Dr. Nandini R (Plastic Surgeon)
Dr. Sushil Fotedar (Oncology Surgeon)
Dr. Samresh Kashyap (ENT Specialist)
Address
Near Landcraft Golflinks,
Hapur Road, Ghaziabad, UP - 201002
---
Aarogya Hospital
Aarogya Hospitals aim at facilitating quality care at affordable prices to the inhabitants of Ghaziabad. Presently functioning at two centers, Aarogya Hospital of Ghaziabad has definitely become the first choice of health care support and one of the top hospitals in Ghaziabad.
Salient Features
Accommodates number of beds in ICU, 8 bedded neonatal ICU, 4 beds for fetal CTG, Maternal and Fetal Monitoring
Three operating rooms with modular OT assuring quickest of surgeries
Well equipped Urology, Gastro and Neurosurgery departments with latest C- arm
Latest generation laparoscopic equipment with HD vision
Well designed and largest emergency units in city
Sufficing every clinical and pharmaceutical needs of patients
Round the clock ambulance facilities
Esteemed Panel of Doctors
Dr. Kapil Khanna (Cardiologist)
Dr. Asit Khanna (Cardiologist)
Dr. Shymol Kuriakose (Venereologist and Dermatologist)
Dr. Umesh Varma (Gastroenterologist)
Dr. K.K. Pandey (Pulmonologist)
Dr. Amit Aggarwal (ENT Specialist)
Dr. Ashish Sharma (Nephrologist)
Dr. Shalini Gupta (Ophthalmologist)
Dr. Kapil Singhal (Neurologist)
Dr. Ajay Nihalani (Psychiatrist)
Dr. A.P. Singh (General Medicine)
Address
Plot NH , Sector 6,
Vaishali, Gaziabad, UP - 201010
---
Max Super Specialty Hospital
A premiere institute in Ghaziabad, rendering excellent services to the people of Ghaziabad. A multispecialty hospital housing best medical experts, nurses, technicians and administrative staff. Apart from reaching continuous excellence in service delivery, the hospital also boasts of extraordinary intensive and preventive care facilities; along with an infrastructure that breeds hope and wellness.
Salient Features
A multispecialty hospital accommodating 350 beds
One of those hospitals running a separate blood bank
24/7 Ambulance facilities along with Air Ambulance facilities
Efficient and accurate diagnostic facilities and dialysis services
Also offers Home Care Services
Runs an Emergency Response System
Apart from facilitating every essential need for their patients, the hospital also has arrangements for families of patients. This includes comfortable waiting lodge , cafeteria, and ATM within the campus
Esteemed Panel of Doctors
Dr. Anjali Nagpal (Psychiatrist)
Dr. Sharda Jain (Gynecologist)
Dr. Anju Jha (Dermatologist)
Dr. Ajay Singhal (Neurotologist)
Dr. Sushma Dixit (Gynecologist and Obstetrician)
Dr. Varun Kumar Gupta (Otolaryngologist)
Dr. Atul Jain (General Physician)
Dr. Jyoti Bhaskar (Gynecologist and Obstetrician)
Address
W-3, Near Radisson Blu Hotel,
Sector 1, Vaishali,
Ghaziabad, UP - 201012
---