Best Hospitals in Indore
Following are the top hospitals in Indore:
Pristyn Care
General surgeons at Pristyn Care are the best and well-known medical professionals in India. We follow world-class health care guidelines to treat diseases like Anal Fistulas, Fissures, Piles, Hemorrhoids, Bawaseer, Pilonidal Sinus, Hydrocele, Varicocele, Hernias, Gallstones, Circumcision and Varicose Veins. We use the latest and advanced medical devices along with USFDA approved surgical techniques to provide the utmost care and reduced risk of infection to all the patients.
All our general surgeons are experts in providing the safest and risk-free surgeries like Laser Fistula Surgery, Laser Pilonidal Sinus Treatment, Laparoscopic Hydrocelectomy, Laser Piles Treatment, Laparoscopic Hernia Repair Surgery, Laser Circumcision, etc.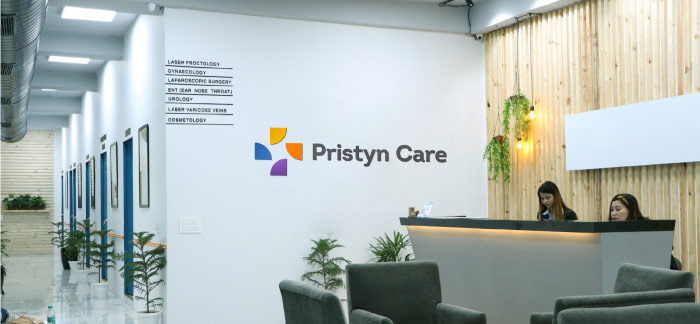 Timings: Monday-Saturday (10:00 AM-8:00 PM)
Speciality: General Surgeon
Address
No 305,Lakshya Badgada Cest, Curewell Hospital Road, New Palasia, Above Zari Showroom, Indore, Madhya Pradesh 452001
Bombay Hospital
A brilliant example of excellence, trust and compassion, Bombay Hospital is one of the premiere institutes in the health care industry of Indore. Dedicated at providing unparalleled health care services, the hospital houses supreme talents who are supported with cutting edge technology that assures effective and quickest recovery of their patients. Although being one of the most equipped hospitals in the region, this hospital is easily accessible by people coming from different walks of life.
Salient Features
The first NABH accredited hospital in Madhya Pradesh
Awarded the International Quality Crown in London
Awarded as the best hospital in Non metro category of western region
Also awarded as the Health excellence award for Best Multispecialty Hospital in Indore
A charitable and non commercial hospital accommodating 600 beds in total
The critical and recovery area has around 62 beds that is the highest in MP
A multispeciality hospital that handles more than 2 lakh patients in OPD and 30000 inpatients annually
10 operation theaters that meet international standards
Exceptionally skilled professionals having international repute
Runs a diagnostic center and a 24/7 Pharmacy where patients can even place orders online
Air conditioned ambulance facilities are also available
Esteemed Panel of Doctors
Dr. Ambrish Patel (Cardiologist)
Dr. Prashant Newalkar (Neurosurgeon)
Dr. R. Iyengar (Neurosurgeon)
Dr. Abhay Jain (Sexologist and Neuropsychiatrist)
Dr. A. Gupta (Radiologist)
Dr. Abhishek Manu (Spine Surgeon)
Dr. V. Vangani(Gynecologist and Obstetrician)
Dr. Anil Gwaliorkar (Head and Neck Surgeon)
Dr. Alok Modi (Oncologist - Medical)
Dr. Damani (Plastic Surgeon)
Dr. M. Agarwal (Dermatologist)
Address
IDA Scheme No - 94/95, Eastern Ring Road,
Tulsi Nagar, Vijay Nagar, Indore, MP - 452010
Phone: 0731-407-7000
Emergency contact - 0731-257-3943
Greater Kailash Hospital
A hospital excelling for four decades now. Greater Kailash Hospital is committed to make quality care affordable for everyone residing in and around Indore. A multispeciality hospital employing the best team of doctors and supporting staff who consider patient care to be their utmost priority. Besides, the hospital also strives in reaching highest standards of technicals expertise; making it one of the most desired health care centers in Indore.
Salient Features
NABH accredited multispeciality hospital accommodating 150 beds
Efficient team of doctors and supporting staff available 24/7
Maintains an efficient ICU section with availability of atleast one nurse for each patient 24/7
Owns a day care unit that has a separate team of doctors and supporting staff
Offers well equipped ambulance facilities with all life supporting ailments
Comprehensive diagnostic segment that offers almost all lab tests for patients
Runs a licensed blood bank within the premises
Esteemed Panel of Doctors
Dr. Achal Agarwal (Obesity Surgeon)
Dr. Bharat Rawat (Cardiologist)
Dr. Vinit Pandey (Cardio thoracic Surgeon)
Dr. Savita Imandar (Pediatrician)
Dr. Arpit Shrimal (Cosmetologist)
Dr. Abhyudaya Verma (Endocrinologist)
Dr. Radhika Bandi (Retina Specialist)
Dr. B.S. Thakur (Gastroenterologist)
Dr. Ajeet Devra (Pediatrician)
Dr. Hari P. Yadav (Gastroenterologist)
Dr. R.A. Asad (Nephrologist)
Dr. Virendra Bhandari(Oncologist)
Dr. Sanjeev Singh (Pediatrician)
Address
11/2, Old Palasia, Close to Palasia Thana,
Indore, MP - 452018
Phone: 0731-663-3333
Emergency Contact: 0731-2444400
Ambulance: 0731-4091-515
CHL Group of Hospitals
CHL Group of Hospitals has taken health care industry of Indore to a different level of excellence. Spread across a couple of centers in Indore and Madhya Pradesh, the hospital has slowly become one of the preferred health care destinations for the inhabitants. A hospital with international acknowledgement, this healthcare institution is definitely one of the best hospitals in Indore.
Salient Features
A multispeciality hospital accommodating 225 beds in total
Recognized as the first and only hospital to provide a fully equipped cardiac care center, with international standards in Madhya Pradesh
The first hospital to perform successful Coronary Bypass surgery in central India
An efficient team of doctors and supporting staff
Offers free incoming ambulance facilities
Well equipped and cost effective diagnostic facilities
Esteemed Panel of Doctors
Dr. Vinay K. Bohara (Haematologist)
Dr. Sandeep Julka (Endocrinologist)
Dr. Sunita Gupte (Psychologist)
Dr. Summet Jaiswal (Plastic Surgeon)
Dr. Mukesh Jain (ENT Specialist)
Dr. Rajeev Khare (Cardiologist)
Dr. Parul Pandit (Radiologist)
Dr. Ashwin Rangole (Oncologist)
Dr. Sachin Adhikari (Neurosurgeon)
Dr. Sushma Bhargava (Histopathologist)
Address
A.B Road, Close to LIG Square,
Indore, MP - 452008
Phone: 0731-662-2222
Choithram Hospital
A hospital that endeavors in making quality health care accessible to all. Choithram hospital, since its inception has been a center of excellence and compassionate care for patients. A premiere institute that houses skilled professionals who are focused at delivering the best of services in most effective manner. The hospital has definitely gained a reputation of being one of the trusted assistance in Indore.
Salient Features
A multispeciality hospital accommodating 350 beds
Also offers 271 intermediate beds that serve 1400 patients every month
Owns a very well maintained ICU section with 21 beds and separate 8 bedded cardiac care unit
The OPD section handles around 1100 patients on a daily basis
The hospital provides 5 general OTs, 1 cardiac OT, 1 minor OT and 1 labor OT with doctors available for 24 hours
The hospital has the largest inventories of surgical instruments in central India
Maintains separate burn unit and allergy clinic
Emergency unit own 4 ambulances
Runs a pharmacy available for 24 hours
Esteemed Panel of Doctors
Dr. Sunil Dube (CTVS Surgeon)
Dr. Shobha Chamania (Burn Surgeon)
Dr. C.B. Chhabra (Cardiologist)
Dr. Vidyut Jain(Cardiologist)
Dr. Ashish Goyal (Psychologist)
Dr. Avijeet Mitra(Dentist)
Dr. Vikram Balwani (General Medicine)
Dr. Ankit Gupta (Neurosurgeon)
Dr. Sushma Jhamad (Gynecologist)
Address
14. Manik Bagh Road,
Indore, MP - 452014
Phone: 0731-2362-49199
Arihant Hospital and Research Center
Arihant hospital has been internationally acknowledged for being one of the centers of health care excellence in India. The hospital is committed at providing efficient care with a humane touch. Being one of the most advanced hospitals in state, the hospital is definitely a popular and trusted health care center in Indore.
Salient Features
A multispeciality hospital with 300 beds, of which, 80 have been commissioned
Well equipped ICU departments
Runs one of the most efficient OPD departments with availability of senior consultants for 24 hours
Offers all types of diagnostic tests
Emergency and trauma care centers with hydrotherapy and rehab centers
Also maintains a blood bank
Esteemed Panel of Doctors
Dr. DK Taneja (Orthopedic Surgeon)
Dr. Dilip Balani (Medicine)
Dr. Amit Richhariya(Orthopedic)
Dr. Sunil Singhal (Urologist)
Dr. Vikram Jain (Gastroenterologist)
Dr. Achal Sipaha (Nephrologist)
Dr. Priti Maheshwari (Gynecologist)
Dr. Rajkumari Khatri (ENT Specialist)
Dr. Anil Mangutti (Dentist)
Address
283 A, Scheme No- 71, Ring Road,
Gumasta Nagar, Indore, MP - 452009
Phone: 0731-2785-172/74