Best Hospitals in Jaipur
Following are the top hospitals in Jaipur:
Pristyn Care
Pristyn Care is a multi-specialty chain of specialized day-care procedures. We do modern surgeries across our network of 70+ clinics with 100+ doctors on-board. We have a complete range of facilities under Proctology, ENT, Urology, Cosmetic Gynaecology, and laparoscopic and laser-assisted surgeries.
In this clinic, we have specialist doctors for Proctology and Laparoscopic surgeries. The experts use the newest techniques with Laser diode and Laparoscope to keep up with the modern healthcare ecosystem. Our surgeons perform the surgeries with the utmost precision and care that incur no pain or bleeding.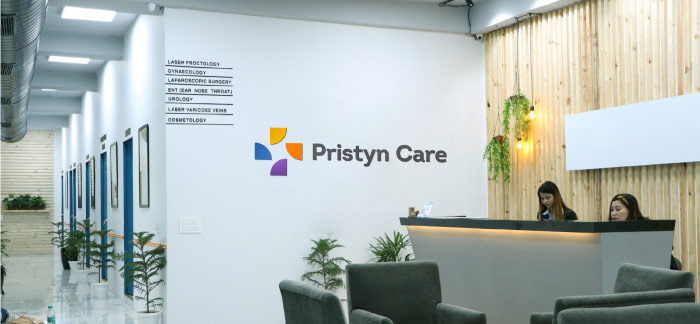 Timings: Monday-Saturday (10:00 AM-8:00 PM)
Speciality: General Surgeon
Address
No 109, Kings Rd, Rail Nagar, Shiv Shakti Nagar, Brijlalpura, Jaipur, Rajasthan 302019
Mahatma Gandhi Hospital
World class facilities and hi-tech infrastructure along with esteemed doctors to serve patients have made the Mahatma Gandhi Hospital in Jaipur a renowned entity for health care globally. This global acclaim has been preserved by the hospital via providing treatments of highest degree and at affordable costs to patients.
Salient Features
1000 hospital beds for treatments
Every bed in general ward is free of cost
24X7 trauma, emergency and ambulance services
Hi-tech operation theater
Fully developed diagnostic service
Quality health care at low prices
Esteemed panel of Doctors
Dr. M.L. Swarankar, Specialist (Reproductive medicine)
Dr. K.K. Kushwah, Specialist (Cardiac Care)
Dr. Pratibha Vyas, ENT Specialist
Dr. Rajeev Kasliwal, Endocrinologist
Dr. Lokesh Jain, Gastroenterologist
Dr. K.M. Garg, General Surgeon
Dr. Swati Garg, Gynecologist
Dr. Suraj Godara, Nephrologist
Dr. Indu Arora, Ophthalmologist
Dr. Budhi Prakash, Surgeon (Reconstructive & Plastic)
Dr. Munish Kakkar, Specialist (Pediatrics)
Dr. Siddharth Singh Rathore, Pediatric Surgeon
Dr. Govind Sharma, Urologist
Address
RIICO Institutional Area, Sitapura,
Tonk Road, Jaipur - 302 022 (Rajasthan) INDIA
Phone: +91-0141- 2770798 / 2771777 / 2771001 - 3
Fax: +91-0141-2770303 / 2770900
Narayana Multispecialty Hospital
Creating a perfect combination of excellence in technology, expert doctors, high class infrastructure and quality health care, Narayana Multispecialty hospital has created a niche for itself in the medical domain. With availability of almost every treatment for various medical disciplines, the hospital has gained significant name in the health care domain.
Salient Features
300 hospital beds for treatments
Spread across a vast area of 4.7 acres
JCI (Joint Commission International) accreditation
Round the clock emergency service
80 beds for CCU
21 beds for dialysis
Quality care at affordable costs
Esteemed panel of Doctors
Dr. Hemesh Singhal, Anesthesiologist
Dr. Alok Mathur, Cardiac Surgeon (Adult)
Dr. Ashok Jain, Cardiologist
Dr. Prashant Mahawar, Cardiologist (Pediatric)
Dr. Deepak Sharma, Dental Specialist
Dr. Dimple Kothari, Dermatologist
Dr. Prem Prakash Patidar, Endocrinologist
Dr. Navneeta Gangawar, ENT Specialist
Dr. Saket Agarwal, Gastroenterologist
Dr. Saurabh Kalia, Surgeon (Gastroenterology)
Dr. J.M. Mehta, General Surgeon
Dr. Mridul Ghehlot, Oncologist (Gynecology)
Dr. Prithvi Giri, Neurologist
Dr. K.K. Bansal, Neurosurgeon
Dr. Manju Goyal, Gynecologist
Dr. P.K. Jain, Ophthalmologist
Dr. A.K. Sharma, Surgeon (Pediatric)
Dr. Ambrish Gupta, Plastic Surgeon
Dr. Amit Kotia, Urologist
Address
Rana Sanga Marg, Sector 28, Sanganer,
Pratap Nagar, Jaipur, Rajasthan 302033, India
Helpline: 0141 712 2222
S K Soni Hospital
Displaying class and magnificence in every aspect of health care, the S K Soni Hospital in Jaipur is an epitome of medical brilliance. With facilities to boast of and a doctors pool that is acclaimed globally, this health care institution is ranked amongst the best across Jaipur.
Salient Features
NABL & NABH accreditation
ISO certifications
Hi-tech facilities
Numerous medical ailments provided with treatments
Low rate of infections
Largest pool of beds for ICU
Esteemed panel of Doctors
Dr. Suresh Bhargava, Anesthesiologist
Dr. Nikhil Parikh, Cardiologist
Dr. Jainendra Jain, Surgeon (Cardio Thoracic)
Dr. Shruti Agarwal Surekha, Dental Specialist
Dr. Minal Mohit, Endocrinologist
Dr. S.P. Srivastava, ENT Specialist
Dr. Vijay Sharma, Gastroenterologist
Dr. Bharat Raj Sharma, General Surgeon
Dr. Neetu Ramrakhiani, Neurologist
Dr. Sushil Acharya, Neurosurgeon
Dr. Winnie Gangwal, Ophthalmologist
Dr. Anil Kumar Sharma, Urologist
Dr. C.S. Chaturvedi, Orthopedics Specialist
Dr. Anju Soni, Gynecologist
Address
Sector 5, Main Sikar Road, Vidhyadhar Nagar,
Jaipur- Rajasthan, Jaipur -302013
Phone: 0141-5164000
Fax: 2232412
Monilek Hospital & Research Center
Run by an able management and possessing a strong pool of employees and medical consultants, the Monilek Hospital & Research Center ranks amongst the premier health care institutions in Jaipur. With no dearth of required facilities and excellence in technology, this institution has become a preferred health destination for patients in and around Jaipur.
Salient Features
150 hospital beds for treatments
Equipped operation theaters
First to conduct kidney transplant in Rajasthan
24X7 emergency, casualty, ambulance, diagnostic, pharmacy and radiology services
An entire floor dedicated for CCUs
All major medical ailments provided with treatment
High class infrastructure
Esteemed panel of Doctors
Dr. Mahendra Agarwal, Gastroenterologist
Dr. Deepak Vagnani, Neurosurgeon
Dr. Sunil Goyal, Plastic Surgeon
Dr. Pramod Katariya, Pediatric Surgeon
Dr. Anupama Gangwal, Gynecologist
Dr. G.L. Rathi, Urologist
Dr. Shiva Gupta, Dental Surgeon
Dr. R.M. Vijay, ENT Specialist
Dr. Neeraj Bhutani, Neurologist
Dr. H.P. Gupta, Nephrologist
Dr. Chitra Sitaraman, Ophthalmologist
Address
Sector 4, Jawahar Nagar,
Jaipur - 302 004, Rajasthan, India
Phone: +91-141-2653019
Fax: +91-141-2652830 / 32
Emergency: +91 90019 94823
Apex Hospital
Right from its inception, the Apex Hospital in Jaipur has taken large strides in the field of health care to become one of the known and preferred hospitals in the Pink city. With top class infrastructure and excellence in various clinical specialties, this hospital also has the advantage of being in close vicinity of Jaipur airport; thus making it a preferred choice for outside patients too.
Salient Features
Large space with built up of 30,000 square feet
200 hospital beds for treatments
50 beds for ICU
4 fully equipped operation theaters
Various initiatives undertaken for promoting medical tourism
NABH accredited hospital
Robust programs for infection control
High quality services and treatments at affordable costs
Esteemed panel of Doctors
Dr. A.K. Mathur, Surgeon (Bariatric & Laproscopic)
Dr. Narendra Lodha, ENT Specialist
Dr. M.M. Vyas, Surgeon (General & Laproscopic)
Dr. Saloni Khanijo, Dental Specialist
Dr. B.M. Goyal, Cardiologist (Interventional)
Dr. Sandeep Juneja, Cardiologist (Non-Invasive)
Dr. Navneet Saxena, Nephrologist
Dr. Anju Sikand, Gynecologist
Dr. Manohar Sharma, Gastroenterologist
Dr. Lalit Bhardwaj, Neurosurgeon
Dr. Akhil Agarwal, Surgeon (Cosmetic & Plastic)
Dr. Neetu Sidana, Dermatologist
Dr. Ashwini Kapoor, Anesthesiologist
Dr. Mamraj Gupta, Surgeon (Oncology)
Address
SP-4 & 6, Malviya Industrial Area,
Malviya Nagar, Jaipur- 302017, Rajasthan, India
Appointments: +91 141 4101201
Emergency: +91 141 4101111
Fax: +91 141 2751006