Best Hospitals in Kochi
Following are the top hospitals in Kochi:
Pristyn Care
General surgeons at Pristyn Care are the best and well-known medical professionals in India. We follow world-class health care guidelines to treat diseases like Anal Fistulas, Fissures, Piles, Hemorrhoids, Bawaseer, Pilonidal Sinus, Hydrocele, Varicocele, Hernias, Gallstones, Circumcision and Varicose Veins. We use the latest and advanced medical devices along with USFDA approved surgical techniques to provide the utmost care and reduced risk of infection to all the patients. All our general surgeons are experts in providing the safest and risk-free surgeries like Laser Fistula Surgery, Laser Pilonidal Sinus Treatment, Laparoscopic Hydrocelectomy, Laser Piles Treatment, Laparoscopic Hernia Repair Surgery, Laser Circumcision, etc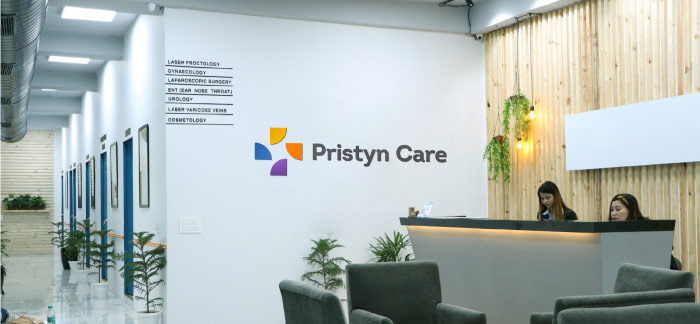 Timings: Monday-Saturday (10:00 AM-8:00 PM)
Speciality: General Surgeon
Address
No 3/515A, Tippu Sulthan Road, Cheranaloor Thykkavu, Cheranellore, Kerala 682034
Lakeshore Hospital & Research Center
In just over a decade from its inception as a multi disciplinary hospital for medical care and treatment, the Lakeshore Hospital and Research Center has gained international acclaim for being a high class health care entity. The professional expertise and excellent technological abilities of this hospital makes it a preferred health care destination for domestic as well as international patients.
Salient Features
Exceptionally clean environment ensures a safe place for treatment
Moderate costs for treatments
First liver transplant and first bone marrow transplant (child) in Kochi (2005)
350 patient beds with 35 specialty clinical departments
Combined employee strength of nursing and medical professionals is 1600
Favored destination for Medical Tourism in India
24X7 fully functioning laboratory and pathology service
Facilities for surface, air and water ambulance services
Esteemed panel of Doctors
Dr. Philip Augustine, Medical Director
Dr. Mohan Mathew, Director (Critical Care and Anesthesiology)
Dr. Anand Kumar V, Consultant Cardiologist (Interventional)
Dr. Moosa Kunji, Consultant Surgeon (Vascular & Cardiothoracic)
Dr. J.I. Chacko, Director and Sr Consultant (Dental)
Dr. Sanjay Cherian, Dermatologist
Dr. Johnny Kallampilly, Diabetologist
Dr. Idicula Mathews, Consultant (ENT)
Dr. H. Ramesh, Director & Surgeon (Gastrointestinal)
Dr. V.P. Gangadharan, Sr. Consultant (Oncology: Pediatric & Medical)
Dr. Muralikrishna Menon, Neurologist
Dr. Prithvi Varghese, Surgeon (Neuro)
Dr. Thressy George, Gynecologist
Dr. Jose Tharayil, Sr. Consultant (Plastic Surgery)
Dr. Neeta Sridharan, Oncologist (Gynec)
Dr. Datson George P, Specialist (Urology)
Address
NH-47 Bypass, Maradu, Nettoor P.O,
Kochi-682040, Kerala, India.
Tele: +91-484-2701032/2701033/2703951
Mobile: +91 99616 30000/+91 99616 40000
Fax: +91-484-2701996
Amrita Institute of Medical Sciences
With a combined strength of dedicated health professionals and high tech equipment and treatment facilities, the Amrita Institute of Medical Sciences provides comprehensive specialty medical aid to patients. With cross-specialty medical consultation, the hospital has ensured that patients have a complete range of health care services under one roof.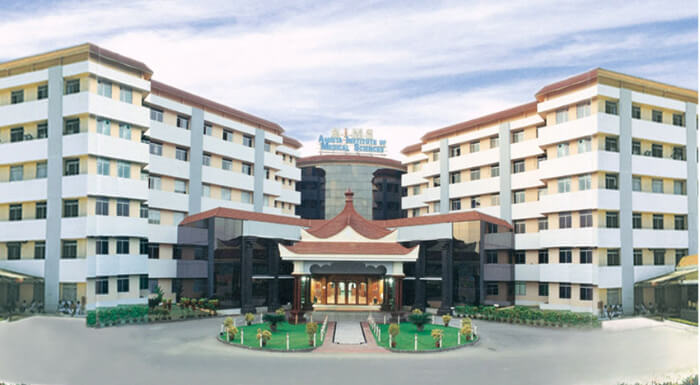 Salient Features
25 operation theaters with modern equipments
210 beds for ICU
Hospital network is completely computerized
Completely digital department for radiology
Clinical laboratories functioning 24X7 and accredited by NABL
3,330,000 square feet infrastructure spread across 125 acres
3000 outpatients provided treatment daily with 95% capacity for inpatients
Esteemed panel of Doctors
Dr. Jaideep Menon, Specialist (Cardiology)
Dr. Neeraj Sidharthan, Specialist (Transplantation: Blood & Marrow)
Dr. Praveen Varma, Surgeon (Thoracic & Cardiovascular)
Dr. Mohit Sharma, Surgeon (Craniofacial & Cleft)
Dr. Anoop Koshy, Gastroenterologist
Dr. Biju Chandran, Surgeon (Gastrointestinal)
Dr. Puneet Dhar, Specialist (Liver Transplant)
Dr. Arun Philip, Oncologist (Medical)
Dr. Anand Kumar A, Neurologist
Dr. Chandrababu K.K, Specialist (Orthopedics)
Dr. Jimmy Mathew, Surgeon (Reconstructive & Plastic)
Dr. Anjali Menon, Oncologist (Radiation)
Dr. Anupama R, Oncologist (Gynec & Surgical)
Dr. Abraham Cherian, Anesthesiologist
Dr. Bini Faizal, Specialist (ENT)
Address
Ponekkara, P. O Kochi,
Kerala 682 041, India
Phone: 0091 (0) 484 280 1234, 285 1234, 400 1234, 0484 668 1234
Fax: 0091 (0) 484 280 2020
Medical Trust Hospital
Right from its foundation year of 1973, Medical Trust Hospital has shown great commitment to employ more than 1000 medical professional that include some of the known names for surgeons and doctors internationally. Round the clock services and ethical standards are benchmarks that the hospital adheres to. Comprehensive medical care and treatments are provided to patients.
Salient Features
750 beds for acute and critical care (multi specialty)
World-class complex for medical treatments
Accredited by NABH
NABH Safe-I certification in 2014
First to perform multi-organ and cardiac transplant in State
24X7 blood bank and stocked pharmacy for patients
Equipped clinical laboratories
24X7 emergency facilities
Various health packages to suit patients
Esteemed panel of Doctors
Dr. Sajy Kruttukulam, Cardiologist
Dr. Abraham John, Pediatrician
Dr. George Mothi Justin, Pulmonologist
Dr. Eapen John, Dermatologist
Dr. Sunil K. Mathai, Gastroenterologist
Dr. Mammen M. John, Nephrologist
Dr. P.V. Loius, Director (Medical: Internal Medicine)
Dr. Shakthi Parvathy Gopalakrishnan, Consultant (Interventional Radiology)
Dr. P.V. Thomas, Radiologist
Dr. C.J. John, Psychiatrist
Dr. K. Vinodan, Anesthesiologist
Dr. Anandam Radhakrishnan, Medical Officer (Casualty)
Dr. Jayprakash P, Endocrinologist
Dr. N.V. Ramaswamy, Consultant (Haemato Oncology)
Dr. George Kallarackal, Rheumatologist
Address
MG Road, Cochin - 682 016,
Kerala, India.
Tel: Hosp: +91 484 2358001 (11 lines)
Public Relations: +91 484 2358035
Fax: +91 484-2358031
Lisie Hospital
Registered as a charitable organization, Lisie hospital in Kochi strives to provide exceptional medical care without discrimination of religion and caste. More than 22 multi specialty departments with high class facilities and equipments to serve the needy make Lisie hospital rank amongst the top medical entities in Kochi. With a strong battalion of expert medical professionals providing comprehensive multi disciplinary treatments has made this hospital a preferred medical aid destination in Kochi.
Salient Features
Quality medical services to less fortunate and needy in society
Expert doctors, nursing staff and employees to serve patients
NABH standards adhered to with regards to services
Comprehensive pharmacy for providing high quality medicines at moderate costs
Safe, secure and healthy environment for treating patients
24X7 support services
Esteemed panel of Doctors
Dr. Jacob Ahraham, Consultant (Cardiac Anesthesiology)
Dr. Prema Antony, Sr. Consultant (Anesthesiology)
Dr. Jose Chacko Periappuram, Consultant Surgeon (Cardio Thoracic)
Dr. Rony Mathew, Cardiologist
Dr. Bije Raj, Consultant (Dentistry)
Dr. Soman Peter, Dermatologist
Dr. George Paulose, Sr. Consultant (Diabetology)
Dr. E. Nisbet Samuel, Consultant Physician (Emergency Medicine)
Dr. Frankie Kavalakkat, Consultant (ENT)
Dr. Thomas James, Sr. Consultant (Gastroenterology)
Dr. Joy Mampilly, Sr. Consultant (General Surgery)
Dr. Amy D'Souza, Gynecologist
Dr. Koshy George, Neurosurgeon
Dr. Vidya M.V, Neurologist
Dr. Amel Antony, Radiologist
Dr. Sreedharan P.S, Oncologist
Dr. Tharun, Consultant (Urology)
Dr. Babu Francis, Nephrologist
Address
Kathrikadavu, Kaloor,
Kochi, Kerala 682017
Phone: 0484 2401006
24X7 Inquiry: +91 0484 - 2402044, 2400812 - 14
Ernakulam Medical Center
Starting with a humble beginning of 50 beds, the Ernakulam Medical Center has seen incredible growth over the years to become a leading multi specialty hospital with around 300 hospital beds and a rich pool of experienced medical professionals. With extensive facilities, modern equipments and a commitment to render world-class medical treatment and care, this hospital has made its presence felt internationally.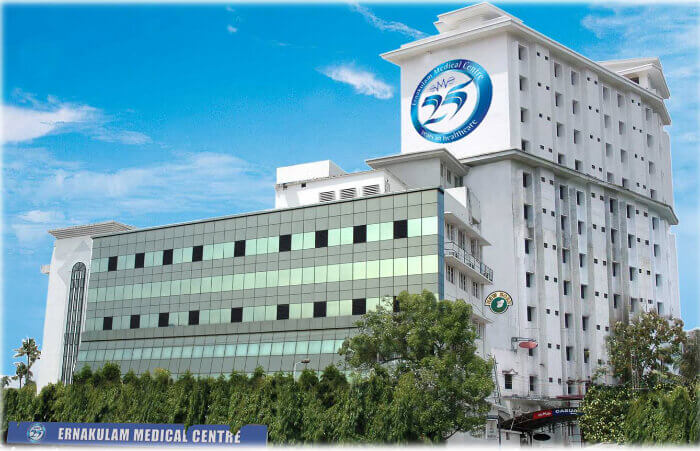 Salient Features
300 beds pertaining to different ward types
Dedicated ICU beds for almost every medical discipline
Fully equipped round the clock laboratory
Special health care packages to serve different needs
6 modern equipment laden operation theaters
Counseling services available for patients, addicts, parents, couples and students
Esteemed panel of Doctors
Dr. Sujith Kumar, Cardiologist
Dr. K. N. Prakasam, Dermatologist
Dr. S. Sreekumar, Surgeon (Maxillofacial)
Dr. C.N. Mohanan Nair, Oncologist
Dr. C.I Johnson, Surgeon (Neuro)
Dr. V.V. George, Surgeon (Orthopedic)
Dr. P.D. Krishna Kumar, Gynecologist
Dr. K.V. Menon, Surgeon (Spine)
Dr. Mathew Varghese, Anesthesiologist
Dr. Raji S. Menon, Endodontist
Dr. V.D. Pradeep Kumar, Consultant (ENT)
Dr. K.M. Abdul Rashid, Nephrologist
Dr. Sunil Mathew, Gastroenterologist
Dr. Anilkumar Nambiar, Ophthalmologist
Dr. P.S. Binu, Surgeon (Pediatric)
Dr. P.M. Chacko, Surgeon (Plastic)
Dr. Sanel Varghese Chandapillia, Surgeon (Renal Transplant & Urology)
Dr. C.P. Nandakumaran, Consultant (Thoracic Surgery)
Address
N.H.By-pass, Palarivattom,
Kochi - 682028.
Phone: +91- 484 - 2907000/2807101/2807401
Appointments: 91- 484 - 2807277/2807288
Fax: +91- 484 - 2805011