Best Hospitals in Lucknow
Following are the top hospitals in Lucknow:
Pristyn Care
General surgeons at Pristyn Care are the best and well-known medical professionals in India. We follow world-class health care guidelines to treat diseases like Anal Fistulas, Fissures, Piles, Hemorrhoids, Bawaseer, Pilonidal Sinus, Hydrocele, Varicocele, Hernias, Gallstones, Circumcision and Varicose Veins. We use the latest and advanced medical devices along with USFDA approved surgical techniques to provide the utmost care and reduced risk of infection to all the patients.
All our general surgeons are experts in providing the safest and risk-free surgeries like Laser Fistula Surgery, Laser Pilonidal Sinus Treatment, Laparoscopic Hydrocelectomy, Laser Piles Treatment, Laparoscopic Hernia Repair Surgery, Laser Circumcision, etc.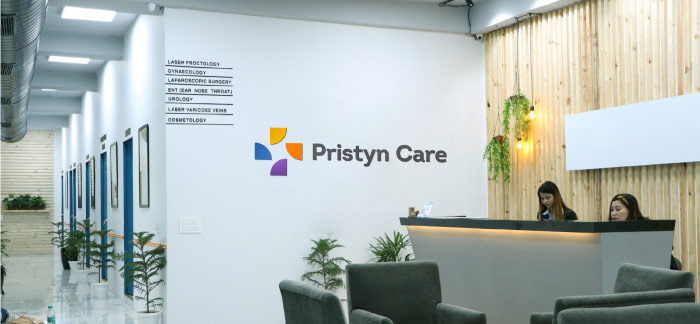 Timings: Monday-Saturday (10:00 AM-8:00 PM)
Speciality: General Surgeon
Address
OPD Chamber No 2, Gr Floor, Indus Heart And Medical Centre, 1/1 Vineet Khand, Gomti Nagar, Lucknow, Uttar Pradesh 226010
SGPGI Hospital
SGPGI (Sanjay Gandhi Post Graduate Institute of Medical Sciences) was established in 1983. The premise behind starting the institute was to achieve excellence in medical care, education, and research. It is one among the 10 best medical centres for treating cardiac diseases. Besides curing heart problems, it also holds expertise in endocrinology, breast surgery, gastroenterology, immunology, nephrology, urology, neurology, hematology, pulmonary, plastic surgery, obstetric & gynecology, neonatology, pediatric surgery, critical care, opthalmology, and liver transplant.

Salient Features
No consultation fee
Treatment provided on referral basis
One-time registration charges (250/- rupees) valid for a year
Renewal of registration at 100/- rupees
OPD, IPD, Diagnostic centre, Blood Bank, and Surgery all under one roof
Nominal charges compared to private hospitals
Esteemed panel of doctors
Dr. RK Sharma, Nephrologist
Dr. S Jha, Neurologist
Dr. Aditya Kapoor, Cardiologist
Dr. V A Saraswat, Gastroenterologist
Dr. Rakesh Kapoor, Urologist
Dr. Aneesh Srivastava, Renal Transplantation
Dr. Anil Mandhani, Uro-oncology & Molecular Biology
Dr. M.S. Ansari, Urologist (Pediatric)
Address:
Lucknow-Raebareli Road, Lucknow,
Uttar Pradesh 226014
Phone: 0522 266 8800
Sahara Hospital
An initiative of Sahara India Pariwar, the Sahara Hospital ranks amongst the top hospitals in Lucknow providing super specialty patient care and treatment. The hospital is committed to provide holistic health care and has ensured that the gap between affordability and quality medical treatment is filled. For this, the hospital renders all kind of treatments and diagnostics and negates hassles for patients.
Salient Features
Every facility for clinical specialty care available
High class equipments used
Every diagnostic service provided 24X7
378 beds available with plan of expansion upto 554 beds
131 beds dedicated for critical care
State-of-art operation theaters with latest equipments
Automated and central sterilization system for achieving best infection control
Esteemed panel of Doctors
Dr. Mazhar Husain, Neurosurgeon and Officiating director
Dr. Tushar Kanti Lala, Anesthesiologist
Dr. Nakul Sinha, Cardiologist
Dr. Vishal Srivastava, Cardiothoracic surgeon
Dr. Indu Shrivastava, Specialist (Critical care)
Dr. Rohit Khanna, Dental surgeon
Dr. Prateek Mehrotra, Surgeon (Breast)
Dr. Isha Tyagi, Specialist (ENT)
Dr. Afsana Jahan, Nephrologist (Pediatric)
Dr. Sandeep Agarwal, Neurologist
Dr. Manjusha, Gynecologist
Dr. Rajesh Sahay, Ophthalmologist
Dr. Vaibhav Khanna, Plastic surgeon
Dr. Shiv Mani, Radiologist
Dr. Rajesh Arora, Urologist
Address:
Gomti Nagar, Lucknow, U.P.
Tel: +91 522 6780001
Fax: +91 522 6782110
Gandhi Memorial & Associated Hospitals
Gandhi Memorial & Associated Hospitals is attached to King George's Medical University in Lucknow. Spread on a vast area spanning 88,000 sq meters, the hospital houses different buildings for varied departments along with respective wards. The main building houses Radiotherapy, ENT, Orthopedic surgery and Radiagnosis departments along with surgical wards. Several other buildings comprise departments for other specialty treatments.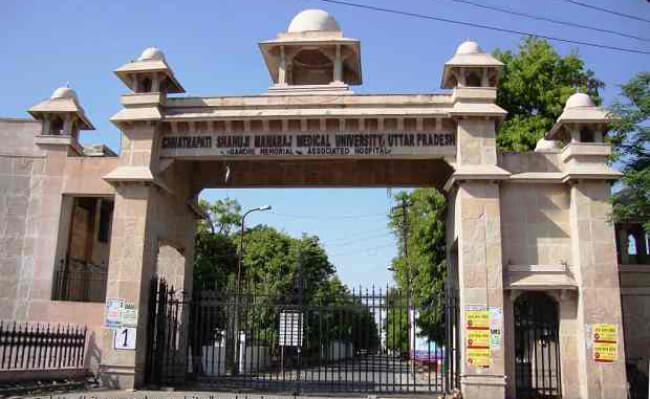 Salient Features
More than 2400 hospital beds available
90 to 100% occupancy
More than 500,000 outpatients provided treatment annually
More than 50,000 inpatients treated annually
Almost every branch of healthcare catered to
24X7 patient care and admissions
Esteemed panel of Doctors
Dr. Shailendra Yadav, Surgeon (Vascular & Cardio Thoracic)
Dr. V.S. Narain, Cardiologist
Dr. A.K. Tripathi, Specialist (Clinical Hematology)
Dr. D. Himanshu, Specialist (Diabetes)
Dr. Ajay Kumar, Specialist (Gastro)
Dr. Sanjay Mehrotra, Specialist (Geriatric Medicine)
Dr. M.L. Patel, Nephrologist
Dr. Virendra Atam, Neurologist
Dr. K.K. Gupta, Specialist (Respiratory clinic)
Dr. Madhukar Mittal, Specialist (Medical Endocrinology)
Dr. Sunil Kumar Singh, Surgeon (Neuro)
Dr. Seema Mehrotra, Gynecologist
Dr. Poonam Kishore, Ophthalmologist
Dr. Ajay Singh, Surgeon (Orthopedic)
Dr. S.N Kureel, Surgeon (Pediatric)
Dr. Veerendra Prasad, Surgeon (Plastic)
Dr. M.C. Pant, Radiotherapist
Dr. (Prof) Ravi Kant, Oncologist (Surgical)
Dr. Rahul Sinha, Urologist
Address:
Shah Mina Road, Chowk, Lucknow,
Uttar Pradesh, INDIA - 226003
PBX: +91 522 2257450, 2257451, 2257452, 2257453
Fax No.: +91 522 2257539
Mayo Hospital
Mayo Hospital is ranked amongst the most popular medical care destinations in Lucknow. It boasts of a respected panel of experienced doctors and adopts all modern advancements related to every aspect of surgery and medicine.
Salient Features
300 beds available for patients
Advanced infrastructure facilities and latest equipments
Preferred medical destination for both urban and rural patients
Patients from nearby regions and Nepal visit this hospital for treatment
Super specialty treatments covering a broad spectrum of medical fields
Esteemed panel of Doctors
Dr. Ajay Choudhary, Gastroenterologist
Dr. Rahul Singh, Surgeon (Bariatric)
Dr. R. Elehance, Nephrologist
Dr. Sanjay Shrivastava, Surgeon (Orthopedic)
Dr. Kumar Prafull Chandra, Consultant (Diabetology and Internal medicine)
Dr. Sandeep Agarwal, Neurologist
Address:
Vikas Khand- 2, Opposite Kendriya Vidyalaya,
Lucknow, Uttar Pradesh - 226010
Phone: 0522 239 8615, 239 8614, 230 2269, 230 2270
Ram Manohar Lohia Combined Hospital
The Ram Manohar Lohia Combined Hospital is known for providing treatment and care for varied fields of medical science. This hospital was initiated by the Uttar Pradesh State Government for catering to health care needs of Lucknow and surrounding regions. Best doctors and modern equipments are used for patient care and treatment. The hospital has witnessed steady growth right from its inception in 1998.
Salient Features
Fully functional 24X7 emergency service
More than 4,00,000 patients attended annually in OPD
More than 300 beds for treating patients
Highly subsidized rates for medical and surgical needs
Just INR 1 taken as registration for OPD
Free medicines distributed to General ward and OPD patients
Esteemed panel of Doctors
Dr. Devashish Shukla, Consultant (Psychiatry)
Dr. M.L. Bhargav, Medical Superintendent (Pediatrics)
Dr. Ratish Agarwal, Consultant (Orthopedic)
Dr. Ravi Kacker, Consultant (ENT)
Address:
Vibhuti Khand, Lucknow,
Uttar Pradesh - 226010
Phone: 0522 4918504, 9889361438