Best Hospitals in Surat
Following are the top hospitals in Surat:
Pristyn Care
General surgeons at Pristyn Care are the best and well-known medical professionals in India. We follow world-class health care guidelines to treat diseases like Anal Fistulas, Fissures, Piles, Hemorrhoids, Molalu, Pilonidal Sinus, Hydrocele, Varicocele, Hernias, Gallstones, Circumcision and Varicose Veins. We use the latest and advanced medical devices along with USFDA approved surgical techniques to provide the utmost care and reduced risk of infection to all the patients.
All our general surgeons are experts in providing the safest and risk-free surgeries like Laser Fistula Surgery, Laser Pilonidal Sinus Treatment, Laparoscopic Hydrocelectomy, Laser Piles Treatment, Laparoscopic Hernia Repair Surgery, Laser Circumcision, etc.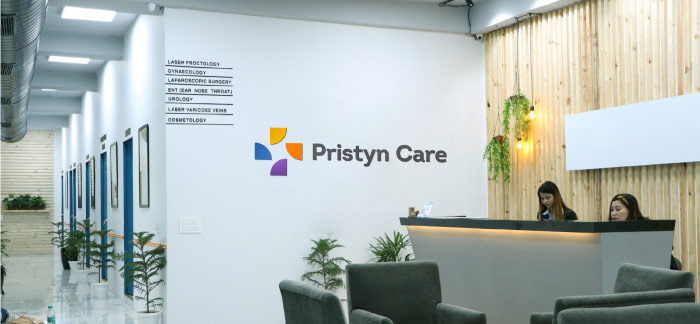 Timings: Monday-Saturday (10:00 AM-8:00 PM)
Speciality: General Surgeon
Address
5th Floor, SNS Bank, Nanpura, Near Gandhi Smruti Bhavan, Surat, Gujarat 395003
Care Hospital
Located in central Surat, Care Hospital provides world class medical facilities, the expertise of highly experienced doctors and latest medical equipment .This NABH accredited hospital aims to provide the best in health care to the people of Surat.
Salient Features
Cardiology Cath Labs (Flat Panel)
Intensive Care Unit(I.C.U) with 42 Beds
3 Operation theaters with the latest equipment
Modular Operation Theaters with HEPA Filters for critical surgeries,such as, laparoscopic, cardiothoracic, bariatric and joint replacement
High end vital signs monitoring system, central oxygen lines, ventilators, defibrillator and other modern equipment in a 24 hour Emergency Care with constant supervision of doctors
ICCU ambulance with a life support system
Pneumatic Transportation System for emergency patient management
Esteemed Panel of Doctors
Dr. Kalpesh Malik- Cardiologist
Dr. Alok Ranjan- Cardiologist
Dr. Divyang Bhatt- Gastroenterologist and General Surgery
Dr. Ashok Suryavanshi- Orthopedic Surgeon
Dr. Narendra Parekh- Urologist
Dr. Anil Kumar Patel- Nephrologist
Address
Athwa Gates,
Surat - 395001
Telephone: +91 261 3927777
Emergency: +91 9898298983
Anand Hospital
Anand Hospital is ISO 9001-2000 certified, with comprehensive facilities in multiple specialties. It is specially well-reputed in South Gujarat for its state-of-the-art setup in surgical oncology. It is internationally recognized and its vision is to lead the way for a cancer-free society in the near future.
Salient Features
110 beds with round-the-clock services of well trained staff
6 suites, 22 super-deluxe and AC deluxe rooms
Obstetric and Gynecological Department has 27 beds, labor room and 3 birthing beds with highly experienced nursing staff and 24 hr services
Hi-tech equipment with the latest technologies in the gynecological department
Completely modern setup Surgical Oncology. Laproscopic method is used for Gastro-Intestinal Cancer and Genito-Urinary Cancers .Breast Surgery after early detection of cancer, TRAM and L-D flap procedure for reconstruction of breasts after Total Mastectomy is also performed.
Accomplishment of Micro vascular Reconstruction for Oral Cancer and craniofacial resections
Neonatal Intensive Care Unit (NICU) with high risk, level 3 pregnancies are accepted Infertility and menopause clinic as well as early cancer detection clinic is present
Endoscopic sinus surgery with latest equipment for early and benign cancer
Specialized and personalized care, pre- and post- surgery (orthopedic), for enabling patients in returning to a fully productive life
Esteemed Panel of Doctors
Dr. Chetana Shah- Gynecologist and Obstetrician
Dr. Jayesh Shah- Oncology Surgeon and Laproscopic Surgeon
Dr. Farida Wadia- ENT Surgeon
Dr. Chetan Shah- Paediatrician and Neonatologist
Address
Por Mahollo, Athugar Str.
Nanpura Timaliyawad,
Surat - 395001
Telephone: +91 261 2474268, +91 261 2474229
Mahavir Hospital
Since 1978, Mahavir Hospital is providing quality health care solutions in Gujarat. Their aim is to provide treatment at competitive prices, so that people; irrespective of their social and financial backgrounds, can have health services at their fingertips. They offer state of the art infrastructure and equipment for multi-specialty treatment.
Salient Features
First Diagnostic center to introduce digital CT scan in Surat. Currently it has Discovery CT750 HD 256 slice, first of its kind in Gujarat
They have 110 beds in the Cardiac Institute, 8 beds in the Coronary Medical Intensive Care and 9 beds in Post Surgical Intensive Care
Two fully equipped operation theaters, 2 catheterization labs with the latest technology, computerized round the clock Pathology Lab, 4 beds in the Emergency Department, and out patient department services.
4 hi-tech Operation Theaters, 42 bed critical care unit with modern ventilators, 3 bed burns unit, dialysis unit, AC as well as non AC rooms
1.5 Tesla MRI Machine
Esteemed Panel of Doctors
Dr Sanjiv Shah- Orthopedic Surgeon
Dr. Piyush Khanna- Urology/Cardiovascular Surgeon
Dr. Bhavin Patel- Plastic Surgeon
Dr. Rajiv Mehta- Gastroenterologist
Dr. Krunal Shah- Orthopedic Surgeon
Address
Shri B.D Mehta Mahavir Heart Institute
Athwa Gate, Nanpura, Surat - 395001
R.B Shah Mahavir Super-Specialty Hospital
Nanpura, Surat – 395001
Shree Mahavir General Hospital
Sagrampura, Surat - 395002
Emergency & Appointments: +91 261 4082022, +91 261 4082023
24 Hours: +91 261 4082000, +91 261 2082020
OPD: +91 261 2461093, +91 261 4082000
BAPS Pramukh Swami Hospital
BAPS Pramukh Swami Hospital is a multi specialty, state-of-the art health care institution offering modern treatments at economical prices. They have an impressive line up of dedicated as well as visiting doctors. They seek to offer medical help to people of different caste, creed and religion.
Salient Features
Expansive 1,30,000 sq. ft campus with 150 beds
7 high end operation theaters with HEPA filters, strict sterilization and surgical procedures to achieve zero infection rate
Intensive Cardiac Care Unit with non-invasive blood pressure monitoring system,ventilation system and round the clock attendance of M.D. Physician
Major and minor plastic surgeries, as well as micro surgeries performed
Well equipped Neonatal Intensive Care Unit (NICU) and Pediatric Intensive Care Unit(PICU)
Latest technology in ENT surgery, Dentistry and Ophthalmology
Oncology surgery by experts in the field. Support for terminally ill patients
Esteemed Panel of Doctors
Dr. Bhadresh Rathod- Orthopedic Surgeon
Dr. Dhaval Patel- Bariatric Surgeon
Dr. Kirit Sisodiya- Pediatrician
Dr. Chintan Dalal- Ophthalmologist
Dr. Alpa Patel- Gynecologist
Address
Shri Pramukh Swami Maharaj Marg,
Adajan Char Rasta, Surat - 9
Telephone: +91 261 2781000
Mobile: 9879644144, 9879644244
Apple Hospital
Apple is a pioneer in its field with super specialist doctors providing round-the-clock treatment. They provide high quality medical service for a wide cross section of people, of all ages. Experienced doctors and health care personnel, work round the clock to maintain a high standard of health care.
Salient Features
100 beds in total, with 45 beds dedicated to the Critical Care Units with ultra -modern equipment
Operation theater is kept sterilized with latest technology
CT scanner, Computed Radiography Scanner and Color Doppler machines
Dialysis Unit with 5 beds. ICU also has a dialysis facility with the hi-tech Dialyzer Reprocessing Station. This machine is first of its kind in Gujarat.
In case of emergency, a 24 hour blood bank is present, for blood storage purposes
The newest cosmetic surgery procedures are performed here
Esteemed Panel of Doctors
Dr. Kalpesh Jain- Neurosurgery
Dr. Aroon Trivedi- Pediatric and Neonatal Surgery
Dr. Ghanshyam Patel- Oncology Surgery
Dr. Jayanti Patel- Medical Oncology
Dr. Hiren Desai- Plastic Surgery
Dr. Dhanesh Vaidya- Nephrology
Dr. Alpesh Parmar- Pulmonology and Critical Care
Address
Udhna Darwaja, Ring Road,
Surat - 395002
Telephone: +91 261 2310703, +91 261 2310704, +91 261 2310705