Best Hospitals in Vadodara
Following are the top hospitals in Vadodara:
Pristyn Care
General surgeons at Pristyn Care are the best and well-known medical professionals in India. We follow world-class health care guidelines to treat diseases like Anal Fistulas, Fissures, Piles, Hemorrhoids, Bawaseer, Pilonidal Sinus, Hydrocele, Varicocele, Hernias, Gallstones, Circumcision and Varicose Veins. We use the latest and advanced medical devices along with USFDA approved surgical techniques to provide the utmost care and reduced risk of infection to all the patients. All our general surgeons are experts in providing the safest and risk-free surgeries like Laser Fistula Surgery, Laser Pilonidal Sinus Treatment, Laparoscopic Hydrocelectomy, Laser Piles Treatment, Laparoscopic Hernia Repair Surgery, Laser Circumcision, etc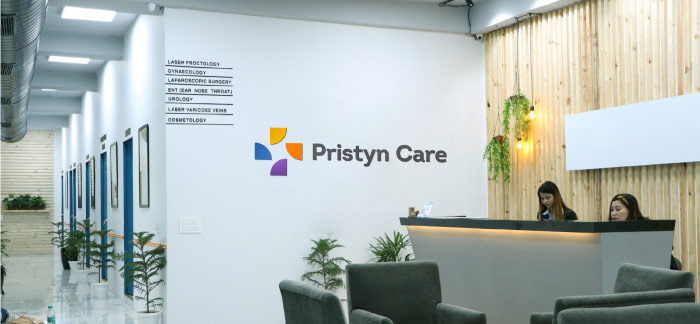 Timings: Monday-Saturday (10:00 AM-8:00 PM)
Speciality: General Surgeon
Address
Swasthya Superspeciality Hospital, Ajanta Cooperative Society, CNG Pump Road, Near Trident Complex, Baroda, Gujarat 390023
Sterling Hospital
A leading health care center spread across seven branches in and within Gujarat. Sterling hospitals have defined patient care in the most unique, effective and affordable manner. Aiming at presenting every surgical and medical treatment under one roof, all sterling hospitals have been designed to facilitate quality health in every medical faculty.
Salient Features
First corporate hospital to get NABH accreditation in Gujarat
Sterling hospital Vadodara is 220 bedded multispecilality hospital
A Government approved Renal unit
Performing highest dialysis procedures in region
Has one of the most advanced set ups for Bone Marrow Transplants
Owns a well equipped diagnostic center that offers almost every lab test required by patients
Also offers blood transfusion and blood storage facilities
24/7 Emergency services are provided with utmost accuracy
Professionals are not only skilled, but also deliver a patient friendly service
Esteemed Panel of Doctors
Dr. Amey Patankar (Neuro Surgeon)
Dr. Archana Diwedi (Gynecologist)
Dr. Bhupesh D. Shah (CVT- Surgeon)
Dr. C. Shrinivasan (Pathologist)
Dr. D. Nandy (Oncologist)
Dr. Gaurav Goel (Cardio Thoracic Surgeon)
Dr. Harendra Chauhan (General Surgeon)
Dr. Haresh Thummar (Urologist)
Dr. Hemen Vithalani (Radiologist)
Bhailal Amin General Hospital
Bhailal i Amin General Hospital(BAGH), standing high in delivering quality health care for five decades now. The hospital not only caters to medical needs of the inhabitants of Vadodara, but also makes efforts in reaching millions in and around Vadodara and neighboring states. The hospital also boasts of a beautiful ambiance that speeds up the healing process.
Salient Features
NABH and NABL accredited multispecialty hospital
An ISO 9001:2008 certified hospital
Accommodating 200 beds across various departments
Government recognized, thus making all services 100% tax deductible
5 ambulances and one mobile ICU available 24/7
Bringing patients in hospital is free of cost. A nominal fee is charged if ambulance is required to drop patients at home post treatment.
Also offer a 24/7 pharmacy equipped with everything a patient may need
Talents from all round the country are employed to deliver best services with compassionate care
Houses the latest technical apparatus along with a sound technical team
Esteemed Panel of Doctors
Dr. Atul Jani (Physician)
Dr. Ulka Korde (Medical officer)
Dr. Sumit Kapadia (Vascular Surgeon)
Dr. Nirav Modi (Orthopedic Surgeon)
Dr. A. Ganju (Nephrologist)
Dr. Kalpesh Jani (Surgeon – Laparoscopic)
Dr. A.B.Vaidya (Cardio-Thoracic Surgeon)
Dr. S. Sharma (Cosmetic Surgeon)
Dr. P.P. Rana (Cardiologist)
Dr. Vijay Thakore (Vascular Surgeon)
Dr. K. Parekh (Nephrologist)
Dr. Iyengar (Gynecologist and Obstetrician)
Address
Gorwa Road, Close to Alembic Ltd,
Gorwa, Vadodara, Gujarat – 390003
Contact Number: 0265-395-6222
Emergency Number: 0265-228-6666
Sunshine Global Hospitals - Manjalpur
Sunshine Global Hospitals is a chain of medical centers spread across various branches in Vadodara. Manjalpur Sunshine Global Hospital is the most equipped and popular segment as compared to rest of its centers. The chain has been the biggest health solution for the people of Southern Vadodara as it came up with its multispecialty hospital for the first time in region. The Manjalpur center is regarded as one of the best hospitals in Vadodara for the services it renders.
Salient Features
Multispecialty hospital accommodating 130 beds
NABH accredited hospital
Operating theaters, ICUs and HDUs well designed and equipped with cutting edge technology
24 hours Radiological and diagnostic facilities
Offers quickest ambulance services housed with every life saving apparatus
24/7 Emergency and Trauma care with complete availability of doctors, supporting staff and apparatus
Doctors in Sunshine are committed to their patients and their improvement. ICU doctors offer life saving tips over a call prior to ambulance arrival.
Engulfs every medical specialty involving both medical and surgical treatments
Caters to all pharmaceutical needs through a well designed and maintained pharmacy
Esteemed Panel of Doctors
Dr. Apurva Vaidya (Cardio Thoracic Surgeon)
Dr. A. Sharma (Cardiologist)
Dr. Ramchandani (Ophthalmologist)
Dr. Bhikubhai Patel (General Surgeon)
Dr. Chirag Gurjar (Cardiologist)
Dr. Khatri Deepak (Cosmetologist and Plastic Surgeon)
Dr. Harshad Joshi (Orthopedic Surgeon)
Dr. Hiral Soni (Radiologist)
Dr. H. Parikh (Pulmonologist)
Dr. Jigar Patel (Oncologist)
Dr. Nilesh Sondarva (Gen. Surgeon)
Address
Nalini House, Close to Shreyas Vidhyalaya,
Manjalpur, Vadodara, Gujarat 3900011
Contact Number: 0265-3300400/2632044/2638044
Emergency Number: 937-7412-777
Metro Hospital and Research Institute
Metro Hospital and Research Institute Vadodara, is one of the humble initiatives taken by the Metro Hospital Group that owns 13 hospitals nationwide. In a very short span of time, the hospital has become a trusted health care center in Vadodara. It is also regarded as one of the few hospitals that provide effective and quite affordable services with regards to its unmatched standards.
Salient Features
Bed capacity that can be expanded to around 500 beds according to needs
Operation theaters with hi-tech amenities
Mobile ICU and ambulance facilities available for 24 hours
Offers diagnostic facilities for 24 hours
Cath lab and radiological services are also available for the entire day and night
Focuses on maintenance and up gradation of pharmaceutical services
Provides advanced radiological services
Esteemed Panel of Doctors
Dr. Jayesh Patel (Cardiologist)
Dr. Rahul Vasava (Physician)
Dr. Rakesh Koya (Internal Medicine)
Dr. H.N Sheth (Gastroenterologist)
Dr. Sanchaita Chowdhury (Dentist)
Dr. Nillam Desai (Gynecologist and Obstetrician)
Dr. J. Mukherjee (Obstetrician and Gynecologist)
Dr. Vikky Ajwani (Urologist)
Dr. N.K. Trivedi (Ophthalmologist)
Dr. Samir Mahajan (ENT Specialist)
Dr. G.M. Vinod (Dermatologist)
Dr. T. Kakkad (Pulmonologist)
Address
Harni Salvi Road,
Near Kendriya Vidhyalaya,
Vadodara, Gujarat 390022
Contact Number: 91-96012-77020
Ambulance: 085111-84511
Emergency Number: 0960-1111-212
Balaji Hospital
A premiere institute for patient care in Vadodara. The hospital is committed at leaving no stone unturned in catering to every medical need of their patients with a compassionate outlook. The hospital aims at being one of the best hospitals in Vadodara that offers affordable services. With a dedicated staff and skilled practitioners, Balaji Hospital is quickly marching ahead to be one of the most efficient health care assistance in Vadodara.
Salient Features
ISO certified multispecialty hospital
The entire infrastructure has a cutting edge technical support and meets international standards
A strong functional pathological laboratory
Offers well equipped ambulance facilities 24/7
Employs trained professionals who can deliver friendly and compassionate care
Well equipped operating theaters
Maintains a pharmacy and sterilization units
Esteemed Panel of Doctors
Dr. S.R. Iyengar (Cardiologist and Sr. Physician)
Dr. Sachin Wani (Oncologist)
Dr. Vibhav Pargi (Endocrinologist)
Dr. Saini (ENT Specialist)
Dr. Padma Iyengar (Gynecologist and Obstetrician)
Dr. Hiten Kareliya (Disease Specialist – Infection)
Dr. Khandelwal (Laparoscopic Surgeon)
Dr. Buch (Neurophysician)
Dr. Nimesh Patel (Neurosurgeon)
Address
Opposite to Vidya Vikas School,
Ellora Park, Shubhanpura,
Varodara, Gujarat – 390023
Contact Number: 0265-228-2111