Book an Appointment
Fortis La Femme, Richmond Town
Fortis La Femme is ranked among the topmost IVF centers in Bangalore city. The center of excellence for IVF caters state of art services to treat and manage issues associated with infertility. With improvements in medical sciences, the hospital has introduced novel methodologies for handling infertility issues seen in women.

Salient Features
70 well equipped hospital beds for women and child care
The medical center accredited under NABH standards
Specialized provisions like assisted reproductive technology to improve the chances of conception
Availability of Intracytoplasmic Sperm Injection (ICSI) for fertilization process through injection
Exclusive unit for donation and storage of sperms
Laser technologies utilized for carrying out hatching processes
Freezing techniques useful for embryo vitrification
Availability of best in class medicines and medical equipment within the campus area
Full scaled IVF labs performing various procedures following standard protocols
Esteemed Panel of Doctors
Dr. Jaya Bhat - IVF Specialist
Dr. Anita B. - IVF Specialist
Dr. Aruna Muralidhar - IVF Specialist
Address
Fortis La Femme, No. 62,
Richmond Road,
Behind Sacred Heart Church,
Richmond Town,
Mother Teresa Road,
Bangalore, Karnataka - 560025
---
Indira IVF, J.P Nagar
Indira IVF is a leading medical unit that assures a series of services that benefits women in managing their infertility issues. The institute is constituted of many clinical and medical sub-centers individually designed to perform various types of IVF procedures for the betterment of women. It also conducts specialized counseling classes for women in their child bearing age, to educate them about conception and management of maternal health.

Salient Features
Hospital environment with carbon dioxide controlled rooms and corridors
CHARCOAL based and HEPA filters used within the campus area to purify harmful air and prevent unnecessary medical issues
Refrigeration with temperature customization facility for storage of eggs, sperms and embryo
High standards of technological machines used in separate diagnostic cells
Various IVF procedures catered using safety control protocols
Exclusive embryology lab facility with state of art systems designed based on global standards
Electronic evaluation and monitoring machines for precise recording of various IVF processes
Temperature control systems and machines specially engineered for each individual infertility methods
Provisions for Blastocyst culturing, fetching and transferring
Esteemed Panel of Doctors
Dr. Manjula B. C. - IVF Specialist
Dr. Santosh Gaur - IVF Specialist & Gynecologist
Address
Indira IVF, 3rd Floor,
Woody's Building, 45/1-1,
2nd Phase, J P Nagar,
Marenahalli, Bangalore - 560078
---
Motherhood Hospitals, Indiranagar
Motherhood Hospital is among the best institutes that contribute towards helping women preserve their maternal health across the City of Bangalore. Over the years, the medical facility has been offering a comprehensive solutions and best in class medical aid to manage reproductive issues and preserve fertility. The multi-disciplinary approach of this hospital has been noted as one of the finest in the healthcare industry.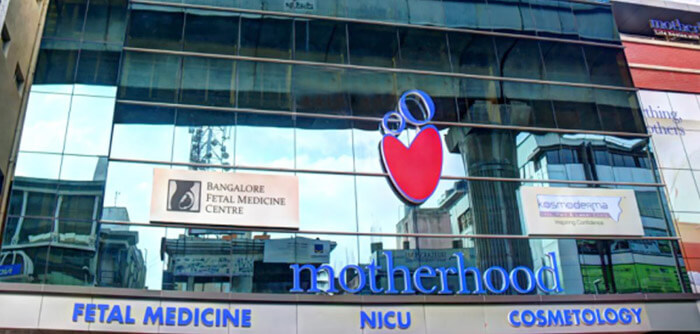 Salient Features
Procedure based division of units infrastructured with high end technologies
Evidence based medical and clinical IVF practices
Laser assisted systems for hatching processes
Surgical procedures conducted using minimal invasive tools like laparoscope, endoscope, etc.
Various types of embryology procedures performed using benchmarked protocols
Standardized surgical and medical setups assuring quality care services
State of art lab facilities for diagnostic and interventional purposes
Imaging centers equipped with latest ultrasound machines for learning about progress of ongoing gynecology treatment
Well preserved reproductive medicine utilized for different types of embryology processes
IVF center backed with accurate systems for quality results
Esteemed Panel of Doctors
Dr. Ashwini Sidhmalswamy G - IVF Specialist
Address
Motherhood Hospital, 324,
Chinmaya Mission Hospital Road,
First Stage, Hoysala Nagar,
Indiranagar, Bangalore, Karnataka - 560038
---
Rainbow Children's Hospital, Marathahalli
The multi-disciplinary approaches practiced for IVF at Rainbow Children's Hospital are known to be among the finest across Bangalore city. It provides a wide range of services to treat infertility issues faced by women in their child bearing age. The hospital is backed with technologically advanced diagnostic and surgical wards to cater best in class in-vitro fertilization processes following international standards.
Salient Features
An overall 200 bedded healthcare facility
Accredited medical facility by NABH standards
Facility for cryopreservation available that involves storing and preserving fertilized eggs
Injecting intracytoplasmic sperm using assisted reproductive technology when medical treatment for managing fertility doesn't bring required results
In vitro fertilization techniques for embryo transfer following embryo culture process
Provision for ovulation induction for stimulation of ovaries using medicines
Retrieval process for sperm using minor surgical methods practiced by highly trained medical experts
Reproductive surgery for removal of blockages or anomalies that prevents fertilization process
Counseling programmes for educating patients about preconception procedures and medicines
Exclusive sperm donation centers with world class preservation and retrieval techniques
Esteemed Panel of Doctors
Dr. Jyothi Patil - IVF Specialist
Address
Rainbow Children's Hospital & Birthright,
Survey No. 8/5, Marathahalli - K. R. Puram Outer Ring Road,
Doddanekundi, Marathahalli, Bangalore - 560037
---
Aster CMI Hospital, Hebbal
The gynecology division at Aster CMI Hospital is designed to provide best in class infertility treatment for women following quality control protocols. The center assures fine medical and surgical practices with the aim of improving gynecological health of women and assist them to manage it well. The division consists of minimal access equipment and state of art methods are available to perform various procedures for treating and managing infertility issues.
Salient Features
500 beds
JCI accreditation
Inpatient as well outpatient services available for managing women's gynecological health
Da Vinci surgical system with robot assisted technology that offer high precision surgical results
Minimal access systems and tools for operative procedures with less pain and blood loss
Ultra modern delivery in the diagnostic and clinical areas for IVF care
Specialized preservation techniques to store fertilized eggs, ovaries and sperms
Exclusive assessment unit for women to monitor health and fertility treatments
Surgical and non surgical diagnostic procedures available for gynecological purposes
Lab facilities practiced using safety control programs
Esteemed Panel of Doctors
Dr. Deepthi Bawa - IVF Specialist
Address
Aster CMI Hospital, No. 43/2,
New Airport Road, NH. 7,
Hebbal, Sahakara Nagar,
Bangalore, Karnataka - 560092
---
Columbia Asia Hospital, Whitefield
Columbia Asia is a profound destination across Bangalore recognized for catering internationally protocol based healthcare, surgical and nursing facilities towards maintaining women's gynecological health. With each passing year, the hospital is updated with innovative systems aiming towards offering quality to all its beneficiaries. The center for reproductive health delivers evidence based medical practices and medicinal provisions for all types of gynecological procedures.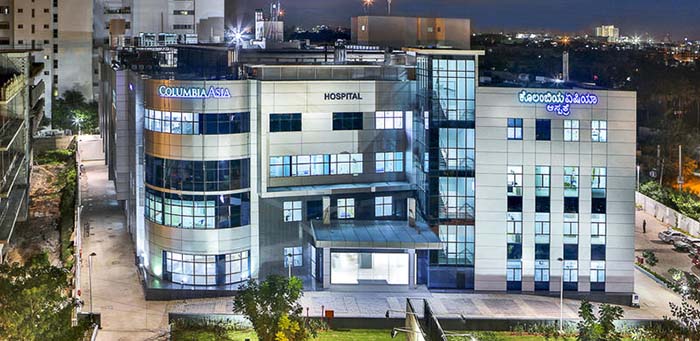 Salient Features
Hospital backed with specialized equipment for monitoring ovulation cycling process
Tubal testing procedures to learn about the cause of infertility in women
Detailed analysis technique to assess quality of semen
Exclusive systems and equipment for genetic testing
Digitized machines that offer high precision results for all types surgical, clinical and medical procedures
Interventional diagnostic procedures available with minimally invasive machines and tools
State of art screening facilities for evaluation of gynecologic health in women
All departments customized with centralized sterile systems
Teleradiology procedures for patient located at remote distances
Esteemed Panel of Doctors
Dr. Himanshu Singhal - IVF Specialist
Address
Columbia Asia Hospital,
Survey No. 10P & 12P,
Whitefield Main Road,
Vathur Kodi,
Ramagondanahalli,
Bangalore, Karnataka - 560066
---
Dr. Malathi Manipal Hospital, Jayanagar
Dr. Malathi Manipal Hospital is listed among the top names for IVF treatment across the city area of Bangalore. This medical division assists a full range of IVF facilities and therapeutic approaches for the welfare of women. It offers healthcare facility ranging from regular medication to advanced surgical processes to manage fertility issues in females.
Salient Features
Center achieved the Best Practices Award for IVF
Dedicated team of embryologists, IVF specialist and other medical staff
State of art treatment facilities like IUI, IVF and ICSI
Reproductive medications available for improving gynecologic health in females
Specialized interventional procedures for improving reproductive health in males for retrieval of sperms helpful for fertilization techniques
High tech systems used for embryoscope purposes
Embryology lab facilities full scaled with latest machines like PolScope useful for imaging during an ICSI process
Computerized equipment and machines used to render high precision in all diagnostic and surgical methods for treating infertility in men and women
Esteemed Panel of Doctors
Dr. Bharathi Rajanna - IVF Specialist
Dr. Apurva Satish Amarnath - IVF Specialist
Address
Dr. Malathi Manipal Hospital,
45/1, 45th Cross,
Opp. Bangalore Central Mall,
9th Block, Jayanagar,
Bangalore, Karnataka - 560069
---
Fortis Hospital, Bannerghatta Road
Fortis Hospital is among the topnotch medical centers in Bangalore city that renders 360 degree healthcare services for improving women's reproductive health. The hospital consists of specialty based sub-center named Fortis Bloom IVF center that caters all types of medical, clinical and surgical methods to manage infertility issues. This sub-unit is equipped with team of professionally experienced embryologists, gynecologist and IVF specialists to treat all types of problems associated with infertility.

Salient Features
Total number of hospital beds: 276
Various infertility treatment alternatives for handling issues like multiple failed cycles
Best in class clinical assistance and check up sessions for those who are planning to conceive
All types of traditional as well as advanced medical aid required to improve reproductive health
Intrauterine insemination optional when primary treatment for reproduction does not show possible results
Separate unit for sperm donation and preservation
High end refrigeration machines for storage of embryos and eggs
Latest diagnostic approaches with minimally invasive techniques
Wide range of in-vitro fertilization methodologies to treat genetic problems in females
Specialized sperm and fertilization lab facilities
Esteemed Panel of Doctors
Dr. Manisha Palep Singh - IVF Specialist
Address
Fortis Hospital, 154/9,
Bannerghatta Road,
Opposite IIM-B,
Bangalore, Karnataka - 560076
---
Motherhood Hospitals, Hebbal
Motherhood Hospital is a one stop destination for management of all types of infertility problems. The state of art medical division of this hospital has a well engineered lab facility, diagnostic and interventional centers and surgery wards for IVF; all under the same roof. A comprehensive array of genetic testing available with highest quality of medical provisions.
Salient Features
5 full scaled day care units
2 endoscopic suites especially designed for carrying various gynecologic procedures
5 surgical centers with modulated systems
2 state of art intensive care units
Speciality based genetic labs with advanced infrastructure
Pharmaceutical centers backed with best in class reproductive medicines 24/7
Diagnostic machines with high accuracy setups to provide precise results
Technologically engineered operating rooms consisting of laser based and robot assisted machines
Quality control preservation machines used for storing fertilized eggs
Specialized counseling sessions conducted for women about pre-conception health maintenance
Equipped with latest machines for radiology and ultrasound processes
Esteemed Panel of Doctors
Dr. Ashwini Sidhmalswamy G - IVF Specialist
Address
Motherhood Hospital,
2266/17 & 18, Service Road,
G Block, Sahakara Nagar,
International Airport Road,
Hebbal, Bangalore, Karnataka - 560092
---
Manipal Hospital, HAL Airport Road
Manipal Fertility, Old Airport Road is among the most recognized names in the fertility sector of Bangalore city. The institute is engineered with technological setups to cater comprehensive solutions for patient suffering from fertility problems. Qualified group of IVF doctors render innovative and quality care processes using both reproductive medicine and surgical approaches for treating infertility.
Salient Features
Awarded institute for "Outstanding Achievement Award in Fertility Sector"
Exclusive reproductive services available utilizing new technologies
Special provisions for IVF implantation methodologies
Improved chances for conception using embryoscope technology and assisted reproductive technology
Facilitates highest quality of reproductive medicines and assistances
Availability of quality based genetic screening techniques conducted before IVF implantation process
Separate speciality based clinics for IVF failure evaluation and fertility analysis
Diagnostic procedures available for learning about quality of embryo, ovarian responses and Sperm DNA fragmentation processes
A complete range of treatments for managing hormonal issues in both males and females that affects fertilization process
Backed with professional experts to counsel about pregnancy and pre-conception care
Esteemed Panel of Doctors
Dr. Namita Joshi - IVF Specialist
Dr. Bharathi Rajanna - IVF Specialist
Address
Manipal Fertility, 98,
9th Floor, HAL Airport Road,
Opp. Leela Palace,
Bangalore, Karnataka - 560017
---
Rainbow Children's Hospital, Bannerghatta Road
Rainbow Children's Hospital and Birthright by Rainbow is a reputed location for treating all types of reproductive issues for women. Catering evidence based medical practices, the hospital is listed as one of the best IVF centers in the medical industry of Bangalore. The hospital is engineered with cutting edge technological advancements with the goal to provide best in class services and facilities to its beneficiaries.
Salient Features
NABH accredited hospital facility
Comprehensive range of procedures for treatment and monitoring of infertility issues
Assisted Reproductive Technology (ART) based procedures available
Effective processes for in-vitro fertilization techniques utilized having a higher success rate
Implantation of fertilized eggs using surgical or injection methods
State of art evaluation mechanisms like hormonal testing, ovulation and many others related to women's health
Best in class medical and surgical aid for treatment of ovulatory dysfunction issues
Reproductive medicines available for improving reproductive health in both males and females
Intracytoplasmic morphologically selected sperm injection to manage unexplained IVF failures
Esteemed Panel of Doctors
Dr. Arati Rama Rao - IVF Specialist
Dr. Geetha Belliappa - IVF Specialist
Address
Rainbow Children's Hospital and Birthright,
Road No. 178/1 & 178/2, Opposite Janardhan Towers,
Bilekahalli, Bannerghatta Road,
Bangalore, Karnataka - 560076
---
Motherhood Hospitals, Sarjapur Road
The state of art infrastructure for reproductive health at Motherhood Hospital is a well equipped to handle various infertility related issues. With each passing year, the center for fertility has developed in terms of technology and medical aid to address an array of reproductive problems faced by women. Using patient first approaches, the team of unmatched doctors provides medical, clinical and surgical care for the wellbeing of their valuable patients.
Salient Features
Lab facilities backed with cutting edge technological systems
Availability of laparoscopic procedures for treating infertility issues in women
Best in class facility for reproductive medicine to both males and females
Intrauterine insemination process available to help patients when reproductive medicines do not work
IVF center well equipped with operation theaters to carry out many surgical processes related to infertility
Advanced approaches utilized for complex cases that cause infertility in patients
Exclusive clinics designed for women to guide them before, during and after pregnancy periods
Specialized counseling sessions conducted for women to educate them about conception, family planning and motherhood
Esteemed Panel of Doctors
Dr. Ashwini Sidhmalswamy G - IVF Specialist
Dr. Prathiba Govindaiah - IVF Specialist
Address
Motherhood Hospital,
514/ 1-2-3, Kaikondara Village,
Opposite More Mall,
Sarjapur Raod, Bangalore,
Karnataka - 560104
---
Motherhood Hospitals, Banashankari
The unit for fertility at Motherhood Hospital delivers a range of medical treatments to treat disorders associated with reproductive health in women. They have introduced novel techniques for helping couples conceive a child of their own. The unit is equipped with latest technological systems utilized for many diagnostic, clinical and surgical areas of IVF, embryology and andrology.
Salient Features
A complete series of genetic evaluation procedures available to study health of couples planning to start a family
Innovative approaches for handling and management of infertility issues
Full scaled with high end machines for catering radiology and ultrasound procedures
Clinically certified lab facilities following safety control programmes
Specialized physiotherapy options for improving gynecologic health
Surgical implantation techniques like IUI, IVF, ISCI
Highest quality provisions for assisted reproductive medicine
Cryopreservation techniques for transferring and storing of eggs, sperms and fertilized eggs
All medical, surgical and lab procedures practiced using quality protocols
Routine tests and check up services available for couples looking for infertility treatment
Esteemed Panel of Doctors
Dr. Ashwini Sidhmalswamy G - IVF Specialist
Address
Motherhood Hospital,
4, 30th Main Road,
Banagirinagara Banashankari,
3rd Stage,
Opp. Kempegowda Institute of Medical Science,
Bangalore, Karnataka - 560085
---
Manipal Hospital, Whitefield
Manipal Fertility, Whitefield is a premier medical facility which offers top notch treatment solutions for different causes of infertility. A personalized approach with compassion and empathy is adopted while dealing with such a sensitive issue. This hospital is equipped with state of the art diagnostic and therapeutic technology which enables the infertility specialists to carry out their tasks with efficiency and precision.
Salient Features
Recognized and accredited by Indian Society for Assisted Reproduction
Medical facility in compliance with quality standards set by Indian Council of Medical Research
Equipped with unique andrology lab to evaluate male reproductive health parameters
Genetic testing facility for detection of possible abnormalities in future baby
Imaging facilities like sonography, fluorescent microscopy and PolScope available
Operation theaters and embryology lab with special air filters
Laparoscopy and hysteroscopy to diagnose and treat female infertility issues
ICSI, IUI, GIFT along with other techniques employed for conception
Laser assisted hatching technique used under special circumstances
Psychological sessions for couples to guide through the process
Esteemed Panel of Doctors
Dr. S Sangeetha - Infertility Specialist
Address
143, 212-2015, EPIP Industrial Area,
Off Hoodi Village, KR Puram Hobli,
KIADB ExportPromotion Industrial Area,
Krishnarajapura,
Bengaluru,Karnataka 560048
---
Columbia Asia Hospital, Hebbal
Excellence is the word which is both a value and way of working at Columbia Asia Hospital, Hebbal. Infertility of late has become a matter of concern with many couples being unable to have a baby of their own naturally. Under the able hands of the infertility specialists in Columbia Asia Hospital who are equipped with the best technology, infertility woes in both men and women can solved using a variety of techniques and therapies. Having a child of your own can indeed become a reality.

Salient Features
Certified by NABH
Inpatient accommodation capacity of 90 beds
24/7 availability of blood bank, pharmacy and emergency services
Special help desk for international patients
Patient privacy and confidentiality given high priority
Treatment solutions for both male and female infertility problems
TESA, MESA, TESE and PESA techniques for hassle free sperm retrieval
Special facility for genetic testing to detect possibility of abnormalities in future offspring
IUI, ICSI, blastocyte culture transfer and GIFT among many techniques for helping in conception
Different causes of infertility managed both medically and surgically
Special therapy and counseling sessions to guide couples through the treatment process
Esteemed Panel of Doctors
Dr. Nirmala Mohan - Infertility Specialist
Address
Bellary Road, Hebbal,
Kirloskar Business Park,
Bengaluru, Karnataka 560024
---
Motherhood Hospital, HRBR Layout
Like the name suggests, Motherhood hospital is just not restricted to maternity and child care. It also offers the best level of care for delicate issues like infertility as well. With a comprehensive series of diagnostic tests and treatments, it becomes a cakewalk for the team of infertility specialists to determine the appropriate course of treatment. Different techniques of infertility treatment are available which are customized as per needs.
Salient Features
Accredited by NABH
Round the clock availability of pharmacy, emergency and blood bank services
State of the art adult Intensive Care Unit (ICU), Neonatal Intensive Care Unit (NICU) and Maternal Intensive Care Unit (MICU)
An intensivist on call for prompt treatment of any medical emergency
Minimally invasive techniques preferred over opens surgeries
Laser assisted hatching technique for special indications
ICSI, IUI, GIFT, etc. techniques used for aiding conception in women
Sperm retrieval methods like PESA, MESA, TESA ad TESE practiced here
Client confidentiality and privacy maintained at all times
Facilities for cryopreservation of sperms, eggs and embryos
All procedures performed under highly clean and aseptic conditions
Esteemed Panel of Doctors
Dr. Sapna Lulla - Infertility Specialist
Dr. Kavitha Lakshmi Easwaram - Infertility Specialist
Dr. Madhavi Reddy - Infertility Specialist
Address
914, 5th A Cross Road,
HRBR Layout 1st Block,
Kalyan Nagar,
Bengaluru, Karnataka 560043
---