Best Piles hospital in Nagpur
List of the best piles hospital in Nagpur is as follows:
Pristyn Care
Pristyn Care is one of the leading surgery providers in Nagpur. They have tie-ups with the best hospitals in the city and offer comprehensive care for piles. They have a highly efficient team of doctors with extensive experience treating piles effectively. They use their expertise along with modern treatment methods to provide quality care to patients suffering from different conditions. The dedicated staff at Pristyn Care assists patients throughout their treatment journey to make their journey hassle-free.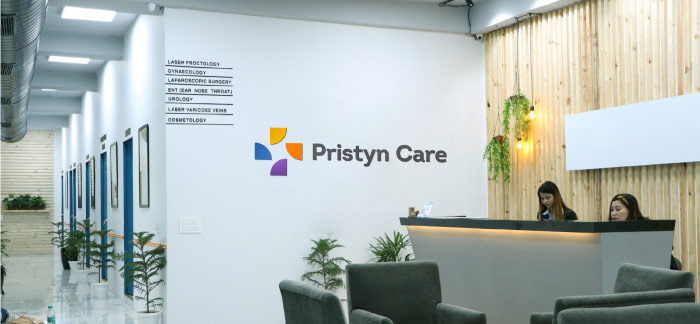 Salient Features:
Free consultation & follow-up sessions with top proctologists and surgeons in Nagpur.
Minimally-invasive treatment for Piles to ensure little to no discomfort
Advanced treatment methods & cutting-edge technology
Confidential Consultation
Multiple payment options, including No Cost EMI plans
Complete patient-care
Dedicated care coordinators for patients to assist them throughout the treatment journey
FREE pick up and drop facilities
Doctors
Dr. Ram Khare- MBBS, MS - General Surgery
Dr. Adarsh Lalwani- MBBS, MS - General Surgery
Address 
Multiple clinics across the city
Wockhardt Super Speciality Hospitals
Wockhardt Super Speciality Hospital in Nagpur has been offering advanced treatment for piles to the city's residents and nearby cities for the past two decades now. This super specialty hospital has garnered people's trust by extending unrivaled healthcare services at cost-effective prices. They offer treatment across different specialties, including Neurology, orthopedics, minimal access surgery, gynecology, etc. The hospital is equipped with the most advanced treatment facilities and always outdoes the patients' expectations. This facility is visited by some of the best doctors in the city, who are extensively trained in their respective specialties. Wockhardt Super Speciality Hospital provides a hospitable environment for patients to get effective treatment.
Salient Features:
118 patient beds
33 critical care beds
10 bedded SICU
4 state-of-the-art operation theaters
Accredited with NABH
Doctors
Dr. Hemant Chhajed- General Surgeon, Nagpur, India
Address 
Daga College, 1643, Ambazari Rd, beside Lady Amritbai, Shankar Nagar, Ramdaspeth, Nagpur, Maharashtra 440033
Orange City Hospital & Research Institute
One of Nagpur's leading hospitals, Orange City Hospital & Research Institute, combines state-of-the-art technology and medical expertise and offers top-notch care to patients experiencing painful symptoms of piles. This hospital's doctors and paramedical staff are trained to handle the most complex cases while maintaining patients' comfort. The hospital uses a patient-centric approach guided by empathy and compassion. Patient safety is prioritized, and the team takes all measures to maintain it. The entire facility is equipped with modern technology, and the treatments are performed using the latest and most cutting-edge methods.
Salient Features:
Expert team of doctors
Advanced treatment methods 
60 medical departments under one roof
Cost-effective treatment 
Recognized by SEC Rly and C Rly for providing emergency care for railway accident cases.
Provides Air ambulance services to Central India
Doctors
Dr. Vandana Tomey- MBBS, MS
Dr. Ram Khare- MBBS, MS (FIAGES)
Dr. Arundhati Marathe Lote- MBBS, MS (General Surgery)
Address 
19, Khamla Road Veer Savarkar Square Opposite to Jupiter College, Maharashtra 440015
Alexis Multispeciality Hospital
Alexis Multispeciality Hospital in Nagpur brings together excellent healthcare service and innovative medical solutions to give patients a comprehensive healthcare experience. Alexis' team consists of some of the country's brightest minds who leverage modern technology to offer the most effective treatment for piles. This hospital gets its strength from its paramedical staff that works tirelessly to promote the efficacy of treatments. Quality care, patient safety, and cutting-edge technology are the pillars of this hospital that help it stand scathless.
Salient Features
30 bed facility
Advanced treatment methods
Cost-effective charges
Expert doctors with extensive experience
Doctors
Dr. Abhijeet M Bhatkulkar- Associate Consultant, General Surgery
Dr. Siddharth Mendiratta- Consultant
Dr. Rajvilas Anil Narkhede - Consultant, Advanced Laparoscopic Surgery
Address
232, Mankapur, Koradi Rd, Byramji Town, Nagpur, Maharashtra 440030
KIMS-Kingsway Hospitals
Kingsway Hospital receives hundreds of patients on a daily basis for its outstanding medical facilities. The hospital not only has state-of-the-art infrastructure but also has one of the most efficient teams of doctors in the city. The expertise of KIMS doctors is backed by cutting-edge technology available at this hospital, which collectively ensures unrivaled treatment for the patients. The experts at this hospital stay updated with the advancements in the healthcare industry and constantly upgrade their treatment methods to provide the best results.
Salient Features
300+ bedded multispeciality hospital
80+ bedded advance critical care
9 High-end modular OTs
State-of-the-art diagnostic services
Treatment across multiple specialities
Renowned doctors in the panel
Doctors
Dr. G. Parthasarathy- Sr. Consultant, Surgical Gastroenterology, Laparoscopic & Hepato-Pancreaticobiliary Surgery
Address 
Medisearch Lifesciences Pvt. Ltd, 44, SPANV, Kingsway Rd, near Kasturchand Park, Nagpur, Maharashtra 440001
Care Hospital
Care Hospital is counted among the best Piles hospitals in Nagpur, and rightfully so. The infrastructure of this hospital matches global standards, and the efficient management and operations add up to the many reasons why you should choose this hospital for your treatment. The doctors at Care Hospitals are specialists in their respective fields and ensure that all patients receive the highest quality care. The hospital is built on the values of compassion and concern and serves quality healthcare to patients through dedicated care.
Salient Features
NABH accredited hospital
Top doctors with extensive experience 
Modern infrastructure
Advanced treatment methods
Treatment across multiple specialities
Personalized care for all patients
Doctors
Dr. Prashant Dayalrao Bhowate- Consultant, General Surgery
Dr. Rohan Kamalakar Umalkar- Consultant, General Surgery
Address
3, Farmland Rd, Panchsheel Square, Nagpur, Maharashtra 440012
New Era Hospital - Nagpur
New Era Hospital has set new milestones in Nagpur's healthcare scene. The team of doctors at this hospital has infused a new life into healthcare which makes this hospital incredibly sought-after for piles treatment. This hospital offers comprehensive diagnostic and treatment facilities at cost-effective prices, making quality healthcare accessible to all sections of society. The infrastructure is designed to excel in industry standards and consists of cutting-edge facilities. This hospital provides the perfect blend of quality healthcare and a hospitable environment that makes it one of the best Piles hospitals in Nagpur.
Salient Features
39 well-equipped beds with multipara monitors and 22 ventilators
Treatment across multiple medical specialities & sub-specialities
Top doctors with extensive experience
In-patient pharmacy
State-of-the-art infrastructure
Dedicated paramedical staff
Doctors
Dr. Bhupendra Jamaiwar- Consultant, MBBS MS (GEN SURGERY)
Dr. Sunil Pandey- Consultant, MBBS, MD
Address
Plot 68, Central Ave, near Telephone Exchange Chowk, near Jalaram Mandir Road, Queta Colony, Bagadganj, Nagpur, Maharashtra 440008