Pristyn Care
General surgeons at Pristyn Care are the best and well-known medical professionals in India. We follow world-class health care guidelines to treat diseases like Anal Fistulas, Fissures, Piles, Hemorrhoids, Mulvyadh, Pilonidal Sinus, Hydrocele, Varicocele, Hernias, Gallstones, Circumcision and Varicose Veins. We use the latest and advanced medical devices along with USFDA approved surgical techniques to provide the utmost care and reduced risk of infection to all the patients.
All our general surgeons are experts in providing the safest and risk-free surgeries like Laser Fistula Surgery, Laser Pilonidal Sinus Treatment, Laparoscopic Hydrocelectomy, Laser Piles Treatment, Laparoscopic Hernia Repair Surgery, Laser Circumcision, etc.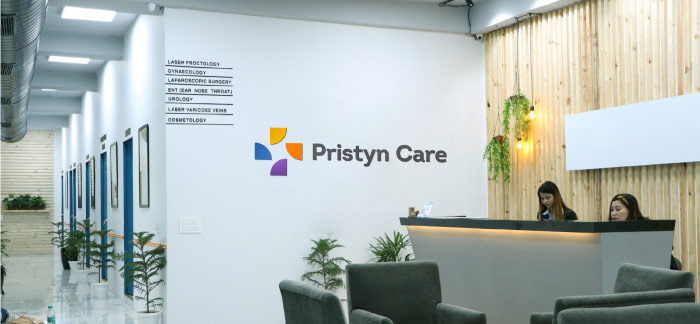 Timings: Monday-Saturday (10:00 AM-8:00 PM)
Speciality: General Surgeon, Urologist
Address
No G42, 1st Floor, Park View Layout, Sahakara Nagar Main Rd, Byatarayanapura, Bengaluru, Karnataka 560092
Apollo Hospital, Jayanagar
Apollo Hospital has been one of the most trusted names for urological care across the City of Bangalore. Located in Jayanagar, Apollo Speciality Hospital is best known to offer comprehensive quality care services for all types of urological procedures. The center for urology caters a wide range of diagnostic, prevention and treatment procedures to manage all types of disorders affecting the uro-genital organs.
Salient Features
Equipped with a strength of 150 beds
Minimally accessible kidney biopsies available for evaluation of renal issues
Surgical wards designed using advanced technologies helpful to conduct all types of surgical urological procedures
Special unit infrastructure to carry out uro-oncology interventions
24 hours of assistance catered for the cases of dialysis with highest quality care
Treatment options for dealing with male infertility issues available
Endourology setups for adults and children
Range of urological surgeries using laser tech systems
Availability of renal transplantation surgery and post transplant care provided
Esteemed panel of doctors
Dr. Shreedhar Reddy – Urosurgeon
Dr. Shiva Kumar V. - Urosurgeon
Dr. Promod B. R. - Urosurgeon
Dr. Dilip C. Dhanpal – Urosurgeon
Dr. Sriharsha Ajuur - Urosurgeon
Address
Apollo Speciality Hospital,
21/2, 14th Cross Road, Jayanagar East,
Jayanagar, 1st Block, Jayanagar,
Bangalore, Karnataka - 560011
Manipal Hospital, HAL Road
Manipal Group of Hospitals has been listed among the top healthcare units to provide a full range of urological services across Bangalore city. Manipal Hospital, HAL road is a well known branch infrastructed with integrated technologies in all its super speciality departments. The department of urology offers high end services like laser and robot assisted medical assistance to all its beneficiaries.
Salient Features
Center equipped with 650 beds
Urological department backed with minimal invasive equipment to offer best alternatives for all treatments
Dialysis units operational 24/7
Outpatient treatment facilities available
Patient centric staff for clinical and surgical urology divisions
Laser based re-constructive urology surgeries
Separate department for female urology issues
Complete range of uro-oncology services available
24 hours of emergency aid provided for patients requiring urgent medical attention
Esteemed panel of doctors
Dr. Nagasubramanyan – Urosurgeon
Dr. Somanna – Urosurgeon
Dr. Shivashankar – Urosurgeon
Dr. Amrith Raj Roa – Urosurgeon
Address
Manipal Hospital,
98, HAL Airport Road,
Vimanapura, Bangalore,
Karnataka - 560017
Fortis Hospital, Bannerghatta
Fortis Hospital, Bannerghatta boast of a strength of 150 doctors along with 1000 paramedical staff, ever ready to serve ailing people. It is equipped with the latest technology and infrastructure which helps doctors deliver high quality care. The hospital is well known for its efficient diagnosis and healthcare delivery system.

Salient Features
Inpatient capacity of 276 beds
India's first hospital to be accredited by US-based Medical Travel Quality Alliance (MTQUA)
Accredited by NABH
Recognized by JCI
Round the clock availability of emergency, laboratory and pharmacy services
Diagnostic facilities include ultrasound, CT scan, MRI, radionuclide studies, cystoscopy, etc.
HIFU technology and cryotherapy along with other conventional treatment approaches used for treating prostate cancer
Regular staff training and skill upgradation encouraged
Treatments available for removing kidney and bladder stones
Laparoscopy mostly preferred over conventional surgeries
Esteemed panel of doctors
Dr. Mahendra Jain, Urosurgeon
Dr. Mohan Keshavamurthy, Urosurgeon
Address
Fortis Hospital
154/9, Bannerghatta Road,
Opposite IIM-B,
Bengaluru, Karnataka 560076
Manipal Hospital, Whitefield
The name of Manipal Hospital, Whitefield is ranked in the list of top urology hospitals of Bangalore. The hospital follows global standards in all types of medical as well as surgical practices for managing urinary problems faced by children and adults. It also assures complete medical care for inter- departmental procedures such as nephrology, gynecology, andrology and uro-oncology areas.
Salient Features
Backed with 280 beds
Offers complete range of curative and preventive urology care
Cutting edge diagnostic and radiology services for learning about urinary tract disorders
Top notch emergency services available on a full time basis
Full range of recovery and therapeutic urology services available
Rehab facilities with patient centric comprehensive care
Special services for treating infertility issues faced by men
Lab facilities operational on a full time basis
Caters 24 hours of emergency and trauma care
Esteemed panel of doctors
Dr. Shrinivas R P – Urosurgeon
Address
Manipal Hospital,
143, 212-2015,
K R Puram Hobli,
Off. Hoodi Village,
EPIP Industrial Area,
Bangalore, Karnataka - 560066
Aster CMI, Hebbal
Aster CMI, Hebbal thrives on a work ethic purely driven by constant innovation leading to better patient service. It strives to provide a comfortable patient experience by offering the best infrastructure and a compassionate staff to look after their needs. Its services span from diagnostic to curative to rehabilitative in nature. The department of urology and nephrology is a recognized Center of Excellence for its endeavors.
Salient Features
Accredited by NABH (National Accreditation Board for Hospital and Healthcare Providers)
Inpatient capacity of 500 beds
14 ORI Fusion Digital Integrated Operation Theaters
Isocentric C arm for efficient imaging
Anesthesia machines operable on autopilot mode
Ambulance services capable of providing basic & advanced cardiac support and trauma support
Imaging facilities like 3 Tesla MRI, fluoroscopy unit, ultrasound scanners, etc.
24/7 functional blood bank and pharmacy services
Treatment solutions like stone removal, renal transplants, reconstructive urology and male infertility offered
Esteemed panel of doctors
Dr. Ravish R, Urosurgeon
Dr. Govardhan Reddy, Urosurgeon
Dr. Vidyashankar P. Nephrologist
Dr. Anoop M, Nephrologist
Address
Aster CMI
No. 43/2, New Airport Road,
NH.7, Sahakara Nagar,
Bengaluru, Karnataka 560092
We have compiled a comprehensive list of the best nephrologists in Bangalore for your reference.
Columbia Asia Hospital, Whitefield
Columbia Asia Hospital, Whitefield has earned a name for itself as a reputed medical facility in Bengaluru. Only the best of infrastructure and technology complying with international standards of quality and safety are used to provide the best possible care to patients. The medical staff in this hospital follow an evidence based approach to treatment, hence ensuring a successful outcome. The urology department specially employs the use of LASERs in performing complicated urological procedures. A patient centric approach for giving solutions is the key to their success.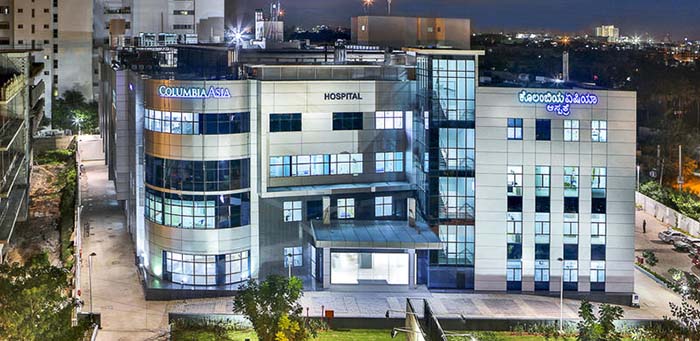 Salient Features
Equipped with ICUs, NICUs, high dependency units
Picture archival communicator system for real time patient information retrieval
24/7 ambulance, pharmacy, laboratory and blood bank services available
Diagnostic facilities like 128 Slice CT scan, ultrasound, digitized radiography, MRI scan, transrectal ultrasonography, etc. available
Kidney transplants conducted here
Minimally invasive approach to urological surgeries preferred
Procedures to remove kidney and bladder stones performed
Treatment solutions for male infertility and other andrological problems
Urogynecological issues treated with procedures like fistulae repairs
Uro-oncology and pediatric urology issues dealt by a separate team
Esteemed panel of doctors
Dr. Manohar T, Urosurgeon
Dr. Santosh Bethur, Urosurgeon
Address
Columbia Asia Hospital
Survey No. 10P & 12P,
Ramagondanahalli, Varthur Hobli,
Whitefield, Bengaluru 560066
Fortis Hospital, Rajajinagar
Initially started as an intensive care center, Fortis hospital, Rajajinagar has now become a specialty center which offers good healthcare solutions to those seeking treatment. A team of highly qualified medical professionals use the best of infrastructure and technology to provide care, prioritizing needs of the patient first.
Salient Features
Inpatient capacity of 50 beds
2 Operation theaters
Emergency response team available at all times
Round the clock availability of laboratory and pharmacy services
Special department to deal with pediatric urological problems
Both adult and pediatric renal transplants performed here
Cases of renal and urinary stones dealt with good outcomes
Medical staff qualified to deal with cancers of the bladder
Solutions for male infertility provided
Diagnostic facilities include CT scan, MRI, ultrasound, endoscopy, radionuclide studies, etc.
Esteemed panel of doctors
Dr. Karthik Rao, Urosurgeon
Dr. Prem Kumar K, Urologist and Renal Transplant Surgeon
Address
Fortis Hospital
111, West of Chord Road,
Opp Rajajinagar, 1st Block Junction,
Bengaluru, Karnataka 560086
Columbia Asia, Hebbal
Columbia Asia is slowly but steadily gaining name as a leading health-care provider in the country. The group has 2 multi-specialty facilities in Bangalore. The Hebbal facility is a 90 bedded unit and the flagship hospital of Columbia Asia. It has expert specialists attached to it for treating patients and giving them a normal and disease-free life. The urology unit has to its credit more than 5000 urological procedures performed successfully. The statistics stand proof to its superiority.

Salient Features
24*7 services for treating urological emergencies
The urology department provides treatments for andrological issues like testicular biopsy, microsurgical varicocelectomy, vasovasostomy, erectile dysfunction
Ureterorenoscopy, Retrograde Intra Renal Surgery and Laparoscopic stone removal are the techniques employed to treat kidney stones
Various tests and treatments available in reconstructive urology
Neuro-urological procedures like uroflowmetry and urodynamic study are conducted by experts
The specialists believe in using minimally invasive surgery procedures for treating patients which helps them recover faster
Esteemed Panel of Doctors
Dr. Manohar T- Consultant (Urology)
Dr. Amit Satish Bhattu- Consultant Urologist
Dr. Nanda Kishore S.K- Consultant Urologist
Dr. C.R. Vijayakumar- Urogynecologist
Address
Kirloskar Business Park, Bellary Road,
Hebbal, Bangalore - 560 024
We have put together a list of the best urology specialist doctors in Bangalore for your reference.
Fortis Hospital, Cunnigham Road
Established in 1990, Fortis Hospital, Cunningham Road is a leading center for providing tertiary level care to patients. Its team of skilled medical personnel and quality infrastructure combine to give a comprehensive solution in treating different ailments, ranging right from diagnosis to interception to rehabilitation. It is a super specialty center for treating urological disorders.
Salient Features
Certified with National Accreditation Board for Hospitals & Healthcare Providers (NABH) Safe-I certification
Capacity of 150 beds
Round the clock accident and emergency service available
24/7 availability of pharmacy and laboratory services
Special wing dedicated to rehabilitation post treatment
Known center for kidney transplants, both adult and pediatric
Solutions provided for bladder and kidney stones
Leading center for treatment of male infertility, erectile dysfunction and andrology issues
Special wing dedicated to pediatric urology
Cryotherapy used to treat prostate cancer
Reconstructive urology procedures performed here by experts
Diagnostic facilities include MRI, CT scan, cystoscopy, ultrasound, etc.
Esteemed panel of doctors
Dr. Keshavamurthy, Urosurgeon
Dr. Shakir Tabrez J, Urosuregeon
Dr. G K Prakash, Nephrologist
Address
Fortis Hospital
14, Cunningham Road,
Vasanth Nagar,
Bengaluru, Karnataka 560052
Dr. Malathi Manipal, Jayanagar
Dr. Malathi Manipal Hospital, Jayanagar has marked its presence in the healthcare forum with its sheer commitment to providing quality care with a 'patient centric approach.' It covers all aspects of healthcare; from correct diagnosis to proper treatment and rehabilitation. The hospital follows stringent quality and safety measures and has been appreciated for its efforts as well. Diseases pertaining to urological and kidney problems are dealt with minimally invasive or non invasive measures, major surgeries being the last option.
Salient Features
NABH (National Accreditation Board for Hospitals and Healthcare Providers) certified medical facility
Recognized by NABL (National Accreditation Board for Testing and Calibration Laboratories)
ISO 9000:2000 certificate holder
Recognized by AAHRPP (Association for the Accreditation of Human Research Protection Programs)
NABH (Blood Bank) accredited
Independent outpatient services
Round the clock emergency, pharmacy and laboratory services available
A separate emergency ward available
CT scan, MRI, radiography, ultrasound, cystoscopy, endoscopy, etc. offered as diagnostic facilities
Male infertility and other andrological problems treated here
Removal of kidney and bladder stones, prostate cancer, etc. with good success rates
Urogynecological problems also treated with successful outcomes
Recognized facility for renal transplant
Esteemed panel of doctors
Dr, Sanjay Rampure, Nephrologist
Dr, Nagasubramanayam, Urologist
Address
Dr. Malathi Manipal Hospital
45/1, 45th Cross,
9th Block, Jayanagar,
Bengaluru, Karnataka 560069
Manipal Northside Hospital, Malleshwaram
Manipal Hospital offers an array of services across different medical specialties under one roof. Only highly qualified medical staff and the latest infrastructure constitute its framework to deliver top notch care to patients. Urological and kidney diseases are treated here successfully, hence ensuring a good recovery.
Salient Features
Recognized by NABH (National Accreditation Board for Hospitals and Healthcare Providers)
NABL (National Accreditation Board for Testing and Calibration Laboratories) certified medical facility
ISO 9000:2000 certified
AAHRPP (Association for the Accreditation of Human Research Protection Programs) accredited
NABH (Blood Bank) accredited
Inpatient capacity of 83 beds
Independent outpatient services
24/7 emergency, pharmacy and laboratory services available
Diagnostic capabilities include CT scan, MRI, radiography, ultrasound, cystoscopy, etc.
Treatment solutions offered for male infertility
Surgeons expert in removal of kidney and bladder stones, prostate cancer, etc.
Urogynecological problems also treated with successful outcomes
Recognized facility for kidney transplant
Esteemed panel of doctors
Dr. G K Prakash, Nephrologist
Dr. Anand M, Urologist
Address
Manipal Northside Hospital
No. 71, 11th Main Road,
Opp Railway Station,
Malleswaram, Bengaluru 560003