One of the biggest, yet cost effective health checkup package in Pune
Total of 62 test parameters (45 blood based, 17 urine based).
Free home sample pickup service all over Pune. Report is delivered in email within 24 hours.
Price: Rs. 3990/- 1299/- (67.44% Off)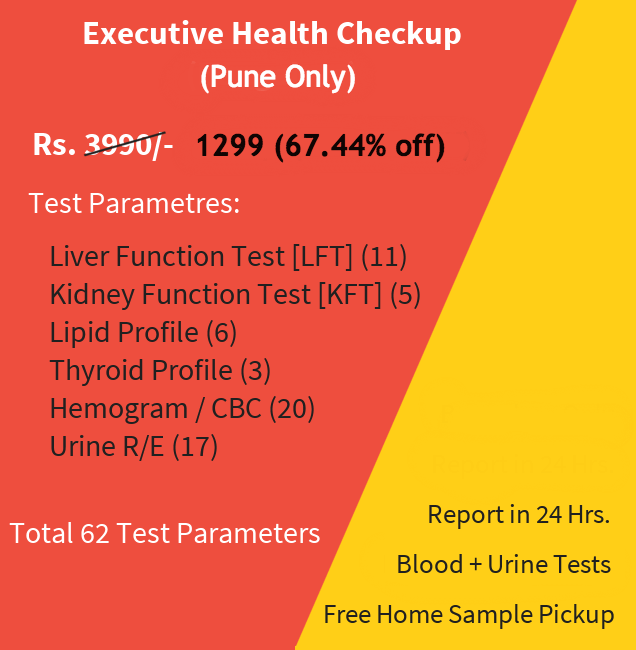 List of Tests
Liver Function Test (LFT)
Total Protein
Albumin
Globulin
A/G Ratio
Bilirubin - Direct
Bilirubin - Indirect
Bilirubin - Total
SGPT
SGOT
Alkaline phosphatase
GGT
Lipid Profile
Total Cholesterol
LDL
HDL
VLDL
Triglycerides
TC/HDL Ratio
Thyroid Profile
T3
T4
TSH
Renal / Kidney Function Test (KFT)
Blood Urea Nitrogen (BUN)
Creatinine
Uric Acid
Calcium
Glucose [Plasma] (fasting)
Hemogram/CBC
HEMOGLOBIN
PLATELET COUNT
RBC COUNT
HEMATOCRIT
MCV
MCH
MCHC
RDW-CV
TOTAL LEUCOCYTE COUNT
DIFFERENTIAL LEUKOCYTE COUNT
NEUTROPHILS
LYMPHOCYTES
MONOCYTES
EOSINOPHILS
BASOPHILS
ABSOLUTE NEUTROPHIL COUNT
ABSOLUTE LYMPHOCYTE COUNT
ABSOLUTE MONOCYTE COUNT
ABSOLUTE EOSINOPHIL COUNT
ABSOLUTE BASOPHIL COUNT
Urine Routing Examination
COLOUR
APPEARANCE
PH
SPECIFIC GRAVITY
GLUCOSE
PROTEIN
KETONES
BLOOD
BILIRUBIN
UROBILINOGEN
NITRITE
PUS CELLS/WBCS
EPITHELIAL CELLS
RED BLOOD CELLS
CASTS
CRYSTALS
BACTERIA
This exclusive health care package is broguht to you by MediFee.com in association Exo Path Labs in Pune exclusively for the people of Pune.