Price: Rs. 5500/- Rs. 2400/- Only
Sample is collected from your home (free of cost) & report is delivered in your email with-in next 24 to 48 hrs.
This health checkup package checks for most parts of your body with the help of tests profiles like lipid profile, thyroid profile, liver function test (LFT), kidney / renal function test (KFT/RFT), diabetes, pancreas, CBC, Vitamin and toxic elements.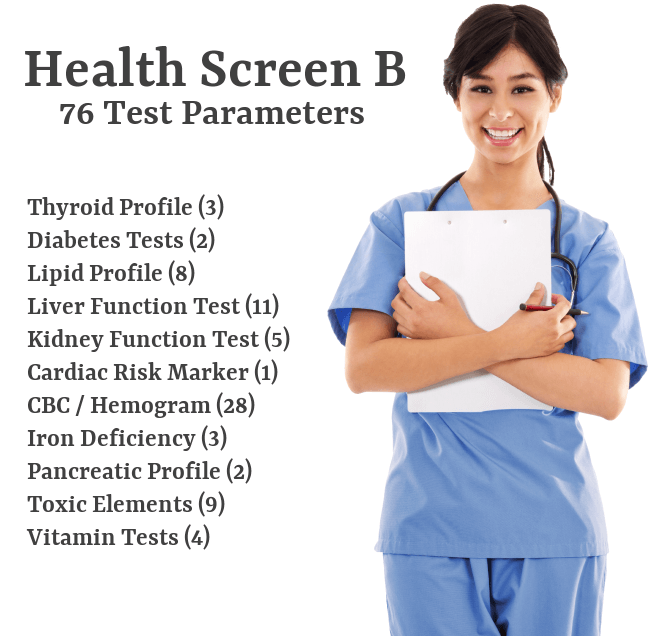 THYROID PROFILE TESTS
TSH
T3
T4

LIPID PROFILE TESTS
TOTAL CHOLESTEROL
HDL
LDL
VLDL
Non-HDL CHOL
TRIGLYCERIDES
TC/HDL
LDL/HDL

LIVER PROFILE TESTS
BILIRUBIN - TOTAL
BILIRUBIN - DIRECT
BILIRUBIN - INDIRECT
ALKALINE PHOSPHATASE
GGT
SGOT
SGPT
PROTEIN - TOTAL
SERUM GLOBULIN
SERUM ALBUMIN
ALB/GLO RATIO

RENAL / KIDNEY FUNCTION TESTS
URIC ACID
CALCIUM
BLOOD UREA NITROGEN (BUN)
CREATININE - SERUM
BUN/CREATININE RATIO

DIABETES TESTS
HbA1c
BLOOD GLUCOSE

IRON DEFICIENCY TESTS
IRON
TOTAL IRON BINDING CAPACITY
% TRANSFERRIN SATURATION

PANCREATIC PROFILE TESTS
AMYLASE
LIPASE



CARDIAC RISK MARKER TEST
HOMOCYSTEINE

CBC / HEMOGRAM
HEMOGLOBIN
TOTAL RBC
PLATELET COUNT
IMMATURE GRANULOCYTES(IG)
IG%
RDW-CV
RDW-SD
NEUTROPHILS - ABSOLUTE
LYMPHOCYTES - ABSOLUTE
MONOCYTES - ABSOLUTE
EOSINOPHILS - ABSOLUTE
BASOPHILS - ABSOLUTE
BASOPHILS
EOSINOPHILS
TOTAL LEUCOCYTES COUNT
LYMPHOCYTE PERCENTAGE
MCH
MCHC
MCV
MONOCYTES
MPV
NEUTROPHILS
NUCLEATED RBC
NUCLEATED RBC%
PLATELETCRIT(PCT)
HEMATOCRIT(PCV)
PDW
PLCR

TOXIC ELEMENTS
ARSENIC
BARIUM
CADMIUM
COBALT
CHROMIUM
CAESIUM
MERCURY
LEAD
SELENIUM

VITAMINS
VITAMIN B-12
VITAMIN D (TOTAL)
VITAMIN D2
VITAMIN D3