Price: Rs. 3980/- Rs. 1500/- Only
Sample is collected from your home (free of cost) & report is delivered in your email with-in next 24 to 48 hrs.
This preventive checkup consists of all the important tests like thyroid profile, lipid profile, kidney / renal profile, liver profile, diabetes profile, pancreatic profile, full hemogram (CBC) and toxic profile.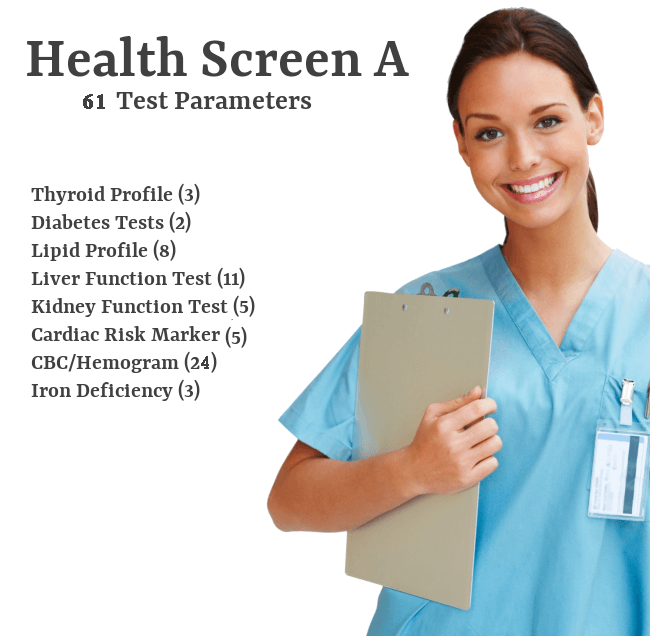 THYROID PROFILE TESTS
TSH
T3
T4

LIPID PROFILE TESTS
TOTAL CHOLESTEROL
HDL
LDL
VLDL
Non-HDL CHOL
TRIGLYCERIDES
TC/HDL
LDL/HDL

LIVER PROFILE TESTS
BILIRUBIN - TOTAL
BILIRUBIN - DIRECT
BILIRUBIN - INDIRECT
ALKALINE PHOSPHATASE
GGT
SGOT
SGPT
PROTEIN - TOTAL
SERUM GLOBULIN
SERUM ALBUMIN
ALB/GLO RATIO

RENAL / KIDNEY FUNCTION TESTS
URIC ACID
CALCIUM
BLOOD UREA NITROGEN (BUN)
CREATININE - SERUM
BUN/CREATININE RATIO

DIABETES TESTS
HbA1c
BLOOD GLUCOSE

IRON DEFICIENCY TESTS
IRON
TOTAL IRON BINDING CAPACITY
% TRANSFERRIN SATURATION

PANCREATIC PROFILE TESTS
AMYLASE
LIPASE


CARDIAC RISK MARKER TEST
HOMOCYSTEINE

CBC / HEMOGRAM
HEMOGLOBIN
TOTAL RBC
PLATELET COUNT
IMMATURE GRANULOCYTES(IG)
IG%
RDW-CV
RDW-SD
NEUTROPHILS - ABSOLUTE
LYMPHOCYTES - ABSOLUTE
MONOCYTES - ABSOLUTE
EOSINOPHILS - ABSOLUTE
BASOPHILS - ABSOLUTE
BASOPHILS
EOSINOPHILS
TOTAL LEUCOCYTES COUNT
LYMPHOCYTE PERCENTAGE
MCH
MCHC
MCV
MONOCYTES
MPV
NEUTROPHILS
NUCLEATED RBC
NUCLEATED RBC%
PLATELETCRIT(PCT)
HEMATOCRIT(PCV)
PDW
PLCR

TOXIC ELEMENTS
ARSENIC
BARIUM
CADMIUM
COBALT
CHROMIUM
CAESIUM
MERCURY
LEAD
SELENIUM