Albumin Test Cost
Albumin Test Cost
This test is prescribed for evaluating liver disease or kidney disease along with few more test like blood urea nitrogen and creatinine. This also evaluates sufficient absorption of proteins. Low level of albumin is a sign of more investigative needs, whereas high levels are associated with dehydration.
Albumin Test Cost in Various Indian Cities
We have Albumin Test price information in
106
cities.
Albumin Test FAQs
Q: What is albumin (serum)?
A: It is most abundant blood protein produced by the liver. Albumin test is included in liver panel tests alongside creatinine, blood urea nitrogen, and prealbumin test.
Q: Why is the albumin test conducted?
A: To check the functioning of the liver and detect disorders like chronic pancreatitis including those related to the liver and kidneys.
Q: What is the normal albumin range?
A: 3.4-5.4 g/dL of blood.
Q: What are the risks of low or high albumin level?
A: High albumin could typically indicate dehydration and a low albumin level could indicate malnutrition, inflammation, Crohn's disease, Whipple's disease, spruce, or Wilson's disease.
Q: Why is the proper albumin balance necessary?
A: To restrict the fluid from leaking out of the blood vessels.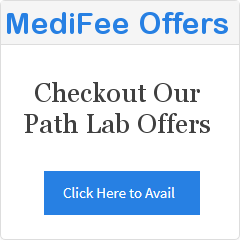 ---
Executive Health Checkup : Blog : About Us : Contact Us : Privacy Policy : Terms of Use