Bicarbonate Test Cost
Bicarbonate Test Cost
This test usually forms part of electrolytes panel and is prescribed when someone has regular blood screens or the doctor suspects him/her of retaining water, upsetting electrolyte balance or is supposedly dehydrated. Doctors even recommend this test for checking pH (acid-base) balance.
Bicarbonate Test Cost in Various Indian Cities
We have Bicarbonate Test price information in
81
cities.
Bicarbonate Test FAQs
Q: Why is bicarbonate test ordered?
A: To evaluate the level of bicarbonate, a buffer chemical, which maintains the blood pH from turning too basic or acidic.
Q: What is the reference range for bicarbonate test?
A: 23–30 mEq/L (23–30 mmol/L).
Q: What is bicarbonate?
A: It is one of the 3 constituents (including carbonic acid and carbon dioxide gas) of carbon dioxide present in the blood.
Q: What do low and high bicarbonate test results mean?
A: Low bicarbonate: respiratory alkalosis and metabolic acidosis. High bicarbonate: metabolic alkalosis and respiratory acidosis.
Q: Is it an individual test?
A: Never. It is usually ordered as a part of electrolyte panel or arterial blood gas (ABG) test.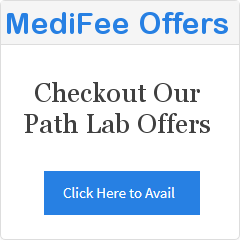 ---
Executive Health Checkup : Blog : About Us : Contact Us : Privacy Policy : Terms of Use