Bleeding / Clotting Time Test Cost
Bleeding / Clotting Time Test Cost
Bleeding time is a functional test of primary haemostasis, measures platelet response to vessel injury. Bleeding time is a single screening test for acquired or congenital functional or structural disorders of platelets. Useful as a part of work up for coagulation disorders in patients with history of excessive bleeding. Normal in all disorders of coagulation except vWF deficiency. Not recommended for routine pre-operative screening.
Clotting time was formerly a routine method for control of heparin therapy but is now replaced by aPTT. It is not a reliable screening test for bleeding conditions because it is not sensitive enough to detect mild conditions; detects only severe deficiencies. Normal clotting time does not rule out a coagulation defect. Routine pre-operative BT & CT are of little value for routine pre-operative screening.
Bleeding / Clotting Time Test Cost in Various Indian Cities
We have Bleeding / Clotting Time Test price information in
110
cities.
Bleeding / Clotting Time Test FAQs
Q: What is bleeding time?
A: Time interval between bleeding and blood clotting after a standardized skin incision. In other words, the moment between you bleed and stop bleeding.
Q: Why is clotting time test ordered?
A: To assess the time it takes your blood to clot as well as your blood's ability to clot.
Q: What do abnormal bleeding time test results indicate?
A: Primary thrombocythemia, acquired platelet function defects, Von Willebrand's disease, blood vessel defect, thrombocytopenia, and hereditary platelet function defects.
Q: What could cause abnormal clotting time?
A: Hemophilia, thrombophilia, anticoagulants overdosage, liver diseases, deficiency of vitamin K, etc.
Q: Are bleeding and clotting time the same?
A: No. Clotting time is related to the availability of coagulation factors while bleeding time is dependent on the integrity of vessel walls and platelets.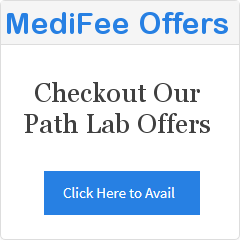 ---
Executive Health Checkup : Blog : About Us : Contact Us : Privacy Policy : Terms of Use