Widal Test Cost
Widal Test Cost
Widal test aids in presumptive diagnosing of typhoid fever. This test is considered positive if the TO antigen titer level exceeds 1:160 for active infections, or if the TH antigen titer exceeds 1:160 for past infectionsor or if the person is immunized for Typhoid infection. Such a test is actually of less relevance clinically on account of cross infections such as malaria.
Widal Test Cost in Various Indian Cities
We have Widal Test price information in
104
cities.
Widal Test FAQs
Q: What is the causative organism for typhoid?
A: Typhoid is caused by a bacteria known as Salmonella Typhi.
Q: What are the pre-requisites for Widal Test?
A: It is important to undergo Widal test before starting any medication for typhoid.
Q: Which tissue sample is required for Widal Test?
A: Widal test is performed on venous blood sample.
Q: Which other tests are helpful in detecting typhoid?
A: Stool culture, Typhidot test and blood culture, may be helpful in detecting typhoid.
Q: How can typhoid be treated?
A: Typhoid is treated with antibiotic medicines, adequate bed rest and dietary restrictions.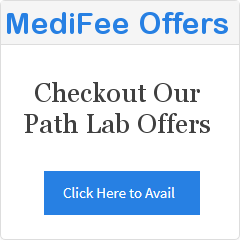 ---
Executive Health Checkup : Blog : About Us : Contact Us : Privacy Policy : Terms of Use