Exercises and treatments performed in water for relaxation, therapeutic benefits, fitness and physical rehabilitation is termed as aquatic therapy. Usually done in a pool or any aquatic environment, it is done under the guidance of a trained healthcare professional like an aquatic therapist. These treatments and exercises are performed while floating or while being partially or fully submerged into the water.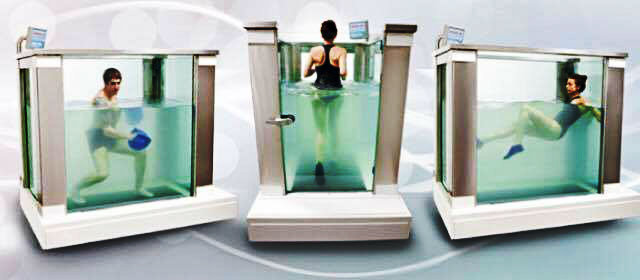 Many aquatic therapies are also performed in temperature-controlled pools. Rehabilitation mainly focuses on the issues associated with injuries, illness or disabilities. Physical therapy involving water is extremely beneficial to people suffering from neuromuscular or musculoskeletal disorders.
For centuries, water has been used as a therapeutic alternative in healing people suffering from various health issues, because of the healing capabilities that water possesses. This therapeutic use of water is termed as aquatic therapy. Although hydrotherapy uses water for therapeutic benefits, there is a vast difference between hydrotherapy and aquatic therapy.
Aquatic therapy includes a wide range of techniques and methods consisting of aquatic exercises, physical therapy, aquatic bodywork, and hydrokinesiotherapy, the movement based therapy in water.
Aquatic therapy programs have certain goals to achieve and these include:
Balance and co-ordination improvement
Increase in flexibility
Strengthening
Increase in muscle strength and endurance
Reduced spasticity
Assistance with locomotion and stride
More relaxation and less stress
Reduction in joint swelling and pain
Increase in range of motion
Increased tolerance to sitting and standing
Aquatic therapy is usually performed under the guidance of the therapist who helps in assisting in the exercises and is termed as passive treatment. However, it can also be performed on your own with self-generated and controlled movements, and exercises, termed as active treatment. Such techniques include Ai Chi, Aqua Running, Bad Ragaz Ring Method, Burdenko method, Halliwick concept and Watsu.
For a long time, it has been believed that water promotes healing and has been used in a variety of treatments for managing the ailments along with other treatments. The therapeutic application of water includes neurological disorders, cardiopulmonary problems, spine pain, musculoskeletal disorders, orthopedic disorders, pediatric disabilities etc. It is also beneficial for obese people as it helps them perform exercises that are difficult to perform on land.
Aquatic therapy has different variations which helps the therapists create treatment plans and exercise schedules according to individual needs and conditions. Such specific treatment plans help the patients mentally, emotionally and makes them stronger, thereby improving their overall quality of life.
History of Aquatic Therapy
Water has been used as a healing element for a very long period of time. Over the time, several other terms have been coined for this therapy such as hydrotherapy, aquatic exercise, water therapy, water gymnastics, aquatic rehabilitation, aqua therapy, pool therapy etc. Water has been used for a numerous remedial purposes.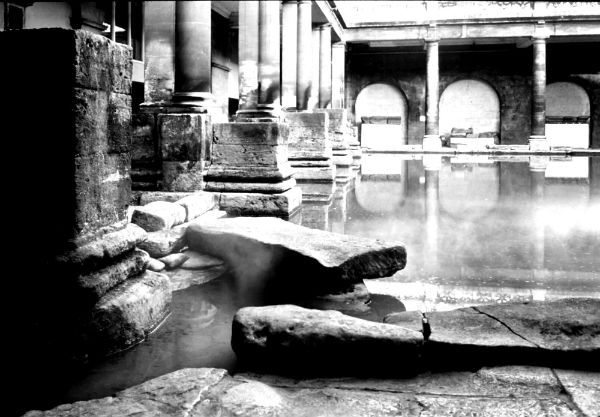 The use of water as a therapy, aquatic therapy, dates back to the early 2400 BC, when the people in Asia and Greece immersed themselves in water for religious and therapeutic purposes. The ancient Greek physician, Hippocrates, wrote about the healing properties of water and bathing in spring water to alleviate illnesses. He used water both externally and internally to treat a variety of illnesses. By 1500 BC, fevers were treated with water therapy. Ancient Greeks knew all the benefits of water, especially for healing muscle and joint pains.
Ancient Egyptians enjoyed bathing in their sacred river, Nile. Romans, following Greeks, considered bathing as a regime for good health. They built recuperation centers for wounded soldiers. Fatigued and injured from the war, the Roman soldiers used natural spring water to relax their muscles and treat sore wounds.
As time progressed, the use of water in therapy increased. In 800 BC Bath, England, known for its natural hot water springs, became famous as a center for healing through bathing. In the 1700s however, hydrotherapy developed by a German doctor Sigmund Hahn, came into existence. During this time, cold water was used to treat small pox victims. Vincent Priessnitz, in 1830, combined cold water and a rigorous exercise regimen to help sick people gain strength. This lead to the start of research on water, it's temperature, and its reaction to certain diseases in Europe.
Over the course of several centuries, use of water therapy spread all over the world. New names were given, new methods and combinations were developed and new equipment were developed. Today, aquatic therapy is found in every sports center and facility. It helps in improving balance, co-ordination, muscle strength, cardiopulmonary endurance, pain management, motor skills and control, range of motion, and circulation.
Principles of Aquatic Therapy
The physical properties of water contribute to therapeutic effects.
Buoyancy permits floatation and reduces the effect of gravity. This allows people who cannot weight-bear on the land to put weight on their limbs in the water. Buoyancy has numerous benefits. It decreases joint compression forces, stress on connective tissues etc. It supports weak muscles, enhances flexibility and range of motion, and strengthens the muscles.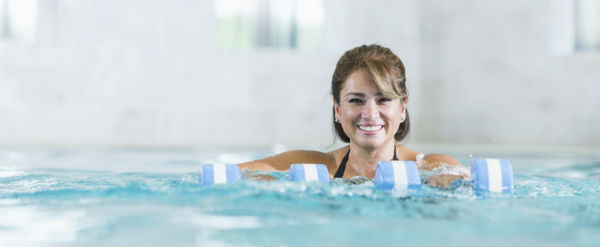 Hydrostatic pressure is a force exerted on the body immersed in fluid. Hydrostatic pressure is beneficial in treating cardiovascular issues. The hydrostatic pressure pushes blood from the limbs towards the chest causing the heart to pump more blood and stretching of cardiac muscles. The stretching results in requiring a few heartbeats less than normal to pump the same amount of blood, thereby decreasing the patient's heart rate while in water.
Routine aqua exercises can increase breathing capacity outside of water and increases efficiency of the heart. Similarly, hydrostatic pressure helps alleviate issues of renal system, respiratory system, and nervous system. Benefits of hydrostatic pressure are, reduction in pain and edema which in turn increase range of motion and increases blood circulation.
Viscosity provides resistance to water which increases as much as force is exerted against it. This helps in muscle strengthening. However, the resistance halts when the movements stop. It increases muscle balance and tone, and improves cardiopulmonary output. This resistance is especially helpful in people with Parkinson's and cerebral palsy.
Aquatic Therapy Techniques
Ai Chi: Developed in 1993 by Jun Konno, Ai Chi is a total body relaxation and strengthening technique used in aquatic therapy. It uses deep breathing techniques inspired by Tai Chi and Qigong. This technique focuses on deep breathing and gradual movements of the upper and lower extremities, trunk and then the entire torso. The movements are slow, accompanied by deep diaphragmatic breathing and a calm state of mind.
Bad Ragaz Ring method: Developed in Bad Ragaz springs in eastern Switzerland by physiotherapists, it is a technique primarily focusing on improving neuromuscular functioning. Ring refers to the floats or rings that this method uses to support patients to be on surface of water. It involves a therapist acting as a fixed point, assisting the patient in their movements while the patient floats horizontally. The patient is guided through specific movements for muscular elongation and relaxation, and pain modulation with the ultimate goal of improving neuromuscular function, and active and passive range of motion.
Burdenko method: Developed by a Soviet professor, Igor Burdenko, this method focuses on six main aspects of movement. It is an integrated land-water sports therapy, mainly focusing on balance, co-ordination, strength, flexibility, endurance, and speed.
Halliwick concept: Developed in the late 1940s by fluid mechanics engineer, James McMillan, this technique focuses on the biophysical principle of motor control in water. This develops sense of balance and core stability. It mainly focuses on teaching swimming and independence in water to disabled patients. It has been used in neuro rehabilitation and pediatrics.
Watsu: Developed in the early 1980s by Harold Dull in California, this technique is used for deep relaxation and is a passive therapy. It is performed one-on-one in warm chest-deep water. The therapist gently cradles, moves, stretches, and massages a patient. The session consists of breathing co-ordination, movement patterns including stillness, gentle cradling, and stretching and mobilization, and massage depending upon the needs of the patient.
Aqua running: It is a form of water sport done in deep water using a support to float in the water. It involves running and jogging in the water. Helpful for injured athletes and people aiming for low impact aerobic workout. Aqua running or aqua jogging, conditions the cardiovascular system.
Benefits of Aquatic Therapy
Aquatic therapy is a unique form of physical therapy that assists the patient to slowly recover at a progressive pace that reduces the normal recovery time. Though aquatic therapy has been around for centuries, it is still progressing and developing new techniques to help patients recover. This form of physical therapy has variety of benefits. Some of which include improved balance and coordination, increased muscle strength, tone and endurance, cardiopulmonary endurance, improved motor skills and control, improvement in range of motion and circulatory function.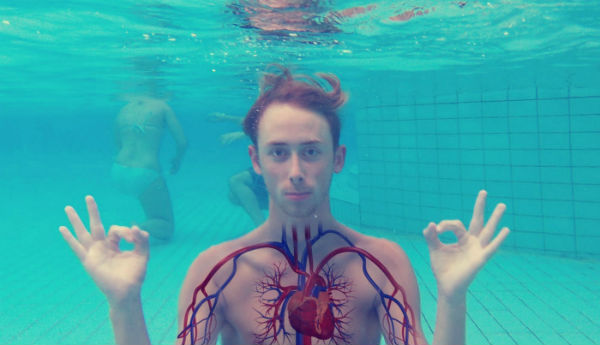 Benefits of this therapy are greatly experienced by people suffering from sensory disorders, muscle weakness, spasticity, incoordination, balance issues, orthopedic injuries, trauma, neurological problems, arthritis, respiratory problems, depression, cardiac issues and motor skill defects.
Aquatic therapy is specifically designed for therapeutic purposes and is typically used by people suffering from disorders, disabilities, or injuries. You don't need to know how to swim if you want to undergo aquatic therapy. Indulging in this form of therapy helps you develop an ability to perform exercises and a sense of confidence that you have great endurance and flexibility.
This therapy provides a relaxing way to reconnect with your body after suffering from an illness and helps you recover faster. It helps reduce stress and pain and pushes you towards a healthier and improved way of living.
If you or a person you know wants to get involved in this therapy, talk to your healthcare provider and understand if this is a better option for you to recover.