Best Hospitals in Bangalore / Bengaluru
List of the top hospitals in Bangalore is as follows:
Pristyn Care
General surgeons at Pristyn Care are the best and well-known medical professionals in India. We follow world-class health care guidelines to treat diseases like Anal Fistulas, Fissures, Piles, Hemorrhoids, Molalu, Pilonidal Sinus, Hydrocele, Varicocele, Hernias, Gallstones, Circumcision and Varicose Veins. We use the latest and advanced medical devices along with USFDA approved surgical techniques to provide the utmost care and reduced risk of infection to all the patients.
All our general surgeons are experts in providing the safest and risk-free surgeries like Laser Fistula Surgery, Laser Pilonidal Sinus Treatment, Laparoscopic Hydrocelectomy, Laser Piles Treatment, Laparoscopic Hernia Repair Surgery, Laser Circumcision, etc.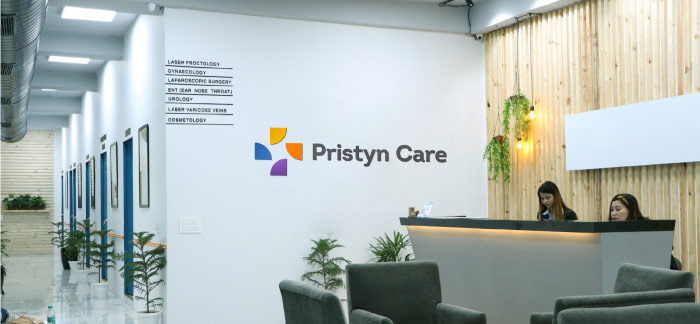 Timings: Monday-Saturday (10:00 AM-8:00 PM)
Speciality: General Surgeon
Address
364, Gurushree Towers, 3rd Cross Whitefield Main Road, Opposite HLRC Brookefield, Bengaluru, Karnataka, 560066
Fortis Hospital, Bannerghatta Road
Fortis group of hospitals is one of the most reputed health care brands in the country. Their team of well-trained doctors and medical staff ensures that patients receive best of the best treatment. The team works ceaselessly towards betterment of patient's health. The hospital provides quality treatments for wide range of medical domains like cardiology, neurology, gynecology, oncology, urology, ophthalmology and many more.
Salient Feature
They provide best in class service
276 bedded multi-specialty hospital
Provide treatments for around 40 specialties
Provision for custom fit knee replacement
Use of HIFU technology for treatment of prostrate cancer
Radiation oncology department to impart quality radiation treatment for cancer patients
Hospital is equipped with cutting-edge technologies like trans-abdominal cardiac surgery, trans-radial angioplasty and computerised TKR navigation surgery
Fortis Hospitals Bannerghatta Road has received "Best Medical Tourism Award" by FKCCI
Esteemed panel of doctors
Dr. KN Srinivasan, Cardiovascular and Thoracic Surgeon
Dr. Joseph Xavier, Cardiac Surgeon
Dr. Murali Manohar, Cardiovascular and Thoracic Surgeon
Dr. Prakash BL, Orthopedic and Joint Replacement Surgeon
Dr. Aashish Shah, General and Laparoscopic Surgeon – added thrice
Dr. GH Raju, General and Laparoscopic Surgeon
Dr. Ashok Singhal, Neurologist
Dr. Krishnan PR, Neurologist
Dr. Niti Raizada Narang Medical Oncologist
Dr. G Anitha, Medical Oncologist
Dr. Anita K Mohan, Obstetrician and Gynecologist
Dr. Anu Sridhar, Obstetrician and Gynecologist
Dr. Aruna Muralidhar, Obstetrician and Gynecologist
Dr. Sridhar R., Nephrologist
Dr. Srinivas B. K., Dental Surgeon
Dr. Mohan Mithare, Ophthalmologist
Dr. Priyadarshan K., Plastic Surgeon
Dr. Sudheendra Udbalker, Dermatologist
Dr. Srinivasa P Munigoti, Diabetologist and Endocrinologist
Dr. Shakir Tabrez Z, Urologist and Transplant Surgeon
Address
154/9, Bannerghatta Road, Opposite IIM-B, Bengaluru 560076
---
Manipal Hospital, HAL Airport Road
Manipal Hospital in Bangalore has made a special mark for itself in the health care domain of India by always being at the forefront for provision of clinical excellence. With a no-compromise attitude with regards to quality, the hospital has gained international recognition for high standard medical treatments for multi disciplinary ailments.
Salient Features
International standards adhered to with regards to facilities
Advanced equipment for rendering high class treatments
Round the clock emergency and ambulance services
24X7 operation theaters, blood bank, ICU, NICU and laboratory services
Different room categories for suiting needs
Special nurse arranged if required
Esteemed panel of Doctors
Dr. A.K. Roy, Neurologist
Dr. Achuth Baliga, Dental Specialist
Dr. Ajanta Chakravarty, Ophthalmologist
Dr. Amrita Rao, Gynecologist
Dr. Amit Rauthan, Oncologist
Dr. Anand Rao, Consultant (Pediatrics)
Dr. Anand Shenoy, Cardiologist
Dr. Anatheswar Y.N, Plastic Surgeon
Dr. Anitha Kumari A.N, ENT Specialist
Dr. Arpan Dev Bhattacharya, Endocrinologist
Dr. Arun Kumar, Dermatologist
Dr. H.R. Ravi, General Surgeon
Dr. Hemant Kalyan, Consultant (Orthopedics)
Address
98, HAL Airport road,
Bangalore - 560 017
---
Columbia Asia Referral Hospital, Yeshwanthpur
If you are looking for comprehensive and super quality health care under one roof, then the Columbia Asia Referral Hospital, Yeshwanthpur in Bangalore is a good choice. Being an international group of hospitals, the branch at Yeshwanthpur has best facilities that adhere to global standards.
Salient Features
24X7 ambulance facility
Comprehensive diagnostic and laboratory facilities
Fully equipped operation theaters
Fully equipped ICUs
Major super specialty treatments available
International acclaim
Different health packages to suit varied needs
Esteemed panel of Doctors
Dr. Ajit Huilgol, Nephrologist
Dr. Amit Bhattu, Urologist
Dr. Sundar C. Ingaleshwar, Pediatric Consultant
,Dr. Guruprasad Hosurkar Neurologist
Dr. Anusham Anantharam, Reconstructive & Plastic Surgeon
Dr. Aravind Ramkumar, Oncologist
Dr. Arjun Srivatsa, Neurosurgeon
Dr. Aruna Prasad, Dermatologist
Dr. Girish Anand M S, ENT Surgeon
Dr. Natarajan Angamuthu, Bariatric Surgeon
Dr. Jyothi Shenoy, Gynecologist
Dr. Karthik Vasudevan, Cardiologist
Dr. M.V. Kumar, Anesthesiologist
Dr. Jalihal Umesh M, Gastroenterologist
Dr. Mukundan Sheshadri, Surgeon (Cardiovascular & Thoracic)
Address
26/4, Brigade Gateway, Beside Metro,
Malleswaram West, Bangalore - 560 055
Aster CMI, Hebbal
A renowned branch of Aster DM group, Aster CMI, Hebbal has established itself as a go-to destination for people seeking high quality healthcare. It offers quaternary care services in many disciplines of medicine and has several centres of excellence to its credit. It combines the hospital and hospitality to provide a positive experience for any patient seeking treatment.
Salient Features
Inpatient capacity of 500 beds
Medical and paramedical staff comprises of highly qualified and humane professionals
Emphasis given on social responsibilities
24/7 pharmacy services available
A full time functional blood bank operated by trained blood transfusion experts
Equipped with a radiology suite comprising of 3 Tesla MRI scan, ultrasound scanners, X-ray, transcranial doppler, 4D echocardiogram, 128 slice CT scan and fluoroscopy scanners
Interventional cardiology department equipped with Bi-plane flat panel angio cath lab
Ambulance services capable of delivering advanced cardiac life support and neonatal care
Digitally integrated operation theatres which enable convenient sharing of videos, images and reports anywhere in the world
Anesthesia machines capable of working on autopilot mode
Special transport, accommodation and interpretation facilities available for international patients
Esteemed panel of doctors
Dr. Mahadev D Dixit, Cardiac Surgeon
Dr. Anup Charles, Pediatric Cardiac Surgeon
Dr. Raghu B, Cardiac Anesthesiologist
Dr. Pradeep Kumar D, Interventional Cardiologist
Dr. Sweta Mohanty, Pediatric Cardiologist
Dr. Raghavendra Pai K, Neuroanesthesiologist
Dr. Ravi Kumar C P, Pediatric Neurologist
Dr. Anuradha H K, Neurologist
Dr. Ravi Gopal Verma, Neurosurgeon
Dr. Santhosh N U, Endovascular Neurosurgeon
Dr. Naresh Bhat, Gastroenterolgist
Dr. Anupama N K, Gastroenterologist
Dr. Anupama Rohidekar, Gynecologist & Obstetrician
Dr. Deepthi Bawa, Infertility Specialist
Dr. Priyanka N Nanjappa, Fetal Medicine Specialist
Dr. Thirumalesh K Reddy, Orthopedic Surgeon
Dr. M S Somanna, Orthopedic Surgeon
Dr. Sonal Asthana, HPB and Liver Transplant Surgeon
Dr. Ravish I R, Urologist
Dr. VidyaShankar P, Nephrologist
Dr. Divya Srirangarajan, Pediatrician
Dr. Parimala V Thirumalesh, Pediatrician and Neonatologist
Dr. Chetan Ginigeri, Pediatrician and Pediatric Intensive Care Specialist
Dr Shivaram H V, GI and Bariatric Surgery
Dr. Mahesh Chikkachannappa, General, Laparoscopic and Bariatric Surgeon
Dr. G Girish, Oncosurgeon
Address
Aster CMI Hospital
#43/2, New Airport Road,
NH-7, Sahakara Nagar,
Hebbal, Bengaluru, Karnataka 560092, India
---
Apollo Hospital - Jayanagar
The Jayanagar center of Apollo hospital is a 150-bedded facility. Centrally located and housing medical experts of every medical stream, this hospital strives to provide comprehensive care to people.
Salient Features
National Accreditation Board of Hospitals and Health-care Providers (NABH) accredited
National Accreditation Board of Laboratories (NABL) accreditation
Joint Commission International (JCI) rated
Highly qualified and co-operative medical personnel to look after patient needs
Chemist store in hospital premises for medicinal needs of patients
Latest equipment and high class infrastructure
Equipped ICUs and operation theaters with continuous monitoring
Different rooms available to suit needs and budget
Esteemed panel of doctors
Dr. Dilip Gopalkrihnan, Orthopedic Surgeon
Dr. Pradeep Y V, Plastic Surgeon
Dr. Natarajan V., Oncologist
Dr. Radhika V Kumar, Endocrinologist
Dr. Yogesh Kothari, Cardiologist
Dr. Sathyaki Purushottam Nambala, Cardiothoracic & Vascular Surgeon
Dr. Ravindra M. Mehta, Pulmonologist
Dr. Ganesh K. Murthy, Neurosurgeon
Dr. Ravishankar Bhat B, Bariatric Surgeon
Dr. Gokul Nath- Senior Consultant (Nephrology)
Prof. Dr. Satish Nair, Oncosurgeon
Dr. Dilip Gopalakrishnan, Spine Surgeon
Address
# 21/2 (Old No.2), 14th Cross,
3rd Block, Jayanagar, Bangalore,
Karnataka, 560011, India
---
Fortis Hospital, Cunningham Road
Fortis Hospital, Cunningham road is one of the branches of Fortis healthcare group. It is a 150 bedded facility. It is one of the most respected multi-specialties Bangalore has. Like every Fortis branch, this hospital too is world class with best medical professional serving people.
Salient Features
State-of-the art technology and equipments for conducting surgeries for different medical streams
24*7 available critical care department
Round-the-clock working emergency care unit and pharmacy to deal with emergency medicinal needs of patients
Surgeons believe in performing minimally invasive surgeries for treating different medical conditions
Various treatments and surgeries for correction of joint pain, spinal injuries and reconstruction procedures available
Qualified pediatric surgeons for dealing with cardiac issues in newborns and children
Esteemed panel of doctors
Dr. Amaresh S. Bhaganagare- Consultant Orthopedics
Dr. Jayaprakash Senthar- Cardiac Electrophysiologist
Dr. K. N. Srinivasan- Consultant Cardiovascular & Thoracic Surgeon
Dr. Mohan Keshavamurthy, Urologist
Dr. Prathima Reddy, Obstetrician & Gynecologist
Dr. Somashekhar Reddy K.S, Diabetologist & Endocrinologist
Dr. Nithin Kumar N, Neurologist
Dr. Ramesh K N, Internal Medicine Specialist
Address
Fortis Hospital 14,
Cunningham Road,
Bangalore - 560052, Karnataka.
---
Columbia Asia, Whitefield
Columbia Asia is a well-known chain of medical providers in India and abroad. The Whitefield facility is a unit that provides health-care facilities in term of surgeries and treatments to everyone from an infant to a senior citizen. It is a well-known and reliable name in the medical sector of Bangalore.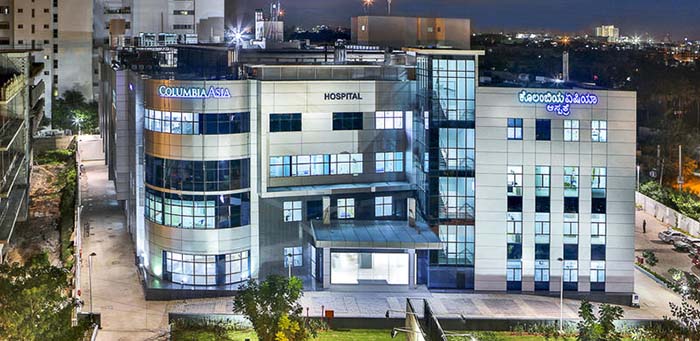 Salient Features
Major and minor surgeries including rhinoplasty, endoscopic surgeries, cochlear implants etc. available in ENT department
Testing services available for patients suffering from lung disorders
Different maxillofacial surgeries for deformity correction in patients because of accidents and congenital defects
Health check packages available for different age-groups
Medical personnel like surgeons and consultants have international practice experience
Qualified team of endocrinologists for treating metabolic and hormonal disorders in young and old people
Various health check packages available to suit requirements
Esteemed panel of doctors
Dr. Indira Kedlaya (Internal Medicine)
Dr. Veera Reddy J - Consultant Orthopedic
Dr. Debashish Dutta Majumder- Consultant ENT
Dr. Geeta Komar- IVF Specialist Doctor
Dr. Gp Capt (Prof) R J Vevai – Senior Consultant Ophthalmology
Dr. Jayanth Sundar Sampath- Consultant Pediatric Orthopedic Surgeon
Dr. Manohar T- Consultant Urologist
Dr. Sonal Agrawal- Consultant Pediatrician
Address
Survey No. 10P & 12P, Ramagondanahal,
Varthur Kodi, Whitefield,
Bangalore East - 560066
---
Manipal Hospital, Whitefield
Manipal Hospital is a leading tertiary healthcare facility in Bengaluru equipped with the latest technology and high end infrastructure. Its team of qualified medical and paramedical staff ensure that any patient in its premises is given the best possible level of care. Manipal hospital is home to several centres of excellence that strive to innovate and deliver evidence based medical care.
Salient Features
Inpatient capacity of 280 beds
Emphasis given on preventive care
Hospital attached with educational institutions encouraging constant training of medical personnel and research based activities
Round the clock radiology, laboratory and pharma services available
Centres of Excellence in the departments of endocrinology, maternity care, laboratory medicine, kidney care and psychiatry
Accommodation facility available for both patients and their relatives
Financing and insurance option available to bear treatment expenses
Robotic surgeries performed here
Esteemed panel of doctors
Dr. G Chandrashekhar, Cardiac Surgeon
Dr. Anand Lingan, Interventional Cardiologist
Dr. Anand R Shenoy, Cardiologist
Dr. Praveen Bharadwaj, Dermatologist
Dr. Vijaya Sarathi H A, Endocrinologist
Dr. Vijay Rangachari, ENT Surgeon
Dr. Anitha Kumari A M, ENT Specialist
Dr. Shahina Anjum, Fetal Medicine Specialist
Dr. Magnus Jayaraj Mansard, GI and Hepatobiliary Surgeon
Dr. Rupesh Kalyan, Gastroenterologist
Dr. Aritra Ghosh, General Surgeon
Dr. Ramya V Raghavan, Internal Medicine Specialist
Dr. Amrith Raj Rao. Genito-Urosurgeon
Dr. Ravishankar B, Nephrologist
Dr. Aneeta Talwar, Gynecologist and Obstertrician
Dr. Tasneem Nishah Shah, Gynecologist and Obstertrician
Dr. Somashekhar S P, Surgical Oncologist
Dr. Ashwin Rajagopal, Surgical Oncologist
Dr Geetha S, Ophthalmologist
Dr. Kumardev Arvind Rajamanya, Orthopedic Surgeon
Address
Manipal Hospitals Whitefield
#143, 212-2015, EPIP Industrial Area,
Off Hoodi Village, KR Puram Hobli,
KIADB Export Promotion Industrial Area,
Krishnarajapura,
Bengaluru, Karnataka 560048
---
Hosmat Hospital, Magrath Road
With the vision and initiative of Dr. Thomas A Chandy, Hosmat is one of a kind hospital which offers services exclusively dedicated to treating accident-trauma, orthopedic & neurological problems and explores the field of sports medicine. It is a well known joint replacement centre equipped with the latest technology in Bengaluru which has carved a niche for itself; not only in India, but Asia as well.
Salient Features
A capacity of 350 beds expanding to 500
An NABH (National Accreditation Board for Hospitals & Healthcare Providers) accredited facility
Awarded ISO9002 - TUV certification for being the best orthopedic & joint replacement hospital
Diagnostic facilities include X-ray, MRI scan, CT scan, color doppler, ultrasonography, FNAC, bone densitometry and KT 1000 knee arthrometer
Presently the only medical facility in Bengaluru equipped with non-claustrophobic MRI system
Well equipped laboratory services along with facilities for conducting various diagnostic tests like EEG, ENMG, treadmill tests, echocardiography, ECG, etc.
A dedicated center for kinematic study (movement study) of joints available
Highly qualified team of doctors and allied staff to deliver prompt healthcare of good standard
Medical staff specialized in managing emergencies, polytrauma and neurological disorders, both acquired and congenital
Esteemed panel of doctors
Dr. Thomas A Chandy. Orthopedic
Dr. Rudraprasad, Orthopedic
Dr. Prakash N C, Neurosurgeon
Dr. Bushan Joseph, Neurosurgeon
Dr. Yogesh Pithwa, Spine Surgeon
Dr. Preethi Singh, Neurologist
Dr. Anuradha Navaneetham, Maxillofacial Surgeon
Dr. Ninan Thomas, Urologist
Dr. Anupama Kumar, Rheumatologist
Dr. Deepu N K, Plastic Surgeon
Dr. Ganesh Nayak, Cardiothoracic Surgeon
Dr. A Raghavan, Surgical Oncologist
Address
Hosmat Hospital
#45 Magrath Road, Off Richmond Road,
Bangalore - 560 025 INDIA
---
Columbia Asia, Hebbal
The first Columbia Asia center to be established in India, it holds high reputation in its region providing quality healthcare with its team of qualified medical professionals along with cutting edge technology. Since its inception in 2005, it provides services in multiple disciplines of medicine to both national and international patients.

Salient Features
Capacity of 90 beds
NABH (National Accreditation Board for Hospitals & Healthcare Providers) recognized medical facility
Special clinics dealing in liver disorders and aerospace medicine
Round the clock services available for managing emergencies, radiology, pharmacy, labor and ambulance
Diagnostic facilities include well equipped laboratory, CT scan, MRI scan, digitized radiography, picture archival communicator system, ultrasound and color doppler
Separate facility for pediatric and neonatal intensive care
Preventive healthcare given high priority, especially cancer screening
Esteemed panel of doctors
Dr. Ajit K Huilgol, General Surgeon
Dr. Nirmala Mohan, Obstetrician and Gynecologist, IVF Specialist
Dr. S Sudhakar, Nephrologist
Dr. Ananda R, Pediatrician
Dr. Anil Ramakrishna, Neurologist
Dr. Anusham A Anantharam, Plastic Surgeon
Dr. Arjun Srivatsa, Neurosurgeon
Dr. Aruna Prasad, Dermatologist
Dr. Basawantrao Malipatil, Medical Oncologist
Dr. Chandrashekhar M, Anesthesiologist
Dr. D M Mahesh, Endocrinologist
Dr. Girish Anand M S, ENT Specialist
Dr. Govind Nandakumar, Gastrointestinal Surgeon
Dr. Hirennappa B Udnur, Pulmonologist
Dr. Leena C D, Obstetrician and Gynecologist
Address
Columbia Asia Hospital
Kirloskar Business Park, Bellary Road,
Hebbal, Bangalore - 560024
---
Top Government / Missionary Hospitals in Bangalore/Bengaluru
List of the best government / missionary hospitals in Bengaluru:
St John Medical College Hospital
The St John Medical College Hospital in Bangalore provides tertiary treatments and care to patients. Known for its acclaimed doctors and an infrastructure that suits quick healing, the hospital has gained considerable recognition as being a leading entity for super specialty treatments.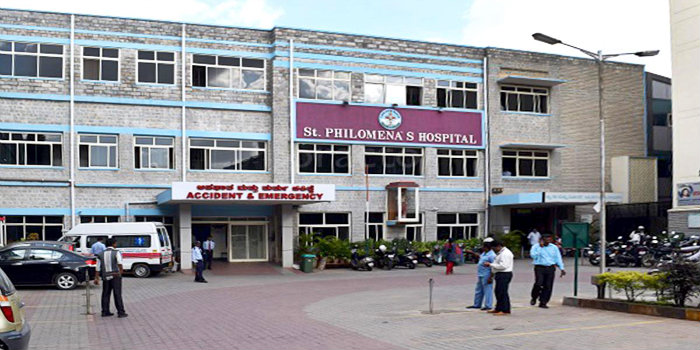 Salient Features
1200 hospital beds
Hi-tech diagnostic facilities
Competent medical fraternity
Sophisticated equipment
NABL accredited hospital
ISO certification
Esteemed panel of Doctors
Dr. M.J. Saji, Orthopedic Consultant
Dr. Indumathi CK, Pediatrics Consultant
Dr. Elizabeth Vallikad, Gynecologist
Dr. Mohan A, Urologist
Dr. Bhargavi Pawar, Ophthalmologist
Dr. Anthony P. Rozaria, Gastroenterologist
Dr. Arun Kumar Haridas, Surgeon (Cardiothoracic)
Dr. M.J. Santosh, Cardiologist
Dr. Kuttappa, Anesthesiologist
Dr. Vineesh K. Varghese, Neurosurgeon
Address
Sarjapur Road, Opposite BDA Complex,
Koramangala, Bengaluru, Karnataka 560034
Phone: 080 2206 5008
Bowring and Lady Curzon Hospital
Located in Shivajinagar, Bangalore, the Bowring and Lady Curzon Hospital has set an example of being one of the oldest hospital and yet providing treatment and facilities of highest standards to patients. Providing an humane touch while healing patients is the forte for this health care institution.
Salient Features
Comprehensive facilities for treatments
Modern equipments and infrastructure
High standards for medical aid
Expert doctors and nursing staff
Quality care
Esteemed panel of Doctors
Dr. Abhijeet Chavan, Surgeon (Orthopedic)
Dr. Harindranath Ranganath, Surgeon (General)
Dr. Anand Alladi, Surgeon (Pediatric)
Dr. B. Ravinshankar Bhat, Gastroenterologist
Dr. Shilpa Bhat, Dermatologist
Dr. Asha Benakappa, Pediatrician
Dr. G.T. Subhas, Neurologist
Dr. Sudha, Gynecologist
Dr. K.H. Srinivas, Ophthalmologist
Dr. Amrit Kadam, Radiologist
Dr. Keshavmurthy, Physician (General)
Address
Near Shivajinagar Bus Stand, Bangalore
Telephone: 080-2532 7715 - 04, 080-2559 2813 - 08, 080-2559 1362 - 07,
080-2532 7713 - 06-104, 080-2532 7714 - 05, 080-2557 1804 - 02
Victoria Hospital
Victoria Hospital was founded in the year 1897 by Her Highness Kempananjammani Avaru who was the then Maharani Regent of Mysore. The hospital was established to commemorate completion of 60 years of Queen Victoria's reign. It's a multi-specialty hospital that caters to needs of every patient. The hospital provides high quality emergency medical services for all departments.
Salient Features
Hospital provides cost effective and best possible medical service in departments like dermatology, orthopedics etc.
Medical staff is caring and concerned
Service caters to all emergency situations
Facilities such as 24 hour working laboratory, well-equipped operation theater, radiology department with X-ray and many more
Different wards available to help patients with varied budgets
Unique ward with 50 beds for burn patients
Various Government health schemes available for needy
Esteemed panel of Doctors
Dr. Ramesh Krishna, Senior Orthopedist
Dr. Ramalingaiah, Orthopedist
Dr. P. K. Raju, Orthopedist
Dr. S. Sacchidanand, Senior Dermatologist
Dr. H.V. Natraja, Dermatologist
Dr. B. Leelavathy, DErmatologist
Dr. Shankarappa M, Senior Plastic Surgeon
Dr. Ramesha K T, Plastic Surgeon
Dr. Smitha S Segu, Plastic Surgeon
Dr. M.D. Patil, Senior Cardiothoraic Surgeon
Dr. S.Sosale, Cardiothoracic Surgeon
Dr. Deepak Kumar Sinha, Cardiothoracic Surgeon
Address
Victoria Hospital,
City Market,
Bangalore -560 002
Phone: 080 2670 1150
St. Philomena Hopsital
St. Philomena hospital was established in the year 1937 and was founded by J.M.J sisters and was headed by Dr. St. Mary Veronica Pitt. It is a multi-specialty hospital that provides excellent medical treatment. It stands true to its motto of "Love, Care and Share."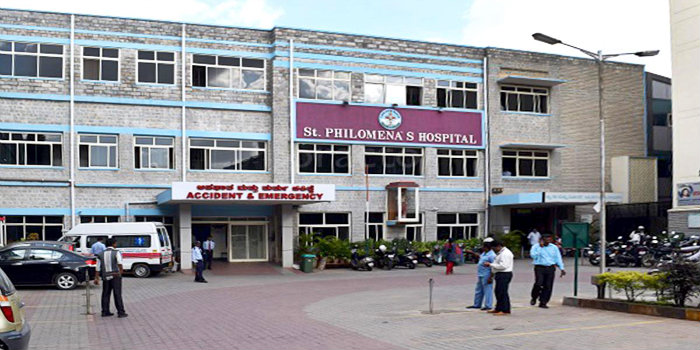 Salient Features
The hospital provides quality medical services in wide range of medical disciplines
Facility of round the clock pharmacy
Patient can also avail blood bank facility in case of emergency
Laboratory services are also offered for quick diagnosis of diseases
Supportive and attentive medical staff
Over 20,000 in-patients served annually
Subsidized services for needy
450 hospital beds available
Esteemed panel of Doctors
Dr. C.B.Patil, Cardiologist
Dr. Subash ChandraMBBS, Cardiologist
Dr. Naveen A, Cardiologist
Dr. B.R. Alevoor Rajaram Bhat, Neurologist
Dr. Ravi Shankar D, Orthopedist
Dr. Venkatesh Prasad J.B, Orthopedist
Dr. Raghavendra, Orthopedist
Dr. Vijiyan P, Urologist
Dr. U Chandrashekhar Rao, Urologist
Dr. Kisalay Saurav, Dermatologist
Dr. Venkatachala K, Oncologist
Dr. Shabeer S. Zaveri, Oncologist
Dr. Murali Subramanian, Oncologist
Dr. Suresh U. Baliga, ENT Specialist
Dr. Mohamed Hashims, ENT Specialist
Address
No-4, Mother Theresa Road,
Near Life Style, Vivek Nagar Post,
Bengaluru, Karnataka 560047
Phone: 080 4016 4433