Best Hospitals in Pune
List of the top hospitals in Pune is as follows:
Pristyn Care
General surgeons at Pristyn Care are the best and well-known medical professionals in India. We follow world-class health care guidelines to treat diseases like Anal Fistulas, Fissures, Piles, Hemorrhoids, Mulvyadh, Pilonidal Sinus, Hydrocele, Varicocele, Hernias, Gallstones, Circumcision and Varicose Veins. We use the latest and advanced medical devices along with USFDA approved surgical techniques to provide the utmost care and reduced risk of infection to all the patients.
All our general surgeons are experts in providing the safest and risk-free surgeries like Laser Fistula Surgery, Laser Pilonidal Sinus Treatment, Laparoscopic Hydrocelectomy, Laser Piles Treatment, Laparoscopic Hernia Repair Surgery, Laser Circumcision, etc.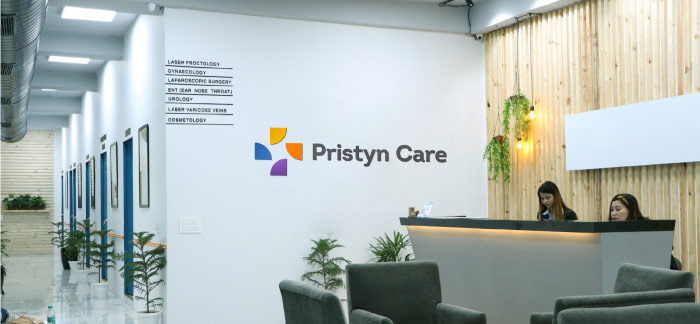 Timings: Monday-Saturday (10:00 AM-8:00 PM)
Speciality: General Surgeon
Address
4,5 & 6, Baner Allure Aesthetics, Kapil Classic, Baner Rd, Baner, Above Bank Of Maharashtra, Pune, Maharashtra 411045
Ruby Hall Hospital
Ruby Hall Clinic, Pune is the first Nationally Accredited Hospital of the city and for over five decades, it has been providing excellent healthcare with the incorporation of latest technologies and amenities. Pioneer of services like intensive care and coronary care units, air ambulance, cobalt therapy for cancer, this hospital also has first successful kidney transplantation and delivery of a test tube baby under its belt. Ruby Hall Clinic has made noteworthy contributions in the field of healthcare and provides clinical excellence and satisfaction to the patients.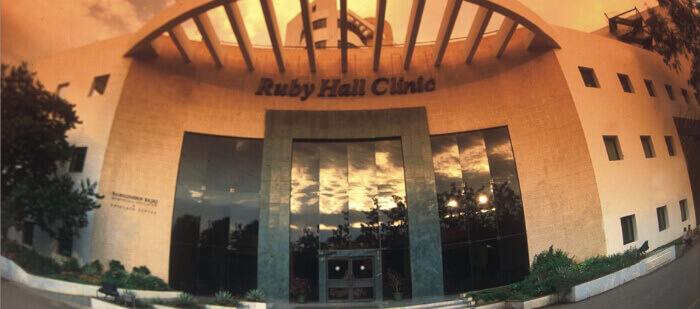 Salient Features
Provides 550 inpatient beds and 130 ICU beds
A team of 1400 paramedical staff, 150 consultants and 500 panel doctors
Hitech diagnosis, Cath labs and is the first to offer IGRT in India
Largest Cardiac care facilities in India and recognized by American College of Cardiology
First to provide Air ambulance along with conventional ambulance facilities that operate 24/7
Offers free health care facilities to the less privileged and has made a record of spending around 6 corers on the same
Esteemed Panel of Doctors
Dr. Bharati Rajguru (Psychologist - Clinical)
Dr. Uday Phadke (Endocrinologist)
Dr. Irani (Ophthalmologist)
Dr. V. Venkat (Neonatologist)
Dr. P. Udawant (Neonatologist)
Dr. Vijay Tannu (Neonatologist)
Dr. R.S. Dumbre (General Surgeon)
Dr. P.K. Grant (Cardiologist)
Dr. Shashank Shah (Bariatric and Laproscopic Surgeon)
Dr. G.S. Relwani (Physician)
Address
40, Sassoon Road,
Pune, Maharashtra - 411001
---
Jehangir Hospital
A premier health care center in Pune, known, for its highest levels of health care delivery. Staff and health care providers are not only known for their exceptional expertise, but also for showing compassionate behavior towards patients and their families. Jehangir Hospital has always been a medical assistance destination for the people of Pune and it still continues to be the same.
Salient Features
A multi specialty hospital with 350 beds
Known not only for efficient services, but also for compassionate staff
Well equipped and technically sound infrastructure
First to provide screening test for determining hearing disorders in newborns
24/7 emergency care services 2
Provides various wellness packages at an affordable price
Diagnostics, Pharmacy and ambulance facilities
Performs research on major health challenges such as nutrition disorders in children, cancer, diabetes etc.
Esteemed Panel of Doctors
Dr. C. Sharma ( Physician)
Dr. J S Dugal ( Cardiologist )
Dr. P Vaidya (Dermatologist)
Dr Chandrashekhar Surgeon (Cardio and Thoracic Surgeon)
Dr. Vijay Ramanan (Haematologist)
Dr. Shona Nag (Oncologist)
Dr. Milind Botre (Physician - Family Medicine)
Dr. Amol Rege (Spine Surgeon)
Dr. Anshu Sethi (Neonatologist - Pediatric)
Dr. Sanjay Phadke (Neuropsychiatrist)
Address
32, Sassoon Road,
Near Pune Station,
Pune, Maharashtra 411001
Sahyadri Hospital
Being the largest chain of Hospitals in Maharashtra, Sahyadri hospitals have made health care accessible to both elite and the under privileged. Spread across a number of branches in the city itself, Sahyadri Hospital is definitely one of the best hospitals in Pune and a favorite medical destination for all.
Salient Features
1200 beds in 11 different branches across the city
A team of quality professionals who have touched millions of hearts in India
Committed at using the best and latest medical technologies
Emphasizes in hiring professionals with supreme skills and knowledge
A multispecialty hospital exclusive of all medical treatments along with separate Behavioral Sciences and wellness program departments
Esteemed Panel of Doctors
Dr. Pravinkumar Shetty (Dermatologist)
Dr. Kshama Kulkarni (General Surgeon)
Dr. Suyog Doshi (Neurologist)
Dr. Ashutosh Chauhan (Psychiatrist)
Dr. Gauri Chaudhari (Clinical Psychologist)
Dr. Sunil Sathe (Cardiologist)
Dr. Mandar Doiphode (Gastroenterologist)
Address
Sahyadri Speciality Hospital Deccan Gymkhana
Plot no.30 - C, Erandwane, Deccan Gymkhana,
Pune 411004, Maharashtra, India
Sahyadri Hospital Bibwewadi
Plot No. 13 S. No. 573, City No.281
Swami Vivekananda Marg, Bibwewadi
Pune - 411 037, Maharashtra, India
Sahyadri Hospital Hadapsar
G & G Towers, S.No. 153/A,
Hissa No. 124 / 21, Magarpatta,
Pune-Solapur Road, Hadapsar
Pune - 411 028, Maharashtra, India
Sahyadri Speciality Hospital Nagar Road
Near Hermes Heritage, Shastri Nagar,
Nagar Road, Yerawada
Pune 411006, Maharashtra, India
Surya Sahyadri Hospital
1317, Kasba Peth, Near Shanirwar Wada,
Pune 411011, Maharashtra, India
---
Columbia Asia Hospital
A premiere institute in the industry, Columbia Asia is one of the trusted assistance for health care in Pune. With an infrastructure meeting international standards, the hospital is committed at providing timely and efficient services to people who need it the most. Enveloping various medical branches along with peripheral services, the hospital is definitely ranked as one of the preferred medical destinations in the city.
Salient Features
A multi-specialty hospital accommodating 100 beds
Well maintained and equipped ICUs and HDUs
Offers 24/7 emergency services and ambulance facilities
Special clinical facilities - Cancer Screening, Weight loss clinic and Travel medicine etc.
Round the clock laboratory facilities as well as Radiological and Cath Lab services
Maintains an efficient diagnostic and imaging unit
The hospital also maintains a blood storage unit
Provides health screening exams for people belonging to different age groups
Esteemed Panel of Doctors
Dr. Anand Alurkar (Neurologist)
Dr. Anand Katkar (General Surgeon)
Dr. A. Joseph (Ophthalmologist)
Dr. Archana S. Kher (Pediatrician)
Dr. Bhavna Mangal (Gynecologist & Obstetrician)
Dr. Dasmitsingh Khokar (Paediatrician)
Dr. Dhananjay K. Dhamle (Dermatologist)
Dr. Yogesh B. Langade (General Surgeon)
Dr. Ruchi Rana (Psychologist)
Dr. Sachin N. Bhise (Pediatrician)
Dr. John Joseph (Radiologist)
Dr. Kamat Nilesh Dilip (Orthopedist)
Dr. Kannan Subramaniam (Clinical Hematologist)
Dr. Bhoopat Singh Bhati (Urologist)
Dr. Deepak Kaul (Maxillofacial Surgeon)
Dr. Ashish Kanijo (Cardiovascular and Thoracic Surgeon)
Address
No. 2A, Near Nyati Empire,
22, Old, Mudhwa, Kharadi Road,
Pune, Mahrashtra - 411014
---
Noble Hospital, Hadapsar
Noble Hospital is a rapidly growing tertiary care center in Pune. The 250 bedded hospital is one of the most trusted treatment centers in East Pune. It has pioneered many procedures and concepts which have benefited patients and society alike. The hospital caters to patients from both India as well as abroad. All essential facilities like visa arrangement, in flight health support and many more are provided to patients on request.
Salient Features
NABH and ISO 9001 accredited hospital covering over 20 medical and surgical specialties
Test Tube Baby center providing hope and joy to couples who experience difficulty in conceiving
Green operation theater is the special feature pioneered by this hospital
Complicated surgeries performed using the most advanced methods
24 hours blood bank in case of emergency during surgery
Outpatient consultation facility for all medical specialties
Nutrition and lifestyle counseling services offered to patients recovering from serious health disorders
Clinical research carried out in order to improve scope of treatment
Medical insurance coverage arranged for all patients
Esteemed Panel of Doctors
Dr. Balaji Baskaran - Gastroenterologist
Dr. Sunitha Singhvi - Gynecologist
Dr. Nischitha - Skin Specialist
Dr. Sarala - Physician
Dr. Jai Kumar - Psychiatrist
Dr. Meenakshi - Cardiologist
Dr. Guru Balaji - Nephrologist
Dr. F.A. Rahman - E.N.T.
Dr. Chitrasan - Radiologist
Dr. Sathyamoorthy - Cancer Specialist
Dr. Meera - Pediatrician
Address
153, Magarpatta City Road,
Hadapsar, Pune - 411013
---
AIMS Hospital Aundh
AIMS hospital located in Aundh suburb of Pune, has been developing exponentially since its establishment in 2012. The 101 bedded tertiary care center caters to patients from India as well as abroad. The hospital is located in an area easily accessible from Pune railway station, Pune-Bangalore highway as well as Pune Airport.
Salient Features
24 hours emergency department providing first aid care to victims of accident, burns, heart attack, respiratory distress etc.
5 fully equipped operation theaters designed using the most advanced medical technology
Advanced and minimally invasive methods used to perform all types of surgeries
Team of highly efficient doctors, nurses and technicians providing personalized medical care to each patient
Outpatient consultation at flexible timings to suit all patients' schedules
Service like visa arrangement, airport drop and pick up, language translation facilities provided to patients visiting from abroad
Occupational therapy, physiotherapy, counseling and other rehabilitation facilities provided to all patients recovering from a major illness
I.C.U. with 24 hours medical supervision facility
Esteemed Panel of Doctors
Dr. Satish Pattenshetti - Bariatric Surgeon
Dr. Shirish Hiremath - Cardiologist
Dr. Rashmi Lohiya - Skin Specialist
Dr. Priyanka Kashid - Diabetes Specialist
Dr. Kishore Pandit - Gynecologist
Dr. Jagdish Shinde - Cancer Specialist
Dr. Deepak Patil - Neurosurgeon
Dr. Jyoti Gulati - General Physician
Dr. Pramod Jog - Pediatrician
Dr. Angha Behere - Eye Specialist
Address
Near AIMS Square,
Aundh, Pune - 411007
---
Sahyadri Hospital Nagar Road
Sahyadri Hospital located at Nagar Road is one of the most sought after and trusted tertiary care centers in Pune. Equipped with the best medical, diagnostic and therapeutic facilities, this hospital has quickly risen atop the ladder of success and caters to thousands of patients annually.
Salient Features
Separate I.C.U. facility for small children and new born babies
Cardiac cath labs equipped with the most modern instruments to perform procedures like angioplasty
State-of-art I.V.F. clinic with an impressive success rate
Maternal I.C.U. providing utmost care to women who have undergone difficult labor
NABL accredited well equipped pathology lab
130 bedded inpatient department with a patient friendly set up
Modern technology used to perform superior diagnostic procedures like CT scan, 2D-Echo etc.
24 hours operational pharmacy for convenience of patients
Facilities for visa, airport transfers, in flight health support offered to patients visiting from abroad
Esteemed Panel of Doctors
Dr. Abhay Kulkarni - Orthopedic Surgeon
Dr. Pawan Chumbale - Plastic Surgeon
Dr.Amey Joshi - Dentist
Dr. Pranita Kasat - E.N.T.
Dr. Charudutt Apte - Neurosurgeon
Dr. Deepa Divekar - Pediatrician
Dr. Mansi Sharma - Gynecologist
Dr. Rajesh Kaushik - Cardiac Surgeon
Dr. Sandeep Kulkarni - Gastroenterologist
Dr. Sumit Shah - Cancer Surgeon
Address
Near Hermes Heritage,
Shastri Nagar, Nagar Road,
Yerawada, Pune - 411006
---
Aditya Birla Memorial Hospital
Being the first JCI accredited hospital of Maharashtra, Aditya Birla is definitely the first choice in health care assistance for the Punekars. Emphasizing on having the best team of professionals working full time, ABMH offers the best of services at an affordable price. The hospital has definitely one of the most desired hospitals in Pune.
Salient Features
JIC,NABH,HACCP and ISO 22000:2005 Certified
Accommodates 500 beds and 152 ICU beds
Has 13 well equipped Operation theaters
Is proud of employing first rate team of professionals who are technically assisted with latest generation equipment
Spread across one of the largest and finest infrastructure
Besides being a multispeciality health care center, it also focuses on providing wellness packages
Maintains a pharmacy and health store
A separate Medical Emergency Center that is again furnished with hi tech instruments and every other amenity required to save human lives
A distinct neonatal and pediatric wing has been started to take care of new born children and their mothers
Also engages in different social activities to take effective health care to people belonging to different strata of society
Esteemed Panel of Doctors
Dr. Hrishikesh Sarkar (Neurosurgeon)
Dr. Deepali Gonjari (General Surgeon)
Dr. Anjali Jhamnani(Medicine – Internal)
Dr. Amol K. Patil (Urologist)
Dr. Aditya Ingle (Pathologist)
Dr. Jayant Shelgoankar (Consultant - Critical Care)
Dr. Manisha S. Gotarkar (Implantologist - Dental)
Dr. Nitin S. Gade (Diabetologist)
Dr. Pravin Patil (Rheumatologist)
Dr. Rahul Kallianpur (Neonatologist)
Address
Aditya Birla Hospital Marg, Chinchwad,
Pune, Maharashtra - 411033
---
Inamdar Multispecialty Hospital
Committed to providing unmatched health care services at an affordable price, Inamdar Multispeciality hospital is by far one of the top most hospitals in Pune. With a broad range of services offered across every medical specialty, this hospital houses the best of medical practitioners and supporting staff who guarantee complete care and quick recovery of their patients. Meeting international standards at service delivery, this hospital is definitely one of the desirable healthcare destinations for inhabitants as well as patients overseas.
Salient Features
A multi-specialty hospital with varied and spacious patient accommodation areas
Well equipped super specialty operation theaters; along with, Bio- Conditioned OT; specially designed for cardiac operations
Hi tech ICUs and MICUs. Very recently they have introduced a ROBOT Resuscitator, Lucas Chest Compression machine in their MICUs that is serving as a life savior
24/7 availability of pathological services
Maintains a well equipped pharmacy and a blood bank, available 24/7
Round the clock availability of ambulance and emergency services with constant support from doctors and other medical practitioners
Offers Pneumatic Chute System for quick transportation of lab samples
Highly efficient staff who serve with efficiency and compassion
Esteemed Panel of Doctors
Dr. Kedar Patil (Surgeon - Bariatric)
Dr. Sachin Lakde (Cardiologist)
Dr. Sanjeev Jadhav (Surgeon - Cardiothoracic)
Dr. Rituparna Shinde (Cardiologist)
Dr. Prashun Mishra (ENT Specialist)
Dr. Hema Jain (Dermatologist)
Dr. Hasmukh Gujar (Cardiologist)
Dr. Anil Desouza (Orthopaedist)
Dr. Ajit Mehta (Cardiologist)
Dr. Nisha Parikh (Dermatologist)
Dr. Swami Shirsikar (Dermatologist)
Dr. Sumit Bhatti (ENT Specialist)
Dr. Sanjeev Bakshi (Endocrinologist)
Dr. Mahendra Chitre (Neurosurgeon)
Dr. Ashish Chugh (Neurosurgeon)
Dr. Nikhil Jadhav (Orthopaedist)
Address
Hospital Building S.No - 15,
Fatima Nagar, Pune, Maharashtra - 411040
---