Best Private Hospitals in Mumbai
Following are the top private multispecialty hospitals in Mumbai:
Pristyn Care
Pristyn Care is a multi-specialty chain of specialized day-care procedures. We do modern surgeries across our network of 70+ clinics with 100+ doctors on-board. We have a complete range of facilities under Proctology, ENT, Urology, Cosmetic Gynaecology, and laparoscopic and laser-assisted surgeries.
In this clinic, we have specialist doctors for Proctology and Laparoscopic surgeries.
The experts use the newest techniques with Laser diode and Laparoscope to keep up with the modern healthcare ecosystem. Our surgeons perform the surgeries with the utmost precision and care that incur no pain or bleeding.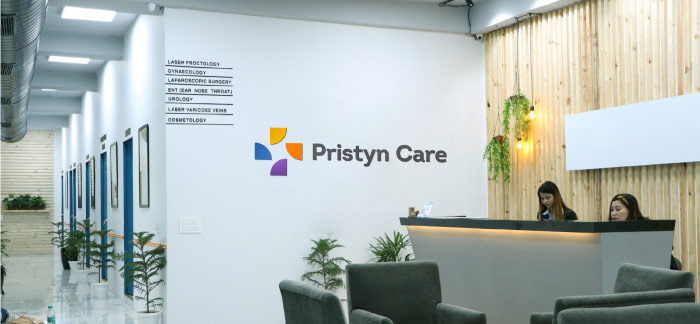 Timings: Monday-Saturday (10:00 AM-8:00 PM)
Speciality: General Surgeon
Address
6&7, 1st Floor, Tropical Lagoon Ghodbunder Rd, Thane Rd, Kavesar,Thane, near Anand Nagar Bus Depot, Thane, Maharashtra 400615
Nanavati Hospital
This iconic hospital was inaugurated by Pt. Jawaharlal Nehru in the year 1950. With over 6 decades of dedicated health care services, Dr. Balabhai Nanavati Hospital in Mumbai has created a niche for itself; both nationally and internationally for provision of exemplary medical facilities and treatments.
Salient Features
350 hospital beds for treatment
Over 55 specialty treatments available
Technologically enhanced systems and equipment
350 specialty consultants, around 100 resident medical professionals, close to 500 nursing staff and above 1500 support employees
Free treatments rendered to indigent patients and 10% beds reserved for them
Round the clock blood bank, ambulance and pharmacy services
Esteemed panel of Doctors
Dr. Ajit Visput, Anesthesiologist
Dr. Naresh Singhi, Bariatric Surgeon
Dr. Bhavisha Ghugare, Breast Surgeon
Dr. Kalpana Sarangi, Cosmetologist
Dr. Kiran Naik, Plastic Surgeon
Dr. Amarnath Upadhye, General Surgeon
Dr. Preeti Galvankar, Gynecologist
Dr. Anuja Pethe, Consultant (Pediatrics)
Dr. Divya Shetty, Dentist
Dr. Anand Gosavi, Maxillofacial Surgeon
Dr. Suresh Sawardekar, Diabetologist
Dr. Sanjiv Shah, Endocrinologist
Dr. Ajay Choksi, Gastroenterologist
Dr. Ashish Joshi, Oncologist (Medical)
Dr. Rohit Malde, Oncologist (Radiation)
Dr. S.M. Phanse, Oncologist (Surgical)
Dr. Deepak Patkar, Radiologist
Address
S.V. Road, Vile Parle (West),
Mumbai - 400 056, India.
---
Wockhardt Hospital, Mumbai Central
Wockhardt hospital, founded in 2014, is one of the best multi specialty centers of Mumbai. It is well equipped to treat a large number of patients comfortably. It is a tertiary care hospital focused on providing surgical and medical treatment to patients, making use of the most advanced technology.
Salient Features
First wireless Asian hospital
8 bedded emergency unit with round the clock availability of treatment
Separate institutes have been established for critical care, stroke and adult and pediatric heart conditions
Patient data retrieval possible anytime anywhere due to ICCA system
Availability of 350 patient beds and other modern facilities
Has GPS enabled ambulance to transmit patient details to doctors in critical cases
100 bedded ICU with round the clock surveillance by nurses and doctors
Esteemed panel of doctors
Dr. Suresh Joshi - Pediatric cardiac surgeon
Dr. Darius Soonawala - Orthopedic surgeon
Dr. Shirish Hastak - Neurologist
Dr. Tariq Patel - Gastroenterologist
Dr. Meghal Sanghavi - Oncosurgeon
Dr. Anjali Patki - Anesthetist
Dr. Nitin Dange - Neurosurgeon
Dr. Prasad Wagle - Gastrointestinal surgeon
Dr. Rajan Sukhtankar - Radiologist
Dr.Nayan Shetty - ENT surgeon
Dr. SumitaYadav- Physiotherapist
Address
1877, Doctor Anandrao Nair Marg,
Near Agripada Police Station,
Mumbai Central East, Mumbai 400011
---
SevenHills Hospital
With a strong focus on comprehensive health care for patients, the SevenHills Hospital in Mumbai has made its mark felt in the medical domain with high class infrastructure and hi-tech equipments along with a strong workforce comprising of doctors, nursing and support staff.
Salient Features
Spread across 17 acres and built-up infrastructure facilities of around 2 million square feet
Residential facilities on campus for 300 medical experts, thus offering round the clock availability
120 chambers for OPD, 36 OT's, 24 units for dialysis
International airport at close distance
Proposed on-campus Helipad
4 bedded room for emergency care equipped with all facilities
Well stocked pharmacy
Esteemed panel of Doctors
Dr. Vikram Patel, Anesthesiologist
Dr. Vasu Dev, Gastroenterologist
Dr. Deepak Jadhav, Nephrologist
Dr. Indu Ambulkar, Oncologist (Medical)
Dr. Phulkumari Talukdar, Oncologist (Radiation)
Dr. Chetan Shah, Oncologist (Surgical)
Dr. Shehzad Topiwala, Endocrinologist
Dr. Vinaykumar Thapar, General Surgeon
Dr. Satpal Pannu, Ophthalmologist
Dr. Ashwini Kumar Mehta, Consultant (ENT)
Dr. Vaishali Joshi, Gynecologist
Dr. Avanish Arora, Urologist
Dr. Shikha Giri, Consultant (Implantologist & Prosthodontist)
Dr. Avinash Date, Orthopedic Surgeon
Address
SevenHills Health City, Marol Maroshi Road,
Andheri East, Mumbai - 400059
Global Hospital, Parel
Global hospital Parel is the first of the Global Hospitals group's venture in Mumbai. Strategically located, it provides the best medical care there is to offer. This hospital caters to both national and international patients using the most advanced equipment and medical facilities. It is involved in providing education to young budding healthcare professionals.
Salient Features
450 bedded hospital
Modern equipment and state of art technology
Provision of multi-organ transplant facility
Highly advanced cath lab and cardiac imaging facility
Video consultation and telemedicine available
12 equipped and modern operation theaters
Associated with major insurance providers
First combined kidney and liver transplant conducted in Western India region
Esteemed panel of doctors
Dr. Prashanth Rao - Gastrointestinal surgeon
Dr. Ajay Chaughule - Cardiovascular surgeon
Dr. Abhay Narvekar - Orthopedic surgeon
Dr. Payal Lakhani - Gynaecologist
Dr. Samir Shah - Hepatologist
Dr. Avni Shah - Dermatologist
Dr. SunilVaze - Diabetologist
Dr. Sonal Vadi - Critical Care Physician
Dr. Anupama Borker - Onclogist
Dr. Amit Mahore - Neurosurgeon
Dr.Bharat Shash - Nephrologist
Address
35, Dr. E Borges Road,
Opp Shirodkar High school,
Hospital Lane, Wadi Bandar,
Parel, Mumbai, Maharashtra 400010
Kohinoor Hospital, Mumbai
It has been just a few years that Kohinoor hospital got into providing healthcare, and this medical facility has already made a name for itself in Mumbai. With a dedicated team of medical personnel specialized in different branches of medicine, the staff at Kohinoor Hospital do their best to provide care in a holistic manner to ailing patients. The centers for stroke, high risk pregnancies and obesity surgery are already gaining popularity among the local as well as international population.
Salient Features
Accredited by NABH
Recognized as Asia's first and world's second LEED Platinum certified medical facility
Inpatient capacity of 175 beds
Round the clock availability of blood bank, MRI & CT scanning and ambulance services
A 27 bedded ICU along with a 6 bed Emergency Room
Equipped with state of the art infrastructure and technology
Special centers available for prompt care of stroke, high risk pregnancies and obesity
Easily accessible medical facility for several suburban regions of Mumbai
24/7 operational emergency and trauma services
Dialysis unit installed with facilities for both hemodialysis and peritoneal dialysis like CAPD, CAVH, CCPD, CVVH, CAVHD and plasmapheresis
Emergency maternal assistance at all times
NICU capacity of 6 beds
Reputed medical facility for high quality cancer care
Cardiology department equipped with latest testing modalities and cath labs
Special assistance provided to overseas patients in providing comfortable accommodation, visa services, guided tours,foreign exchange, etc.
Esteemed panel of doctors
Dr. Jayshree Todkar, Bariatric & Metabolic Surgeon
Dr. Chetan Shah, Cardiologist
Dr. Rajendra Umbarkar, Cardiovascular & Thoracic Surgeon
Dr. Ekta Keshwani, Oral & Maxillofacial Surgeon
Dr. Jitendra Parikh, Dermatologist
Dr. Kulin Shah, Diabetologist
Dr. Altamash Shaikh, Endocrinologist
Dr. Sanjay Helale, ENT Surgeon
Dr, Khurshed VAzifdar, Gastroenterologist
Dr. Shahid Barmare, General Physician
Dr. Priti Jaykar, Laparoscopic surgeon
Dr. Musadik M Parkar, General Surgeon
Dr. Aseem Thamba, Nephrologist
Dr. Rakesh Singh, Neurologist
Dr. Vishwanathan Iyer, Neurosurgeon
Dr. Anjali Talwalkar, Gynecologist & Obstetrician
Dr. Adwaita Gore, Oncologist
Dr. Rakesh M Badhe, Oncosurgeon
Dr. Gurvinder Sawhney, Orthopedic Surgeon
Dr. Darshan Chudgar, Ophthalmologist/Eye Surgeon
Dr. Priya Golani, Ophthalmologist
Dr. Sunil Dhiliwal, Pain Management Specialist
Dr. Kavita Gohil, Pediatrician
Dr. Abhaya Gupta, Pediatric Surgeon
Dr. Parag Telang, Plastic Surgeon
Dr. Aftab Ansari, Urosurgeon
Address
Kirol Road, Off LBS Road,
Kurla (West), Mumbai,
Maharashtra 400070
---
Wockhardt Hospital, Mira Road
Wockhardt is an elite chain of hospitals spread across cities in Maharashtra and Gujarat. The Mira road facility is situated in North Mumbai. It caters to people staying in areas that fall under North Mumbai area and few parts of Gujarat. Treatment facilities across various key specialties are available in the same 14 storied facility.
Salient Features
National Accreditation Board for Hospitals & Health care Providers (NABH) accredited hospital
Hospital has partnered with Partners Medical International, Boston, USA
The North Mumbai facility's dialysis service was awarded as the best dialysis service provider
350 bedded multi-specialty
Critical care unit consisting of 100 beds for emergency patients
9 state-of-the-art operation theaters for every type of surgery
Round-the-clock availability of portable Intensive Care Unit (ICU)
24*7 availability of specialist doctors
Esteemed panel of doctors
Dr. Aaditya Kashikar: Consultant (Spine Surgery)
Dr. Anup Taksande: Consultant (Cardiology)
Dr. Badshah S. Khan: Consultant (Pediatrics)
Dr. Briijesh Dube: Consultant (General Surgery)
Dr. Chetan Bhambure: Consultant (Interventional Cardiology)
Dr. Krutarth D. Thakar: Consultant (Onco Surgery)
Dr. Manish Garg: Cardio Vascular & Thoracic Surgeon
Dr. Neepa Vellimuttam: ENT Surgeon
Dr.Amit Bhat: Consultant (Urology)
Dr. Sarita Channawar: Consultant (Obstetrics & Gynecology)
Dr. Nikhil Agarwal: Consultant (Advanced Arthroscopy Surgery and Total Joint Replacement)
Dr. K. Mahesh Prasad: (Consultant Kidney specialist
Address
The Umrao IMSR,
Mira Road East,
Mira Bhayandar 401107
---
Sterling Wockhardt Hospital, Vashi
Sterling Wockhardt is the result of the hard work of Wockhardt, the world famous pharmaceutical brand. The company has managed to put up branches in Surat, Rajkot, Mumbai and Nagpur. Sterling Wockhardt facility is situated in Navi Mumbai. Established in 2007, the 45 bedded unit is already an advanced facility. It caters to multiple medical disciplines. The facility has achieved acceptance and credibility in a short time of its inception.
Salient Features
ICU unit of 10 beds and emergency unit of 3 beds
Round-the-clock ambulance services
In-house radiology and pathology testing facilities available
Hospital offers facility of cashless hospitalization
Round-the-clock open Pharmacy
Operating rooms have Hepa filters and Laminar floors
Esteemed panel of doctors
Dr Shailendra T Patil: Minimal Invasive Surgeon
Dr. Akshay Chhallani: Consultant (General Medicine)
Dr. Anil Deshpande: Consultant (Laparoscopic surgery)
Dr. Atul Gattani: Consultant Rheumatologist
Dr. Soumyan Dey: Consulting Urologist & Uro-Oncologist
Address
Sterling Wockhardt Hospital
On Sion Panvel Expressway
Sector 7, Vashi,
Navi Mumbai - 400703
---
Top Government / Missionary Hospitals in Mumbai
Following are the government / missionary hospitals in Mumbai:
Sir J.J Group of Hospitals
The conglomerate comprising 4 hospitals; namely, St. Georges, Gokuldas Tejpal, Cama & Albless along with Sir J.J. Hospital, forms the Sir Jamsethji Jeejebhoy Group of Hospitals in Mumbai. Robert Grant and Sir Jamsetjee jointly initiated this institution for catering to medical needs of patients and render medical education too.
Salient Features
More than 2800 beds available (Combined strength)
More than 10,00,000 outpatients and 80,000 inpatients rendered treatment annually
Maharashtra Government's "Jeevandayee Yojna" implemented here for providing treatment to needy with regards to expensive surgeries
Extensive facilities and high class equipment
Expert doctors and staff
Round the clock treatment facilities
Expert panel of Doctors
Dr. T.P Lahane, Ophthalmologist
Dr. M.B. Tayade, General Surgeon
Dr. V.P. Kale, Psychiatrist
Dr. N.M. Dedhia, Nephrologist
Dr. Sadik Patel, Pharmacologist
Dr. N.O. Bansal, Cardiologist
Dr. Ayub Siddiqui, Urologist
Dr. Vernon Velho, Neurosurgeon
Dr. Shamol Banerjee, Plastic surgeon
Dr. M.V. Jagade, Specialist (ENT)
Dr. Rekha Daver, Gynecologist
Dr. Subodh Sontakke, Dentist
Dr. Shephali Pawar, Radiologist
Dr. Bharti Kondwilkar, Anesthesiologist
Dr. Usha Khemani, Skin specialist
Address
J J Marg, Nagpada-Mumbai Central,
Off Jijabhoy Road, Mumbai - 400008.
Phone: +(91)-22-23735555, 23754995, 23739400, 23750102, 23739034, 23739035, 23739040
Fax: +(91)-22-23735599
King Edward Memorial Hospital
King Edward Memorial Hospital (KEM Hospital) is a public hospital founded in 1926 in memory of King Edward VII. Most of the funds to run the hospital are provided by the Municipal Corporation of Greater Mumbai. It is the only multi-specialty hospital in India that treats medical conditions at nominal cost. To the underprivileged, it provides free medical services. It is the first hospital in India to have performed renal transplantation in 1965, and liver transplantation in 1968. It gave India its first test-tube baby as well.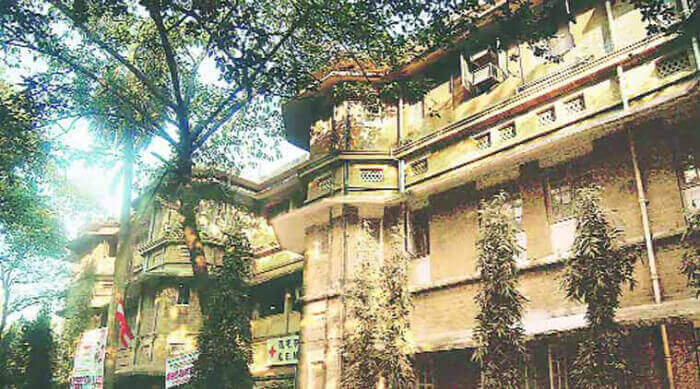 Salient Features
390 Staff and 500 resident doctors
Free medical services to underprivileged
1800 hospital beds covering all medical specialties
Treats 1.8 million out-patients and 85,000 in-patients annually
Fully-equipped laboratory
Performs over 150 surgeries daily
Esteemed panel of doctors
Dr. Prafulla G Kerkar (Cardiology)
Dr. N B AGRAWAL (Cardiovascular and Thoracic Surgery)
Dr. S.B.OGALE (ENT)
Dr. Philip Abraham (Gastroenterology)
Dr. J. D. Mohite (General Surgery)
Dr. N. K. Hase (Nephrology)
Dr. S. H. Ravat (Neurology)
Prof. Atul Goel (Neurosurgery)
Address
Dr E Borges Road, Acharya Donde Marg,
Opposite Tata & Wadia Hospital,
Parel, Mumbai - 400012
Tel: +(91)-22-24107000, 24107492
Lokmanya Tilak Municipal General Hospital
Lokmanya Tilak Municipal General Hospital situated in Sion, Mumbai is ranked amongst the premier institutions for medical care and treatments. It caters to major ailments and has all facilities for comprehensive medical attention and treatment. It is known for provision of affordable health care for complex medical issues.
Salient Features
Above 1400 hospital beds for treatment
Above 300 expert medical professionals
Over 16,00,000 outpatients and 60,000 inpatients rendered treatment annually
Specialty clinics and ICU's for array of medical disciplines
State-of-the-art facilities and equipments
First trauma facility in India
Esteemed panel of Doctors
Dr. Ajay Mahajan, Cardiologist
Dr. Naren Nayak, Neurosurgeon
Dr. Archana Bhosale, Gynecologist
Dr. Atul Patil, Surgeon (Orthopedics)
Dr. Renuka Bradoo, Surgeon (ENT)
Dr. Mamta Manglani, Hematologist
Dr. Mona Gajre, Pediatrician
Dr. S. Laxmi Patel, Physiologist
Dr. Ankur Arya, Urologist
Dr. Hemangi Karnik, Anesthesiologist
Dr. Aniruddha Phadke, Gastroenterologist
Dr. Meghana Phiske, Dermatologist
Dr. Chhaya Shinde, Ophthalmologist
Dr. Sujata Patwardhan, Oncologist (Medical)
Address
Dr. Babasaheb Ambedkar Road,
Sion (West), Mumbai - 400022
Telephone Numbers: + 91 2407 6381, + 91 2406 3000, + 91 2409 2020, + 91 2408 2504
Holy Spirit Hospital
Initiated as a clinic for out-patients in the year 1964, the Holy Spirit Hospital was formed by the Missionary Sisters Servants in 1967 as a full fledged health care providing entity. 10% patients provided treatment here are slum dwellers who are treated free of cost, while 70% are low income earners and the rest are paid patients. In spite of this low costing model, the hospital does not compromise on quality of service and infrastructure facilities which are high class.
Salient Features
NABH accredited hospital
350 hospital beds for treatment
Multi specialty treatments rendered
Expert doctors and nursing staff
Large in-patient wards and spacious out-patient facilities
Round the clock Pharmacy
Lush surrounding to ensure proper healing environment
Esteemed panel of Doctors
Dr. Rajiv Kovil, Diabetologist
Dr. Sanjay Fernandes, Dermatologist
Dr. Mrs. N.D. Moulik, Endocrinologist
Dr. Christopher D'Souza, Consultant (ENT)
Dr. Alan Soares, Consultant (General Medicine)
Dr. Manoj Kamdar, General Surgeon
Dr. Durgesh Borkar, Gastroenterologist
Dr. Gausia Sayed, Comsultant (Homeopathy)
Dr. Ashok Sirsat, Neurologist
Dr. Harshad Parekh, Neurosurgeon
Dr. Rajesh Shirishkar, Orthopedic Surgeon
Dr. Susan Sodder, Gynecologist
Dr. Mihir Shah, Ophthalmologist
Dr. Mrs. Neeta Patel, Plastic Surgeon
Dr. Shrikant Badwe, Urologist
Dr. Brian Pinto, Cardiologist
Dr. Joseph Sequeira, Oncologist (Surgical)
Dr. Nirmal Raut, Oncologist (Medical)
Dr. Amol Ubale, Oncologist (Radiation)
Address
Mahakali caves Road, Andheri East,
Mumbai - 400093
Emergency: 022-28248500/1/2/3/4
Holy Family Hospital and Medical Research Center
With humble beginnings in early 1950's, the Holy Family Hospital and Medical Research Center has come a long way to become one of the recognized providers of health care in Mumbai. Humane approach and commitment to standard facilities along with quality medical aid are aspects that are synonymous with this hospital.
Salient Features
Close to 75 thousand outpatients and 15 thousand inpatients treated annually
232 hospital beds for treatments
Cutting edge facilities in laboratory, CT Scan, MRI and other aspects
NABH accredited hospital
ISO 9001:2008 certification for diagnostic service
24X7 Pharmacy
Varied category wards to suit different needs
Round the clock cardiac ambulance facility
Esteemed panel of Doctors
Dr. Brian Pinto, Cardiologist
Dr. Anil Tendolkar, Cardiac Surgeon
Dr. Rui Fernandez, Dermatologist
Dr. Vaishali Naik, Specialist (Diabetes & Endocrinology)
Dr. Dattatray Borkar, Specialist (ENT)
Dr. Saifee Plumber, Gastroenterologist
Dr. Avinash Deo, Oncologist (Medical)
Dr. Sushil Tandel, Neurologist
Dr. Sanjay Mongia, Neurosurgeon
Dr. Sharad Sheth, Nephrologist
Dr. Jacintha Mathias, Gynecologist
Dr. Prashant Kerkar, Oncologist (Surgical)
Dr. Sunil Rodrigues, Ophthalmologist
Dr. Nicholas Antao, Consultant (Orthopedics)
Dr. Anand Utture, Urologist
Dr. Kalpesh Gajiwala, Plastic Surgeon
Address
St Andrew's Road, Bandra (West),
Mumbai - 400 050. India.
Phone: 022-30610555
Fax: 022-26518373