Columbia Asia
Fortis Hospital
Providing efficient health care services in a time effective manner. Possessing an excellent team of health care professional along with an impressive infrastructure fitted with most accurate medical equipment, Fortis is certainly the most desired medical destinations for Kolkatans.
Salient Features
NABH accredited and governed by IBMS
Accommodates more than 400 beds
A high class infrastructure that provides both horizontal and vertical transportation facilities for patients, their family and staff
24 hour availability of accident and emergency care units, pharmacy and ambulance
Also provides blood bank, diagnostic and catherization facilities
Well equipped ICUs, MICUs, CCUs, isolation rooms and recovery units
The hospital has around 28 dialysis unit
A superspeciality hospital that also focuses on rehabilitation, diet counseling and physiotherapy; along with, all other medical branches
Esteemed Panel of Doctors
Dr. Indrani Bhattacharjee (Pediatrician)
Dr. Abhrajit Roy (Rheumatologist)
Dr. Amal Kumar Banerjee (Cardiologist)
Dr . Himadri Roy Chowdhury (Dentist and Maxillofacial Surgeon)
Dr. Jayanta Kumar Saha (Plastic and Reconstructive Surgeon)
Dr. Joydeep Ghosh (Internal Medicine)
Dr. Kalyan Kumar Gangopadhyay (Diabetologist and endocrinologist)
Dr. Kumar G.R Vijay (Neurosurgeon)
Dr. Madhumita Bhattacharya (Dermatologist)
Dr. Prathama Chaudhuri (Haematologist)
Address
730, Anandapur, E.M Bypass Road,
Kolkata , West Bengal - 700107
---
Apollo Gleneagles Hospital, Kolkata
Apollo Gleneagles Hospital has been nourishing the lives of many since its inception. It is a multi-specialty medical center that offers best in class health-care assistance using benched mark standards in diagnostic, medical, surgical and therapeutic fields. This hospital is infrastructured with technological systems to render quality medical facilities to its patients.
Salient Features
510 hospital beds
Only JCI accredited center in Kolkata
ISO 22000:2005 - HACCP certified hospital
Environment management certified under ISO 14001:2005 standards
Energy management certified under ISO 50001:2011 standards
NABL certified laboratories
Pharmacy unit functional 24/7
24/7 service provisions offered by the radiology and laboratories departments
Uses da Vinci Robotic system for advanced level of surgeries with three dimensional imaging facilities
1:1 patient to nurse ratio offered round the cloud by the cardiac critical care unit (CCU)
Esteemed Panel of Doctors
Dr. Amar Nath Ghosh - Cardiac Surgeon
Dr. Debasis Ghosh - Consultant Cardiologist
Dr. P. C. Mondal - Consultant Cardiologist
Dr. Sushan Mukhopadhyay - Cardiac Surgeon
Dr. Tanmoy Mukhopadhyay - Clinical Oncologist
Dr. P. N. Mohapatra - Medical Oncologist
Dr. Sudipta Kumar Mishra - Oncosurgeon
Dr. Shaikat Gupta - Oncosurgeon
Dr. Buddhadeb Chatterjee - Orthopedic Surgeon
Dr. P. K. Banerji - Orthopedic Surgeon
Dr. Abrar Ahmed - Spine Surgeon
Dr. Amitabha Ghosh - Consultant Neurologist
Dr. Shankar Loharuka - Consultant Neurologist
Dr. B. K. Singhania - Neurosurgeon
Dr. Mahesh Kr. Goenka - Clinical Gastroenterologist
Dr. Ajay Kr. Arya - ENT Consultant
Dr. Archana Ranade - ENT Surgeon
Dr. Debashish Roy - General Surgeon
Dr. Syamal Kr. Sarkar - General Surgeon
Dr. V. V. Lakshminarayanan - Nephrologist
Dr. Bhaskar Pal - Obstetrician & Gynecologist
Dr. Bikas Bhattacharya - Eye Surgeon
Dr. Mohan Chand Seal - Uro Surgeon
Dr. Vinay Mahendra - Uro Surgeon
Dr. Asok Sengupta - Clinical Pulmonologist
Dr. Kaushik Nandy - Plastic Surgeon
Dr. Jay Ranjan Ram - Psychiatrist
Address
Apollo Gleneagles Hospital
58, Canal Circular Road,
Kadapara, Kolkata - 700054
---
Ruby General Hospital
Ruby General Hospital was honored as the First Eastern India hospital to have conducted its first 400 bypass surgeries with 100% accuracy. The hospital with its unmatched team of medical experts, latest generation equipment and an exclusive yet affordable infrastructure; stands as one of the trusted health care destinations and one of the top hospitals in Kolkata.
Salient Features
Around 42 multi specialty departments
5 General OT and 1 CTVS OT
First Eastern India hospital to be certified by ISO 9001:2008
With 50 in house and 175 senior consultants, the hospital promises to serve 24/7 across all its departments
24 hour accessibility of different departments, operation theater consultants, ambulance, diagnostic and pharmacy facilities
Excellent outpatient care, accounting for around 150 -200 patients each day
Handles the highest number of Trauma Cases, with special mention to road accidents in Kolkata
Free home delivery of medicines for senior citizens and neighbors
Esteemed Panel of Doctors
Dr. Ranjan Kumar Sharma (Cardiologist)
Dr. Soumyabrata Roychoudhury (Cardiologist)
Dr. Himangshu K. Dashmahaptra (Cardiac Surgeon)
Dr. Rajarshi Banerjee (Dental Care)
Dr. Sudipto Pal (Orthodontics)
Dr. Sujoy Majumdar (Endocrinologist)
Dr. Amit Gupta (Diabetologist)
Dr. Aneek Bhattacharya ( ENT )
Dr. A. K Pal (Gastroenterologist)
Dr. Abhinibesh Chatterjee (Gynaecologist)
Dr. Kajori Mukherjee (Gynaecologist)
Dr. Subhabrata Ghose (Gynac and Obst.)
Dr. Dhiraj Choudhury ( General Surgeon)
Dr. Prantar Chakraborty (Haemotologist )
Dr. Monimoy Ghosh ( Medicine)
Dr. Amitabha Saha ( ICU Incharge)
Address
Kasba Golpark EM Bypass,
Kolkata West Bengal 700107
Land Mark - Near Canara Bank
---
AMRI (Advanced Medicare and Research Institute)
Spread across multiple locations in Kolkata, and aiming at delivering superlative health care to both the elite and less affluent classes, AMRI stands as one of the premiere institutes in state. With a huge team of accomplished medical practitioners and latest generation medical equipment, the hospital is definitely the first choice for inhabitants of Kolkata.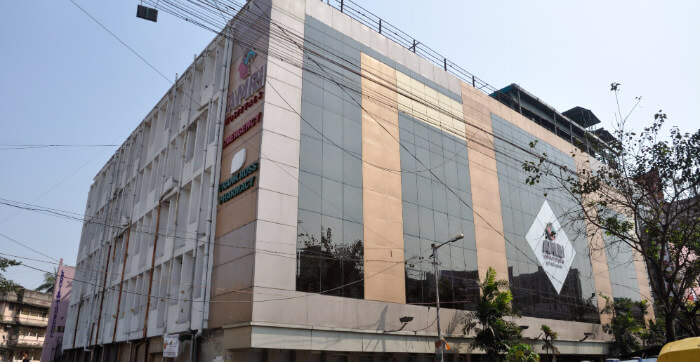 Salient Features
Accommodates 1000 beds, 500 doctors who successfully perform more than 10,000 surgeries annually
Most well equipped destination for geriatric care in Eastern India
First to perform successful Bariatric surgery and use of CO2 laser treatment in Eastern India.
Recently, AMRI has also introduced hi tech opthalmic care department; along with its existing areas of excellence
Best known for advanced Cancer treatments, cardiac care and neurosciences
Free and Partially free treatment for under privileged. This includes treatment procedures, surgeries and diagnostic tests.
Runs a special welfare cell that arranges donations and sanctions for the less privileged
Esteemed Panel of Doctors
Dr. Sugato Paul (Opthalmology)
Dr. Kaushik Mukherjee (Cardiothoracic Surgeon)
Dr. Bimla Goenka (Gynaecology and Obstetrics)
Dr. Saurabh Ghosh (Onco Surgeon)
Dr. Sabyasachi Bose (Urologist)
Dr. Gautam Mukherjee (Endocrinologist and Diabetologist)
Dr. P.K Pooviah (Geriatric Medicine)
Dr. Srinjoy Saha (Plastic Surgeon)
Dr. Subhasis Chatterjee (General Medicine)
Address
AMRI Mukundapur
230 Barakhola Lane, Purba Jadavpur,
Kolkata - 700099
AMRI Dhakuria
P - 4&5 Gariahat Road Block -A, Scheme L11,
Dhakuria Kolkata - 700042
AMRI Saltlake
JC - 16 & 17, Salt lake City, Block A,
Salt lake City, Kolkata - 700098
AMRI Southern Avenue
97 A Southern Avenue,
Opposite Lake Stadium, Kolkata - 700029
---
CMRI (Calcutta Medical Research Institute) Hospital
Focused at delivering quality medical care, CMRI is definitely a trusted name in health care for the people. Apart from delivering phenomenal care to the inhabitants of Kolkata, CMRI also appeases to the health needs of people from our neighboring countries; such as Nepal, Bangladesh and Bhutan.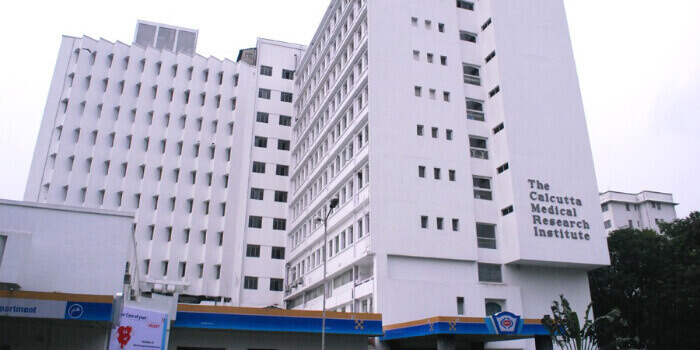 Salient Features
Around 210 renowned medical consultants with national and international acknowledgement
Multiple specialties accommodating 440 beds
106 beds dedicated to critical care unit
Twelve Operating Theaters equipped with latest medical equipment
24/7 emergency services and life saver ambulance
Laboratories accredited by NABL and CAP
Runs a pharmacy as well as blood bank
Esteemed Panel of Doctors
Dr. Ajay Mandal (GI Surgeon)
Dr. Abhijeet Chatterjee (NeuroSurgeon)
Dr. R. Tandon (Plastic Surgeon)
Dr. Anjan Kr. Das (Renal Department)
Dr. Gaurav Gupta (Orthopedics and Joint Replacement)
Dr. Illorashiri Chakraborty (Gynaecologist)
Dr. Vipin Patel (Orthodontics)
Dr. Bhaskar Roy Chowdhury (Opthalmologist)
Dr. Vishnu Kumar Bhartia (Obesity and Bariatric Surgeon)
Dr. Sandipan Mukherjee (Radiologist)
Dr. Sumit Chaudhury (General Surgeon)
Dr. Bishwarup Lahiri (Internal Medicine)
Address
No 7/2, Diamond Harbor Road,
Kolkata, West Bengal - 700027
---
Columbia Asia
Known for its exemplary services in health care, Columbia Asia has earned the title of being one of the best hospitals in Kolkata in a very short span of time. It has become one of the most preferred destinations for any form of medical assistance in Kolkata. A platform where you meet highly efficient staff, catering to any and every health care need. In addition, it can also boast of a hi- tech and equipped infrastructure apart from the clinical excellence.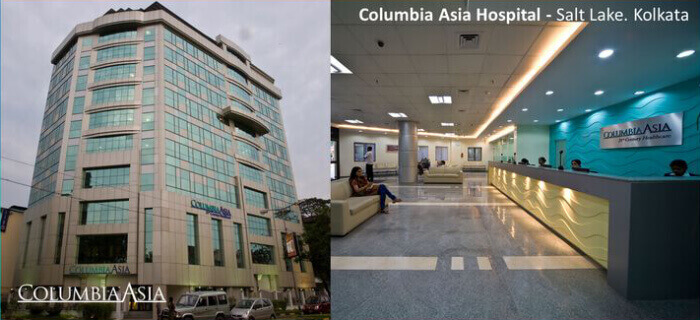 Salient Features
Already accommodating 100 beds and aims at adding more
Telemedicine and teleradiology facilities, thus connecting to remote areas
24 hour facilities of pharmacy, ambulance, laboratories, OT and delivery rooms
Provides comprehensive health check ups for different age groups along with cancer screening and hypertension screening
Infrastructure that meets international standards
Provides day care surgery facilities
Esteemed Panel of Doctors
Dr. Anindya Chattopadhya (Pediatric Surgeon)
Dr. Amit Kumar Agarwal (Urologist)
Dr. Annirudha Dasgupta (General Surgery)
Dr. Ashish Kumar Ghosh (Gynaecologist and Obstetrician)
Dr. Barnali Ghosh (Psychotherapist)
Dr. Basab Raj Ghosh (Oncologist)
Dr. Debabrata Bose (General and Laproscopic Surgeon)
Dr. Debashih Roy (Internal Medicine)
Dr. Dhrubajyoti Roy (Pulmonologist)
Dr. Jayanta Dutta (Nephrologist)
Address
IB – 193, Sector III,
Salk Lake City, Kolkata, West Bengal - 700091
---
Fortis Hospital and Kidney Institute, Kolkata
Spread across 22337 sq. ft area, Fortis Hospital and Kidney Institute, Kolkata is one of the prime institutions in the country. This multi-specialty healthcare organization is full scaled with technological innovations to serve best medical services to its beneficiaries. It is one of the finest locations that offers A-Z solutions for all types of Urology and Nephrology disorders along with other medical domains.
Salient Features
60 hospital beds
4 full fledged operating rooms
Dialysis unit with 12 beds
Dialysis unit functional round the clock
Clinical and surgical renal science departments operational round the clock
Utilizes shock wave lithotripter with 4th generation technologies
Ambulance service provision 24/7
Separate laboratory and pathology units within the same campus
Esteemed Panel of Doctors
Dr. Abhijit Bhatta - General Physician
Dr. Anjan Das - Consultant Urologist
Dr. Apurba Siva - Consultant Gastroenterologist
Dr. Arup Ratan Dutta - Consultant Nephrologist
Dr. Ayush Choudhary - Consultant Urologist
Dr. Biswajit Mandal - Dentist & Maxillo Facial Surgeon
Dr. Debasis Datta - Consultant Gastroenterologist & Hepatologist
Dr. Prithwiraj Ghoshal - Uro Surgeon
Dr. Pushkar Shyam Chowdhury - Uro Surgeon
Dr. Rachna Majumder - Consultant Diabetologist & Endocrinologist
Dr. Raj Kalyan Gopala Krishna - Consultant Urologist
Dr. Rajiv Sinha - Nephrology Surgeon
Dr. Ramesh Agarwalla - Laparoscopic GI and HPB Surgeon
Dr. Sasanka Sekhar Saha - General & Organ Transplant Surgeon
Dr. Shivaji Basu - Uro Surgeon
Dr. Shrinivas Narayan - Uro Surgeon
Dr. Subrata Haldar - Consultant Orthopedist
Dr. Suchandro Das - Consultant Nephrologist
Dr. Upal Sengupta - Consultant Nephrologist
Address
Fortis Hospital & Kidney Institute
111A, Rash Behari Avenue,
Gariahat, Kolkata - 700029
---