Top Hospitals in Chennai
List of the best private hospitals in Chennai is as follows:
Pristyn Care
General surgeons at Pristyn Care are the best and well-known medical professionals in India. We follow world-class health care guidelines to treat diseases like Anal Fistulas, Fissures, Piles, Hemorrhoids, Moolam, Pilonidal Sinus, Hydrocele, Varicocele, Hernias, Gallstones, Circumcision and Varicose Veins. We use the latest and advanced medical devices along with USFDA approved surgical techniques to provide the utmost care and reduced risk of infection to all the patients.
All our general surgeons are experts in providing the safest and risk-free surgeries like Laser Fistula Surgery, Laser Pilonidal Sinus Treatment, Laparoscopic Hydrocelectomy, Laser Piles Treatment, Laparoscopic Hernia Repair Surgery, Laser Circumcision, etc.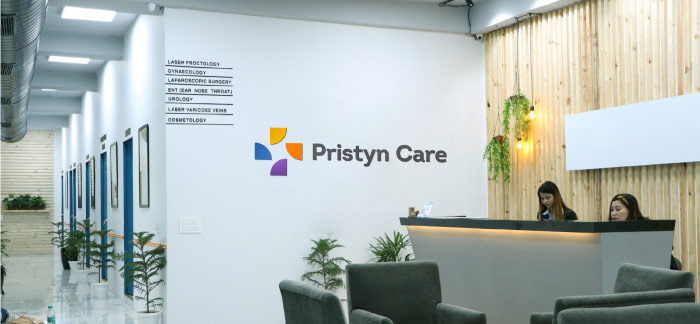 Timings: Monday-Saturday (10:00 AM-8:00 PM)
Speciality: General Surgeon, Aesthetics
Address
No 237, Kilpauk Garden Road, Kilpauk, Chennai, Tamil Nadu 600010
Apollo Hospital, Greams Road
The Greams road facility in Chennai is the flagship unit of Apollo Health Care Limited. The Apollo group has established formidable presence down South in the form of many multi-specialty hospitals in Hyderabad, Chennai and Bangalore. Cardiac care, cancer treatments, pediatrics, neurosciences, plastic surgery and many more disciplines are covered by this hospital. The hospital also facilitates medical tourism; all thanks to the excellent quality medical practices they follow. This attracts patients from different countries across the globe.
Salient Features
600 hospital beds available
Awarded the Best Multi-specialty in India by The Times Health Multi-Specialty Hospital Survey
Medical treatments across 60 medical disciplines available
First hospital in South India to have received HACCP certification by the British Standards Institution
Hospital also certified by Joint Commission International (JCI)
Excellent Corporate Health Services offered
Introduced modern day emergency care in India
Customized health check packages provided under Apollo Personalized Health Check (APHC) programme
Esteemed panel of doctors
Dr. A Prem: General Surgeon
Dr. Jagadeesh C: General Physician
Dr. Abraham Oomman: Cardiologist
Dr. Ganapathy H: ENT Specialist
Dr. Sajan Hegde: Orthopedic Doctor
Dr. Umachandran S: Orthopedic Doctor
Dr. Raghunath K.J: General Surgeon
Dr. Balchandran T.G: Surgical Gastroenterologist
Dr. Ramadass T: ENT Specialist
Dr. Joseph Thachil: Urologist
Dr. Kondammal R: Obstetrician & Gynecologist
Dr. Kailash Jain: Cardio-thoracic Surgeon
Dr. Raj B. Singh: Respiratory Medicine Specialist
Dr. Raja T: Oncologist
Dr. Rajendran S: Neurologist
Dr. Sivagnana Sundaram: Endocrinologist
Address
21, Greams Lane,
Off Greams Road,
Chennai - 600 006
---
Fortis Malar Hospital
Known initially as Malar Hospital, the Fortis Malar Hospital was inaugurated in the year 1992. Comprising of a dedicated pool of expert doctors aided by highly experienced nursing and support staff, this hospital that is known for its high class facilities, is a medical destination of sort for people in Chennai.
Salient Features
Strength of more than 600 employees and 160 medical consultants
More than 11,000 inpatients treated annually
180 hospital beds inclusive of 60 beds for ICU
4 fully equipped operation theaters
Ultra modern Cath Lab and dialysis unit
Travel arrangements and accommodation help provided for international patients
Special program for Senior citizens
Esteemed panel of Doctors
Dr. K.R. Balakrishnan, Surgeon (Transplant & Cardiothoracic)
Dr. A.B Govindaraj, Consultant (Joint Replacement & Orthopedic Surgery)
Dr. C.M Thiagarajan, Nephrologist
Dr. S. Dinesh Nayak, Neurologist
Dr. Nithyaa Ramamurthy, Gynecologist
Dr. Soundappan V, Neurosurgeon
Dr. S. Sham, Rheumatologist
Dr. M.R. Pari, Urologist
Dr. M.N. Shankar, Consultant (ENT)
Dr. Mohan Rao A, Bariatric Surgery
Dr. Ganesh, Gastroenterologist
Dr. Bellarmine, Oncologist (Medical)
Dr. Sujay Surikar, Oncologist (Surgical)
Dr. K. Rajkumar, Pulmonologist
Dr. Karpaga Vinayagam, Surgeon (Pediatric)
Address
No. 52, 1st Main Road, Gandhi Nagar,
Adyar, Chennai - 600 020.
---
Gleaneagles Global Health City
With a fusion of medical expertise and modern technology, the Global Hospitals and Health City have created their own niche in the health care domain. Specialist doctors to serve for variety of medical disciplines, excellent infrastructure facilities and right environment for proper healing are aspects that attract many patients to this hospital. The Chennai center of this hospitals group was operational in the year 2009.
Salient Features
1000 hospital beds for treating patients
Halal, NABL and NABH certified hospital
State-of-art facilities
Super specialty treatments available
Complex clinical and surgical treatments successfully rendered
Esteemed panel of Doctors
Dr. K. Ilankumaran, Anesthesiologist
Dr. Vaithiswaran V, Bariatric Surgeon
Dr. Arun Dhanasekaran, Cardiologist
Dr. Sumana Premkumar, Oncologist (Breast & Radiation therapy)
Dr. M.M. Yusuf, Surgeon (Cardiothoracic & Vascular)
Dr. Abhilash Bhaskaran, Surgeon (Dental & Maxillofacial)
Dr. Susie Samual, Dermatologist
Dr. Sruti Chandrasekaran, Endocrinologist
Dr. Sundhari V, Specialist (ENT)
Dr. Sura Pushpalatha, Gynecologist
Dr. Mohamed Rela, Specialist (Liver Surgery & Transplant)
Dr. Deenadayalan, Oncologist (Medical)
Dr. Amit Kumar Ghosh, Neurosurgeon
Dr. Ravi R, Gastroenterologist
Dr. Ravindramohan E, Ophthalmologist
Dr. K. Muruganandham, Urologist
Dr. Aruna Chadrasekhran, Oncologist (Surgical)
Address
439, Cheran Nagar, Perumbakkam,
Chennai - 600 100, Tamil Nadu
---
Billroth Hospital
Founded in the year 1990, Billroth hospital provides quality medical care to patients from its high class infrastructure facilities. Hi-tech technology is used and a dedicated staff supports qualified doctors for successfully treating patients. Various medical branches are rendered treatments here.
Salient Features
600 hospital beds for super specialty treatments
12 beds for emergency services
7 major and 3 minor operation theaters
State-of-art infrastructure and facilities for treating international patients
Affordable diagnostic facilities
Fully equipped laboratory providing 24X7 service
Fleet of fully equipped ambulances
Different ward categories based on varied needs
NABH accreditation
Esteemed panel of Doctors
Dr. U. Ilayaraja, Cardiologist (Interventional)
Dr. B. Ramamoorthy, Cardiologist
Dr. J.H. Bala Singh, Nephrologist
Dr. Hema Karthik, Psychologist
Dr. R. Parthasarathy, Consultant (ENT)
Dr. Janaki Chellum, Dermatologist
Dr. Rajendiran C, General Physician
Dr. R. Vijaykumar, Nephrologist
Dr. Rajasekaran M.A, Cardiologist
Dr. Vijay Balaji Gopalan, Surgeon (Orthopedic)
Address
43, Lakshmi Talkies Road,
Shenoy Nagar, Chennai,
Tamil Nadu 600030, India
Vijaya Hospital
Initiated in the year 1972, Vijaya Hospitals have been at the forefront for provision of super specialty care to community. Along with the Vijaya Heart Foundation and Vijaya Health Center, the group is known to render highest quality treatment and care. With known names in the medical domain and hi-tech facilities and equipment, the hospital has created a strong mark; both at regional, domestic and international level.
Salient Features
340 beds for treating patients
9 hi-tech operation theaters
Latest, surgical, medical and allied services rendered
24X7 laboratory, Pharmacy and Blood bank services
Comprehensive rehabilitation services
Gamut of medical disciplines provided treatment
Esteemed panel of Doctors
Dr. A.L. Narayanan, Cardiologist
Dr. P.K. Narayanaswamy, Dermatologist
Dr. Bhuma Srinivasan, Endocrinologist
Dr. Kirthi Srinivasan, Gastroenterologist
Dr. Deepak Arjundas, Neurologist
Dr. A.S. Natarajan, Pulmonologist
Dr. Savitri Subramanyam, Gynecologist
Dr. C. Ravindran, Specialist (Dentistry & Maxillofacial Surgery)
Dr. C. Chinnaswamy, Urologist
Dr. V. Soundara Rajan, Plastic Surgeon
Dr. D.S. Manoj, Specialist (Ayurveda)
Dr. S. Vijayaraghavan, Oncologist (Radiation)
Dr. P. Dhanasekar, Oncologist (Surgical)
Address
No.434, N.S.K.Salai, Vadapalani,
Chennai - 6000 26, India
Prashanth Hospital, Chennai
Prashanth Super Speciality Hospital is a multi-specialty established by Prashanth Fertility Research Centre. The hospital was launched in 2013. It is a 100 bedded facility. It works on the principle of reliable patient service and patient-centric approach which has enabled to garner a dedicated patient-base. Currently, the hospital offers treatment facilities for medical streams like respiratory medicine, ENT, gynecology, pediatrics, diabetology etc.
Salient Features
Critical Care Unit has surgical and medical care units
The Neonatal Intensive Care Unit is a 12 bedded facility
There is a high risk pregnancy diabetes clinic that offers personalized diet which is the only pregnancy diabetes clinic in India that caters to women conceiving through assisted reproduction technology
Psychiatric department offers treatments and therapeutic services for substance abuse, depression, learning disabilities in children etc.
Accident and emergency department is available round-the-clock for dealing with patient emergencies
Ambulances are equipped with cardiac monitors, suction and advanced life support systems
The pulmonology department offers advanced diagnostic and treatment facilities for patients suffering from various respiratory disorders
Dermatology department offers treatments like chemical peeling, botox, acne scar removal etc.
Qualified gynecologists who provide treatments for every disorder suffered by women of every age
Age-specific health check packages are created
Esteemed panel of doctors
Dr. Geetha Haripriya: Consultant Obstetrician & Gynecologist
Dr. K. Chandrashekharan: Senior Interventional Cardiologist and Cardiac electrophysiologist
Dr. G. Gopalaswamy: Consultant Surgeon, Gastroenterology & Andrology Laparoscopy
Dr. Raj Prakash D.Y: Consultant ENT Surgeon
Dr. Eswaran P: Physician & Diabetologist
Dr. J.A. Nathan: Maxillofacial Surgeon
Dr. T. Vijayakumar: Neonatalogist
Dr R.Raghavendran: Neurosurgeon
Dr. K. Githa: Pediatrician
Dr.Deepa Selvi: Intensivist & Pulmonologist
Dr. J.Balaji: Medical Oncologist
Dr T.V.Prasad: Orthopedic Surgeon
Dr. K Velmurugan: Spine Surgeon
Dr.Ramesh Chandrasekar: Diabetologist
Address
No.36 & 36A,
Velachery Main Road,
Velachery, Chennai - 600042.
---
Apollo Specialty Hospital, Vanagaram
The Vanagaram facility of Apollo Healthcare goes by the name Apollo Specialty Hospital. It is a facility that spreads over 1,35,000 sq.ft of land. Vanagaram facility houses diagnostic and treatment facilities across every medical discipline; including diabetology, neurology, rheumatology, orthopedics, cardiology etc.
Salient Features
260 bedded facility
Different rooms to suit varied budgets and needs
The nephrologists of this facility have the credit of having performed 10,000 successful kidney implants till date
Round-the-clock available pharmaceutical services
Round-the-clock open stroke and chest pain clinic that offers treatments and rehabilitative services to emergency patients
Equipped facility for emergency care operating 24X7
Round-the-clock pharmacy
Hospital is certified by Joint Commission International (JCI)
Continuous ambulatory support
Esteemed panel of doctors
Dr Shanmugasundaram Dasappan: General Physician
Dr. Rathna Devi R: Medical Oncologist
Dr. Kumutha J: Pediatric Neonatalogist
Dr. Deepa Mathew: Pediatrician
Dr. Jeyabaul R.A: General Surgeon
Dr. Siddhartha Ghosh: Neuro Surgeon
Dr. Paul Ravindran Ponraj: Cardiothoracic Surgeon
Dr. Ganapathy Krishnan: Plastic Surgeon
Dr. Gobinathan S: Neurologist
Dr. Swatee Halbe: Radiologist
Dr. Thayumanvan L: Medical Gastroenterologist
Dr. V. Surya Narayanan: Pulmonologist
Dr. K. Narasimha Reddy: Cardiologist
Dr. Ganesh R: ENT Specialist
Dr. Krishna Mohan J: Pediatric Surgeon
Dr. Aruna Thalachinthala: Obstetrician & Gynecologist
Address
No.64, Vanagaram - Ambattur Main Road,
Chennai-600 095
---
Billroth Hospitals, RA Puram
Billroth Hospitals were founded by late Dr. V. Jeganathan in the year 1990. He was a gastroenterologist by specialization. Shenoy Nagar and RA Puram facilities are the 2 branches of this leading multi-specialty. Billroth hospitals are known for their excellence in medical practices and the international standards of practices they follow. Billroth is one of the leading names in the medical sector of Chennai.
Salient Features
Hospital is accredited by National Accreditation Board for Hospitals & Health-care Providers (NABH)
Laboratories in the hospital are accredited by National Accreditation Board for Laboratories
4 fully-equipped operation theaters and Intensive Care Unit for keeping patients under observation
Round-the-clock available services like pharmacy, ambulance services
Highly advanced and technologically sound labor suites for helping pregnant women have a smooth delivery
This hospital has introduced the concept of "Fast track Cardiac Surgery"
Digital Catheterization Laboratory
The Institute of Oncology has modern technological support like RapidArc technology, stereotactic radio surgery etc. for treating different cancers
Various specialty clinics are started in the hospital premises itself
It is the only medical institution to acquire the aria 10 solution first in India for cancer treatment
Highly precise diagnostic testing such as ultrasound imaging, CT scans, pulmonary function test, kidney function test etc. available in-house
Patients can make use of cashless medical services. The hospital has empanelments with leading insurance providers.
Hospital provides collection of samples from the person's house, enabling maximum convenience for people
Esteemed panel of doctors
Dr. P. Ramachandran: Cardiologist
Dr. Arunkumar: Cardiothoracic Surgeon
Dr. Aftab Matheen: Dermatologist
Dr. R. Sanjai Srinivasan: Diabetologist
Dr. Ilambharathi: ENT Surgeon
Dr. S.E. Dhanasekaran: Nephrologist
Dr. (Prof) S. Jeevankumar: Gastroenterologist
Dr. Kumaragurubaran: Gastro Surgeon
Dr. Lakshmi Devarajan: Gynecologist
Dr. N. Divya: Gynecologist
Dr. (Prof) K. Baskaran: Oncologist
Dr. Hariharan: Orthopedic Surgeon
Dr. G.V. Reddy: Pediatrician
Address
52, 2nd Main Road,
RA Puram, Govindaswamy Nagar,
Raja Annamalai Puram,
Chennai, Tamil Nadu 600028
Top Government / Missionary Hospitals in Chennai
Following are the best government / missionary hospitals in Chennai:
Sri Ramachandra Medical Center
Ranked amongst the best hospitals for providing tertiary care in Chennai, the Sri Ramachandra Medical Center (SRMC) was initiated in the year 1985. It has recently gained the status of being an University for translating its vast expertise of the medical domain to aspiring students. Known for hi-tech facilities and expert medical professionals, this hospital provides a naturist environment for healing.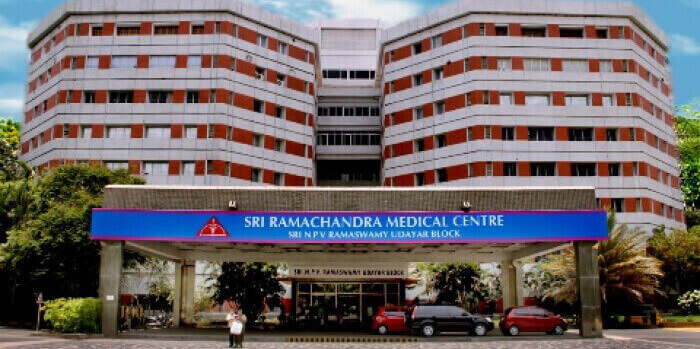 Salient Features
8 storied medical complex
Close to 700 hospital beds for treatment
171 ICU's
Multi-disciplinary medical aid provided
24X7 ambulance facility available
Different categories of wards to suit budget and needs
Hi-tech equipments and infrastructure facilities
Known panel of doctors
Esteemed panel of Doctors
Dr. Annapurna Rout, Anesthesiologist
Dr. Richard Saldanha, Surgeon (Cardio Thoracic & Vascular)
Dr. G. Anuradha, Cardiologist
Dr. B. Hari Prasad, Pulmonologist
Dr. R. Sudha, Sr. Consultant (Venereology & Dermatology)
Dr. Krishna Sheshadri, Endocrinologist
Dr. A. Ravikumar, Specialist (ENT)
Dr. A. Ravi, General Surgeon
Dr. S. Rajnikanth, Gastroenterologist
Dr. P. Soundararajan, Nephrologist
Dr. Damodar Rout, Neuro Surgeon
Dr. V. Shankar, Neurologist
Dr. N. Sanjeeva Reddy, Gynecologist
Dr. Lily Daniel, Ophthalmologist
Dr. C. Ravindran, Surgeon (Maxillofacial & Oral)
Dr. A. Chandrasekaran, Surgeon (Orthopedic)
Dr. S. Balagopal, Surgeon (Pediatric)
Dr. Santhosh Joseph, Radiologist
Dr. Sunil Shroff, Urologist
Address
No.1 Ramachandra Nagar,
Porur, Chennai - 600 116,
Tamil Nadu, India.
Phone no: 91-44-45928500 Ext.no 8882/8883.
Government General Hospital
The British East India Company is credited for forming the Government General Hospital, way back in the year 1664. An infrastructure that is quake resistant and facilities that are of highest standards have made this hospital a preferred medical destination for people in Chennai and also neighboring states.
Salient Features
3000 hospital beds for treating patients
First medical entity in India
More than 200 ICU beds
More than 12,000 out-patients treated daily
Latest equipment and hi-tech facilities
Multi-disciplinary medical treatments available
Esteemed panel of Doctors
Dr. C.R. Kanyakumari, Anesthesiologist
Dr. R. Subramanian, Cardiologist
Dr. M. Varadarajan, Surgeon (Cardiothoracic)
Dr. K. Vijayasarathi, Oncologist (Medical)
Dr. V. Natarajan, Neurologist
Dr. V. Sunder, Neurosurgeon
Dr. R.H. Govardhan, Surgeon (Orthopedic)
Dr. D. Prabhavathy, Dermatologist
Dr. R. Mohan Ram, Oncologist (Radiation)
Dr. Mohammed Ali, Gastroenterologist
Dr. R. Jeyaraman, Urologist
Dr. T. Vidyasagaran, Vascular Surgeon
Address
General Hospital Road, Park Town,
Chennai, Tamil Nadu 600003, India
Phone: +91 44 2530 5000