Best Hospitals in Coimbatore
Following are the top hospitals in Coimbatore:
Pristyn Care
General surgeons at Pristyn Care are the best and well-known medical professionals in India. We follow world-class health care guidelines to treat diseases like Anal Fistulas, Fissures, Piles, Hemorrhoids, Molalu, Pilonidal Sinus, Hydrocele, Varicocele, Hernias, Gallstones, Circumcision and Varicose Veins. We use the latest and advanced medical devices along with USFDA approved surgical techniques to provide the utmost care and reduced risk of infection to all the patients.
All our general surgeons are experts in providing the safest and risk-free surgeries like Laser Fistula Surgery, Laser Pilonidal Sinus Treatment, Laparoscopic Hydrocelectomy, Laser Piles Treatment, Laparoscopic Hernia Repair Surgery, Laser Circumcision, etc.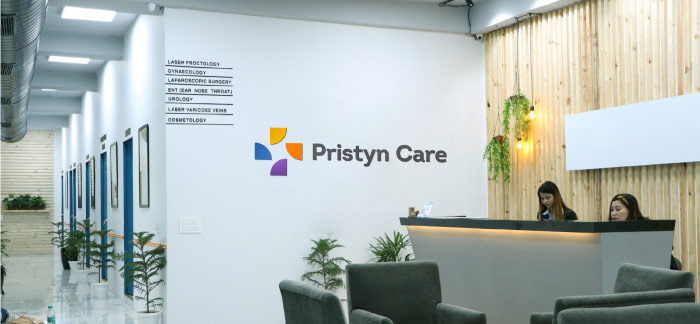 Timings: Monday-Saturday (10:00 AM-8:00 PM)
Speciality: General Surgeon
Address
No 210, Saibaba Colony, NSR Road, Venkitapuram, Coimbatore, Tamil Nadu 641025
G Kuppuswami Naidu Memorial Hospital
G Kuppuswami Naidu Memorial hospital in Coimbatore is amongst the oldest health care organization in India started way back in 1952. The hospital provides multi specialty treatments to patients and has gained a reputation of being a premier health care institution in India. Reputed doctors and high class infrastructure facilities attract patients from all across the nation and also abroad to this hospital.
Salient Features
More than 67000 angiograms, 100,000 angioplasties, 25,000 heart related surgeries and 120,000 babies successfully delivered
First hospital to be certified by NABH in Tamil Nadu
More than 580 beds for treating patients
Comprehensive services for diagnostics, ambulance and emergency care
Eco Friendly practices adopted
Online reports available
Esteemed panel of Doctors
Dr. Rajani Sundar, Anesthesiologist
Dr. S. Natarajan, Cardiologist
Dr. S. Muralidharan, Surgeon (Cardiothoracic)
Dr. Arun Kumar, Surgeon (Faciomaxillary)
Dr. B. Shankar, Dermatologist
Dr. R. Srinivasan, Endocrinologist
Dr. T. Balaji, Surgeon (ENT)
Dr. S. Dharmalingam, Consultant (Gastroenterology)
Dr. K.P. Arunkumar, General Surgeon
Dr. P. Ramachandran, Nephrologist
Dr. M.R Bala Senthilkumaran, Surgeon (Neuro)
Dr. K.K. Prachet, Neurologist
Dr. V. Nagarajan, Oncologist
Dr. S. Amudha Giridhar, Gynecologist
Dr. B. Ravichandran, Ophthalmologist
Dr. Ramalingam, Urologist
Address
P.B. No. 6327, Nethaji Road,
Pappanaickenpalayam,
Coimbatore - 641 037
Ph: (0422) 224 5000
Fax: (0422) 2243509
Kovai Medical Center & Hospital
Kovai Medical Center & Hospital is a multi specialty advanced care hospital situated in serene location on 20 acre land. Comprehensive treatments, hi-tech equipments, expert doctors and world class infrastructure while providing affordable health care are aspects that have led to this hospital being recognized amongst the leaders.
Salient Features
Pioneered kidney transplant via steroid free methods
20 well equipped operation theaters
More than 150 specialist doctors and more than 250 supporting professionals
NABH accredited hospital
ISO 27001:2005 certification
Round the clock emergency care and ambulance facility
Esteemed panel of Doctors
Dr. Selvarajan N, Anesthesiologist
Dr. Sivakumar M.K, Anesthesiologist (Cardiac)
Dr. Thomas Alexander, Cardiologist
Dr. Prashant Vaijyanath, Surgeon (Cardio Thoracic)
Dr. Arthanari Kumar Prasad, Surgeon (Cosmetic)
Dr. Sharavanan GM, Surgeon (Maxillofacial & Dentistry)
Dr. Jeevankumar B, Dermatologist
Dr. Velayuthan P, Endocrinologist
Dr. Sara V. Thomas, Consultant (ENT)
Dr. Aravindh S, Gastroenterologist
Dr. Sudhakar N, Oncologist (Medical)
Dr. Vivek Pathak, Nephrologist
Dr. Bhaskar P, Neurologist
Dr. Atima Pathak, Gynecologist
Dr. Kumaran V, Surgeon (Pediatric)
Dr. R. Madhu Sairam, Oncologist (Radiation)
Dr. Devdas Madhavan, Urologist
Address
P.B.No. 3209, Avanashi Road,
Coimbatore - 641014, India.
Phone: 91-422-4323800
Fax: 91-422-2627782
PSG Hospitals
Initiated by PSG & Sons Charities, the PSG hospitals symbolizes relentless efforts towards provision of ultra modern technology and advanced methods of health care to patients. With the belief of providing holistic and comprehensive medical treatments at one place, the hospital has made a strong mark in the healthcare domain of India.
Salient Features
900 beds for providing quality treatment to patients
Multi disciplinary treatments provided
Expert doctors and surgeons along with nursing staff
Affordable treatments rendered to needy without compromising on quality
24X7 emergency and ambulance services
Esteemed panel of Doctors
Dr. Shaik Mushahida, Anesthesiologist
Dr. A. Selvarajan, Specialist (Dentistry)
Dr. C.R. Srinivasan, Dermatologist
Dr. Seetha Panicker, Gynecologist
Dr. S. Premkumar, General Surgeon
Dr. D. Sundar, Ophthalmologist
Dr. P.R. Murugesan, Surgeon (Cardio Thoracic)
Dr. P.R. Rajkumar, Neuro Surgeon
Dr. G. Rajendiran, Cardiologist
Dr. M Aruchamy, Surgeon (Plastic)
Dr. M. Ramalingam, Urologist
Dr. Subash John, Oncologist
Address
Peelamedu, Coimbatore - 641 004,
Tamil Nadu, INDIA.
Phone: +91 422 2570170 (7 lines), 2598822 (10 lines)
Fax: +91 422 2594400, 2594401
Help Line: 9952149911
K.G. Hospital
K.G. Hospitals in Coimbatore has the reputation of being amongst the finest providers or health care in India. The hospital is completely self reliant and uses latest technology and equipments for treating patients for various medical ailments.
Salient Features
350 hospital beds for multi disciplinary medical treatments
Above 250 expert doctors and surgeons along with over 800 support and nursing staff
Sophisticated diagnostic service and emergency care
Distinction of possessing 128 Slice Heart CT scanner that is fastest globally
NABH accredited
Esteemed panel of Doctors
Dr. Varma S.K, Surgeon (Cardio Thoracic)
Dr. Nithiyan P, Cardiologist
Dr. Sridevi N, Surgeon (Neuro)
Dr. Ramakrishnana T.C.R, Neurologist
Dr. Senthil N. Sambandam, Consultant (Orthopedics)
Dr. Balakrishnan N.M, Urologist
Dr. Koshy P.K, Dermatologist
Dr. Arunkumar K, Surgeon (Maxillofacial & Dental)
Dr. Kapisoor Singh, Radiologist
Dr. Anandanathan A.P, Consultant (ENT)
Dr. Padmanabham P, Gastroenterologist
Dr. Padmanabham S, Ophthalmologist
Address
No. 5, Government Arts College Road,
Coimbatore - 641018, Tamil Nadu, India.
Tel: 0422-2212121-29
Fax: 0422-2211212
Sri Ramkrishna Hospital
Initiated with the primary intent of providing affordable healthcare to needy, the Sri Ramkrishna Hospital in Coimbatore has attained a commendable name in the industry after humble beginnings in the year 1975. With high quality in every aspect of treatment and care coupled with the expertise of acclaimed doctors, the hospital ranks amongst the top hospitals in Coimbatore.
Salient Features
Concessions provided for treatment to needy
700 hospital beds for treatments
24X7 licensed blood bank
Treatment provided for all major medical disciplines
Fully equipped ambulance service available
Computerized laboratory
Round the clock pharmacy
Esteemed panel of Doctors
Dr. Manoharan S, Cardiologist
Dr. Guhan, Oncologist
Dr. Suresh Damodharan, Specialist (Endocrinology & Diabetology)
Dr. Mohan Kumar, Pulmonologist
Dr. Rajashanmugam, Specialist (ENT)
Dr. Geethanjali, Radiologist
Dr. Sarveswaran, General Surgeon
Dr. Jaleel Ahamed, Consultant (Pediatrics)
Dr. S. Ananth, Psychiatrist
Dr. Lalitha R, Consultant (Obstetrics)
Dr. Arun Tharuman, Consultant (Emergency & Trauma)
Address
No: 395, Sarojini Naidu Road,
Sidhapudur, Coimbatore,
Tamilnadu, INDIA
Phone: +91 422-4500000