Best hospitals in Patna
Following are the top hospitals in Patna:
Pristyn Care
General surgeons at Pristyn Care are the best and well-known medical professionals in India. We follow world-class health care guidelines to treat diseases like Anal Fistulas, Fissures, Piles, Hemorrhoids, Bawaseer, Pilonidal Sinus, Hydrocele, Varicocele, Hernias, Gallstones, Circumcision and Varicose Veins. We use the latest and advanced medical devices along with USFDA approved surgical techniques to provide the utmost care and reduced risk of infection to all the patients.
All our general surgeons are experts in providing the safest and risk-free surgeries like Laser Fistula Surgery, Laser Pilonidal Sinus Treatment, Laparoscopic Hydrocelectomy, Laser Piles Treatment, Laparoscopic Hernia Repair Surgery, Laser Circumcision, etc.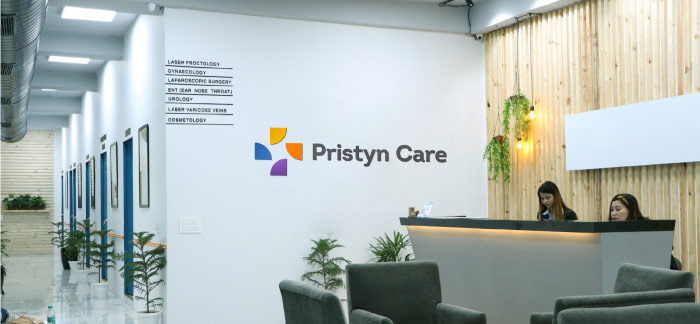 Timings: Monday-Saturday (10:00 AM-8:00 PM)
Speciality: General Surgeon
Address
Holy Promise Hospital, Shivpuri, Rajbansi Nagar, Patna, Bihar 800029
Shri Sai Hospital
Located at a prime location in Patna, Shri Sai hospital offers a wide range of services under single roof. They offer best health care services with improved performance for satisfaction of patients and their family. This hospital has shown rapid growth and has state of the art technologies and excellent health care services.
Salient Features
Best state of the art health care services
Wifi facility
Advanced manifold system
Centralized management system
CSSD with full range of sterilizers, emergency equipment and consumables
Have mechanized laundry
24*7 support and backup
Esteemed panel of doctors
Dr. (Prof.) Upendra Prasad Singh [Surgery]
Dr. M.Shahid Siddiqui [Gastronology]
Dr. Vishwenda Kumar Sinha [Orthopedic]
Dr. Prakash Sinha [General Medicine]
Dr. Dipti Raj [Critical Care]
Dr. Purnima Kumari [Gynecologic & Obstetrics}
Dr. Ajay Kumar [Plastic Surgery]
Dr. Pankaj Kumar Patel [pathology]
Dr. Rishi Mani Sriwastava [(ENT)]
Dr. Ashok Nand Thakur [Pediatric Surgery]
Dr. Alok Kumar [Maxillofacial Surgery]
Dr. U.N. Singh [Cardiology]
Dr. Abhay Kumar [Urology]
Dr. A.K. Kariwal [Laproscopic Surgery]
Dr. Manish Kumar [Psychiatrist]
Dr. Kumar Anuj [Endocrinology]
Address
Plot no DS/2, Near Mahendralok apartment,
Behind Geological Survey center,
Kankar Baug Road, Patna
800020 Bihar, India
Phone: 075497 76543
Emergency No.: 0612 236 0236
Paras Hospital
This is the first corporate hospital in Patna. It offers tertiary care for about 25 surgical and medical branches. The hospital has reasonable health-care facility and experts from many faculties. They have advanced infrastructure and equipment that aids efficient services in almost all the fields. They have reputed team of doctors and experienced and trained nurses to deliver the best experience to patients.
Salient Features
Awarded as the best multi specialty hospital in the east
First hospital in Bihar to have third generation oncology
Equipment like LINAC- Linear Accelerator and PET CT
First hospital in region to perform minimal invasive cardiac surgery
Advanced automated blood transfusion machine
350 bedded multi-specialty tertiary care institute
Esteemed panel of doctors
Dr. Sunil Kumar(Critical Care)
Dr. Srinarayan (Consultant Anesthesiology)
Dr. Shabana Hasan (Dentist)
Dr. Rashmi(Dermatology)
Dr. Pragati Aggarwal (Gynecology)
Dr. Anil Kumar Singh (Endocrinology)
Dr. Abhineet Lall (ENT)
Dr. Jamal Ashraf (General Physician)
Dr. Sanjay Kumar Mishra ( Nutritionist)
Dr. Rajiv Ranjan (Paediatrics)
Dr. Vikas Kumar (Clinical Psychology)
Dr. Prakash Sinha (Palmonology)
Dr. Ranjan Kumar (Radiology)
Address
NH 30, Bailey Road, Raza Bazar,
Patna - 800014, Bihar
Contact Number: 0612-710 7700/ 0612-710 7777
Emergency Number: 0612-710 7788
Ford Hospital and Research Center
Since its establishment in August 2010, Ford Hospital has provided people with finest health-care services. Initially started with 60 beds, it has grown rapidly to 105 beds now. Equipped with advanced technology and services having best team of doctors and Staff. Believing in quality services and satisfaction of patients, they have experts from wide range of services.
Salient Features
Affordable health-care multi super specialty services
Implemented advanced technology and Infrastructure
Highly qualified team of doctors who offer best services to patient
Super specialist consultant OPD
Chemist Shop 24*7
Power back up for 24 hours
24 hours ultrasound
Esteemed panel of doctors
Dr. BB Bharti (Cardiology)
Dr. Amitabh Verma (Cardiologist)
Dr. Vikash Kohl (Podiatrist)
Dr. Arun Kumar (Orthopedic)
Dr. Santosh Kumar (General Surgery)
Dr. Praveen Kumar (Laproscopic and Bareatric surgery)
Dr. Prakash Kumar Amar (Panchkarm)
Dr. B.N. Kumar (Neurologist)
Dr. Ashoka Nand Thakur (Pediatric Surgery)
Dr. A.K Verma (ENT)
Dr. Sudish Kumar (Urology)
Dr. Jyoti Gupta (Gynaecology)
Dr. Sanjay Kumar (Medicine)
Dr. Rahul Kumar Sinha (Radiology)
Dr. Amardeep Kumar ( Psychiatry)
Dr. Pankaj Kumar Patel,(Pathology)
Address
New Bypass (NH-30), Khemnichak,
PO-New Jaganpura, PS-Ramkrishna Nagar,
Patna - 800027 (Bihar)
GeneralEnquiry: 0612-3215884/85/86, 9386392846
Medical Emergency: 0612-3215882 / 9386392845
Helpline No.: 9102698977, 9304851985
Sahyog Hospital
Equipped with state of the art technologies, this hospital serves to medical needs for people in Patna. With highly specialized team of doctors, they provide health aid for a wide range of faculties. All the consultants live within close proximity and so are always available. This multi-specialty hospital provides maximum facilities to patents under one roof.
Salient Features
Availability of complete medical Facilities
Highly qualified doctors
100 beds facility
Doctors available 24 *7
Highly qualified and trained staff and nurses
Intensive care unit equipped with advance technology having 20 beds
Facilities of acupuncture and pain management
O.R. complex with 4 advanced operating rooms
Esteemed panel of doctors
Dr. S. K. Banerjee (General Surgery)
Dr. T. Mazumdar (Obstetrics/Gynecologist)
Dr. B. K. Chaudhary (General Medicine)
Dr. Nishant Tripathi, (Cardiology)
Dr. S. M. Rohatgi(Neuro Surgery)
Dr. S. S. Ambastha ( Urology)
Dr. O. P. Kunwar,(Orthopedics)
Dr. Avanindra (ENT)
Dr. P. K. Verma (Plastic Surgery)
Dr. Smita Sinha (Paediatrician)
Dr. N. K. Lall, (Pain clinic & Acupuncturist)
Dr. Vikash Shankar (Dermatologist )
Dr. Sanjay Kumar (Opthalmology)
Dr. Subhash Kumar (Endocrinology)
Dr. Manoj kumar (Gastroenterology)
Dr. Amresh Krishna (Nephrology)
Dr. Mukesh Kumar (Orthodontist)
Address
40, Patliputra colony,
Patna - 800013
Contact Numbers: 0612-2262642, 7763819972
Fax No: 0612-2274690
For Emergency: +91 7763819972
Ambulance: 0612- 2262642
Jagdish Memorial Hospital
Jagdish memorial hospital provides total health care services to people in affordable prices. This is a tertiary level hospital which has almost all modern facilities. Satisfaction of patients is sole propose of this organization and for that they have specialist doctors from all fields. This multi-specaility hospital with advanced technology caters to every health need of the patients.
Salient Features
Computerized process to record details in hospital Information system (HIS)
First Automated laundry system in Bihar
Specious 4 OPD chambers
ABG facilities for 24 hours
Critical care ambulance service available for 24 hours
Central O2 and Central suction facility available
24 hour power backup
Permanent and temporary pacemaker facility
O.P.D with specialized and superspecialized consultants
Facility of echo cardiography
Comfortable and big OT complex with efficient and experienced staff
Esteemed panel of doctors
Dr R Kumar (General medicine)
Dr. B.N Kumar (Neurology)
Dr. A.K. Singh(Cardiology)
Dr. H Kumar (Nephrology)
Dr. S.K Tripathi (Drematology)
Dr. ShaileshSingh(Gastroentrology)
Dr. Umesh kumar singh (Radiology)
Dr. Binay kumar (Psychiatry)
Dr Hemant Verma (Paediatrics)
Dr. Navneet sinha (General surgery)
Dr. R.B Sharma (Neuro surgery)
Dr. N.K Dubey (Urology)
Dr. Priyadarshi Ranjan (Plastic surgery)
Dr. D.P Sinha (Pathology)
Dr. Deepak Mishra (Orthopaedic)
Dr. Pratima singh (Gynaecology & Obstetrics)
Dr. Deepak Mishra (Orthopaedic)
Dr. Ritesh raj (Maxillofacial surgery)
Dr Navneet Sinha (Laproscopic surgery)
Dr S K Sinha (Opthlamolgy)
Dr Ravi Shankar (ENT)
Address
DS-2 , Lohiya Nagar,
Behind Geological Survey of India,
Kankarbagh, Patna - 800020
Phone No.: 0612 - 2361414 - 15 - 16,
Mob No.: 9263631220, 9263631219 (Administration & Corporate)
Fax No.: 0612 - 2350075