Best Hospitals in Thane
Following are the top hospitals in Thane:
Pristyn Care
General surgeons at Pristyn Care are the best and well-known medical professionals in India. We follow world-class health care guidelines to treat diseases like Anal Fistulas, Fissures, Piles, Hemorrhoids, Mulvyadh, Pilonidal Sinus, Hydrocele, Varicocele, Hernias, Gallstones, Circumcision and Varicose Veins. We use the latest and advanced medical devices along with USFDA approved surgical techniques to provide the utmost care and reduced risk of infection to all the patients.
All our general surgeons are experts in providing the safest and risk-free surgeries like Laser Fistula Surgery, Laser Pilonidal Sinus Treatment, Laparoscopic Hydrocelectomy, Laser Piles Treatment, Laparoscopic Hernia Repair Surgery, Laser Circumcision, etc.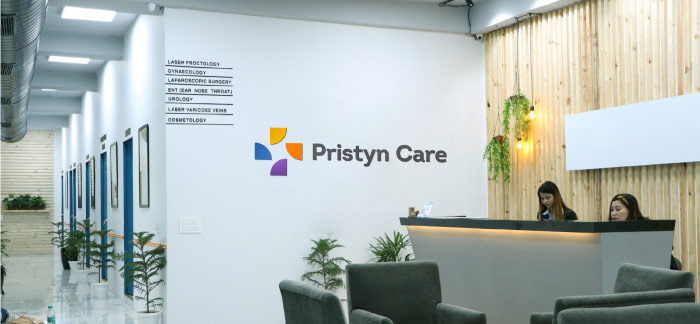 Timings: Monday-Saturday (10:00 AM-8:00 PM)
Speciality: General Surgeon
Address
No S2, 1st Floor, Vedant Commercial Cplx, Gala No 120, Vartak Nagar, Thane, Maharashtra 400606
Jupiter Hospital
Jupiter Hospital is one of the finest medical facilities with potential of being one of the top ranking hospitals globally. The hospital is making continuous effort to be at par with different international hospitals and boasts of having the finest cancer care in South Asia. The hospital houses the best of medical team that works generously for the welfare of their patients. Jupiter Hospital is by far one of the best hospitals in Thane.
Salient Features
A multispecialty hospital accommodating 325 beds
The first NABH accredited hospital in region
The only hospital in India to have ICUs with remote monitoring facilities, enabling doctors to keep an eye on patients even when they are not around
Pneumatic transport systems connecting every department of hospitals to the pathology unit
Operation theaters have laminar airflow which changes air cycles 55 times in an hour to wipe out any chance of infection
Offers cancer drugs with highest subsidized rates making it accessible for people belonging to different sections of society
First in Thane to have IGRT/IMRT in Radiation Oncology department
24/7 Intensive care units
1:1 patient – nurse ratio in emergency units
One of the fewest hospitals to have hotel facilities. Thus being a preferred health care center for people coming from different parts of country and the world at large.
Esteemed Panel of Doctors
Dr. Bhaskar Shah (Cardiologist)
Dr. Nitin Burkule (Cardiologist)
Dr. Namn Vora (Dentist)
Dr. Rajesh Jadhav (Dermatologist)
Dr. K. Kewalramani (Diabetologist)
Dr. Sudha Rao (Endocrinologist)
Dr. Jaydeep Tank (IVF Consultant)
Dr. Sangeeta Gandhi (Gynecologist and Obstetrician)
Dr. D.A. Singh (General Physician)
Dr. Navin Davda (Physician)
Address
Eastern Express Highway,
Thane, Maharashtra – 400601
Contact Number: 022-2172-5555
Emergency Helpline: 022-2172-5523
Thunga Hospital
Committed to offer a pleasant journey from care to cure, Thunga hospital is regarded as one of the top most hospitals in Thane. Continuously endeavoring to meet highest levels of clinical expertise, the hospital has first rate doctors, medical experts and supporting staff working towards delivering unmatched services. Thunga hospital is one of the initiatives taken by Thunga Medical trust and is one of the preferred medical destinations for people.
Salient Features
Working across 3 branches, the hospital accommodates 340 beds in total
ICU facilities are designed to meet international standards
Well equipped ambulance facilities and are termed as 'Hospitals on wheels'
Doctors and medical staff available at any part of the day
Also offers comprehensive pathological facilities
The hospital takes initiatives to conduct various health care camps, blood donations and discounted health packages for those who need them the most
Esteemed Panel of Doctors
Dr. Swami Pawar (Physician – Chest)
Dr. Santosh shetty (Surgeon – Joint Replacement)
Dr. Amruta Achrekar (Gynecologist)
Dr. Ryan Dsouza (Cardiologist)
Dr. P. Mishra (Surgeon – CVT)
Dr. Amol Patil (General Surgeon)
Dr. S. Hansra (Cardiologist)
Dr. H. Parab (Pediatrician)
Dr. Sandip Bhurke (Nephrologist)
Dr. Nikhil Patkar (Radiologist)
Address
Near to Raymond's Showroom off,
Mira Bhayandar Road, Mira Road,
Thane, Maharashtra – 401107
Contact Number: 022-2812-5378
Emergency Contact: 976-888-1234
Help Line: 285-56300
Bhakti Vedanta Hospital and Research Center
Bhakti Vedanta Hospital is one of the rarest hospitals that aims at catering to patients through a harmonious blend of medical expertise and spiritual support. Bhakti Vedanta Hospital is definitely one of the trusted medical centers in the region. Experienced and specialized doctors, guided with the best possible technical availability, the hospital aims at treating patients to the best of their abilities at an affordable price.
Salient Features
A multispecialty hospital accommodating 150 beds
ICUs and ICCUs are fitted with latest medical apparatus and have constant air circulation at short intervals to avoid chances of infection
Ventilation units serve both invasive and noninvasive purposes
NICUs and PICUs are fitted with life support systems for infants to children below 12 years of age
Emergency units have consultants from different medical faculties working 24/7
Both regular and cardiac ambulances are available round the clock
Spiritual counselors for patients and their families. Several cases of drug addictions have been successfully handled and cured by this team.
Esteemed Panel of Doctors
Dr. Abhijit Aklujkar (Cardiologist)
Dr. Ajay Godse (Physician – Chest)
Dr. Ameya Joshi (Endocrinologist)
Dr. B.C. Shah (Surgeon – General)
Dr. Jayesh Soni (Gastroenterologist)
Dr. K. Thiyagaranjan (Gynecologist and Obstetrician)
Dr. Krishnaprasad (Cardiologist)
Dr. Nagraj Murty (Dentistry)
Dr. Nirmal Raut (Oncologist)
Dr. Pooja Piryanka (Otolaryngologist)
Dr. Nilesh Tambe (Dentist)
Address
Shrishti Complex, Bhaktivedanta Swami Marg,
Mira Road East, Thane, Maharashtra – 401107
Ph: 022-2945-2400
Regular Ambulance: 022-2945-2590
Cardiac Ambulance: 9321-2155-9160
Appointment: 022-3005-2500
Bethany Hospital
Adhering to its vision of serving mankind, Bethany Hospital; earlier known as Lok Hospital, stands tall as one of the most desired hospitals in Thane. Catering to every medical need of inhabitants, Bethany hospital employs the best of doctors who could serve with efficiency and compassion. The hospital is also committed to be the single center of excellence and afford-ability. And this connects them to people coming from different walks of life.
Salient Features
A multispecialty hospital accommodating 125 beds
NABH certified hospital
Well designed ICUs, NICUs with latest technological advents accommodating 12 beds in total
5 bedded HDUs, dialysis unit, and delivery suites
Two Operation theaters that are modular designed
Highly advanced Cancer Care units with the latest Varian Linear Accelerator
Offers both pediatric and general physiotherapy
Runs a neuro rehabilitation center
Comprehensive pathological services
Esteemed Panel of Doctors
Dr. Stephen Alfred (Gastroenterologist)
Dr. Sameer Rege (Laparoscopic Surgeon)
Dr. Kavita Mehta (Gynecologist)
Dr. Hemant Sankpal (Ophthalmologist)
Dr. Abhijeet Bhagwat (Orthopedic Surgeon)
Dr. Shivaji Mane (Pediatric Surgeon)
Dr. Nageshwari Sharma (Plastic Surgeon)
Dr. S. Patwardhan (Urologist)
Dr. S.C. Dey (Cardiologist)
Dr. Swati Garekar (Cardiologist – Pediatric)
Dr. V. Iyer (Brain and Spine Surgeon)
Dr. Kuldeep Dalal (Medicne)
Address
Opposite to Maa Niketan,
Pokhran Rd, NO-2, Unnathi Gardens,
Shivaji Nagar, Thane West,
Thane, Maharashtra – 400607
Contact Number: 022-2172-5100
Emergency Contact: 022-2172-5222
Diagnostic: 022-2172-5128
Horizon Hospital
Horizon hospital was initiated to provide tertiary medical care to the people of Thane. Being one of its kind, the hospital is by far the most equipped Boutique hospitals in region. Horizon hospital is committed at being the finest emergency care centers for inhabitants and hires professionals who could serve expeditiously. Horizon hospital offers services over a broad spectrum, making it one of the sought after hospitals in Thane.
Salient Features
A super specialty hospital in Thane and the most advanced boutique hospitals in region
The first center for sleep disorder treatments in Thane
Impromptu ICU services with cutting edge technology
It is one of the few hospitals in Thane and Mumbai, to offer the latest EBUS procedure for lung cancer diagnosisOffers various diagnostic procedures at an affordable price
24/7 emergency services
A unique rapid response system
Esteemed Panel of Doctors
Dr. B.C. Kalmath (Cardiologist)
Dr. Vishwanathan Iyer (Neurosurgeon)
Dr. H. Vaidya (Critical care specialist)
Dr. A. Amonkar (Cardiologist)
Dr. Nimish P. Shah (Gastroenterologist)
Dr. Sunil Kutty (Neurosurgeon)
Dr. A.A. Bapat (Urologist)
Dr. Yogesh Vaidya (Orthopedic surgeon)
Dr. Mrudula Bapat (Radiologist & Sonologist)
Dr. Bhaven Poojara (Neurologist)
Address
Malati Mohan Bunglow,
Opposite to Naupada Telephone Exchange,
M.G. Road, Thane (West) – 400602
Ph: 022 254- 43722