Top 7 Orthopaedic Hospitals in Varanasi
Following are the top 7 orthopaedic hospitals in Varanasi:
Apex Hospital
The foundation of Apex Hospital is based on the very essence of care, life, commitment and compassion for success. It is a leading provider of complete health-care services. The hospital constantly works towards enriching lives, promoting good health and making every moment count. It is the best Orthopaedic treatment center in Varanasi. It has the Largest number of pedicular screws in Varanasi Orthopedics and Trauma Surgery is their specialty and there is a contemporary well equipped department of Orthopedics and Trauma Surgery with full time consultant surgeons.
Salient Features
Largest Echo friendly Hospital campus in Varanasi
Has Managed Largest number of fracture cases in Central India
Comprehensive Diagnostic Center with world class modality
Managed Largest number of trauma patients in Eastern U.P
Laminar Air flow in Operation Theatre
Use of Advanced technology in Instrumentation
Facility of Image Intensifiers
Specialized and Trained staff
Well equipped ICU for post operative care
Use of advanced technologies and best possible facilities to patients in Varanasi.
Esteemed Panel of Doctors
Dr. S. K. Singh (Joint Replacement & Spine Surgery)
Dr. Swaroop Patel (Arthroscopy & Joint Replacement Surgery)
Address
Apex Hospital
D.L.W. Hydle Road, Varanasi-04
Hospital Information No: 0542-2300823
Hospital Fax No: 0542-2317414
I.C.U. No: 09450960573
Diagnostic No: 0542-2316222
Ambulance No: 09415304105
Blood Bank No: 0542-2316794
Trauma Center No: 0542-2317528
---
Gurudev Hospital
Gurudev Hospital is a multi-specialty healthcare center where you will get all types of medical facilities under one roof. It has a best team of doctors with specialization in their respective fields. The modern infrastructure and the state-of-the-art facilities provided to the patients aids in speedy recovery. Orthopaedic department at Gurudev Hospital provides highest standards of orthopaedic care. It is well known for its expertise and resources in handling different types of services for patients in the stream of orthopaedic medicine.
Salient Features
Wide range of surgeries available
Highly skilled team of Doctors
Best panel of specialists who treat various types of ankle and foot disorders
Surgical theaters for operating on patients with complications like polio and club foot
A very high success rate in performing complex surgeries using advanced techniques
Best visiting doctors for providing expert consultations to patients
Trauma Surgery for spine, pelvis and shoulder replacement
Specialists with great experience to perform wide range of joint repair and replacement services
Equipped with best ortho-surgical facility
Uses advanced ortho-surgical technology
Esteemed Panel of Doctors
Dr. S. K. Yadav (Orthopedic surgeon)
Dr. A. K Yadav (Ortho)
Address
Gurudev Hospital
SA 20/168 R-1, Paigamberpur,
Panchkroshi, Sarnath, Varanasi-221007
---
Orthomax Hospital
Orthomax Hospital provides the best orthopedic treatment in the City of Varanasi. It has advanced and world class orthopedic services in the town. This hospital is fully air conditioned and equipped with all advanced medical equipments. All orthopedic surgeries are performed here.
Salient Features
It is the special clinic where all types of arthritis patients are given treatment
30 Bedded
A special team of Doctors to perform Rheumatology and Orthopaedic surgery
Physiotherapist and Pain consultants available
Availability of Spine Clinic– A clinic where patients of cervical spondylosis disability, disc prolapse, back pain, scoliosis and spinal tuberculosis are treated by a special team comprising of Orthopaedic Surgeon, Pain consultant, Neuro surgeon and Physiotherapist
Best trauma care & accidental unit
Onlyhospital providing Spondylolisthesis correction treatment
Esteemed Panel of Doctors
Dr. Amit Jaiswal (Specialist in Joint Replacement & Spine Surgery)
Dr. Amit Gupta (Specialist in Arthroscopy & Trauma )
Dr. Manoj Gupta (Specialist in Ilizarov & Trauma surgery)
Dr. Rohit Agarwal (Pain Management Unit)
Address
Orthomax hospital & joint replacement centre
Bhagwan Das nagar colony,
Sigra, Varanasi, U.P.
---
Ramakrishna Mission Hospital
Ramakrishna Mission hospital is run by Sevashrama as a full-fledged hospital. This hospital is also known as Kaudia hospital. It has facilities of Patients departments and various diagnostic units. The OPD here also offers Homeopathic treatment. It offers services for many range of specialties. It also provides treatment for any orthopedic problems. All the treatments are available at reasonable rates which poor can also afford.
Salient Features
230 beds in total
27 Cabins with an extra cot and attached bathroom
195 Beds are in General Ward
Treatment for both Allopathy and Homeopathy
General Ward Patients are provided with free bed, food, nursing and medical services
Full/partial free treatment on request for poor
Four Operation Theatres with advanced special equipments
All major surgeries including uro, paediatric, neuro, plastic, orthopaedic and laparoscopic surgeries are performed
Facilities for IOL and Phaco Eye Surgeries are also present
8 beds with 4 ventilators and 2 Bi-pap
24 hours dedicated team of doctors, paramedics and nurses to take good care of patients.
Reasonable charges for the HDU beds
Esteemed Panel of Doctors
Dr. Gautam Chakraverty M.S (Ortho)
Dr. P.D. Mishra M.S (Ortho)
Dr. Unmesh Chakraverty M.S., (Ortho), D.N.B.(Ortho), M.Ch.(Ortho)
Dr. Amit Jaiswal M.S (Ortho)
Dr. Ravi Prakash Sahai M.S (Ortho)
Address
Ramakrishna Mission Home of Service
Luxa, Varanasi
Uttar Pradesh 221010
---
Meridian Nursing Home & Hospital
Meridian Nursing Home & Hospital Pvt Ltd. was initiated in year 2005. Its only aim is to bring world-class medical care within the reach of general public. It is located on the Holy Buddha Sarnath-Kushinagar-Bodhgaya which is just 2 km away from Sarnath on Varanasi-Ghazipur highway. This is a multispeciality hospital which provides advance level Medical services to the people from eastern region of Uttar Pradesh, part of Chattisgarh and Western Bihar. The orthopedic department of this hospital has treatments available for various orthopedic problems. There is team of doctors who are specialized to perform various orthopedic surgeries.
Salient Features
100 bedded
24*7 fully automated lab
24*7 emergency service available
International standard trauma care unit
Advanced and state-of-the-art equipment used in emergency department
Specialist for spinal surgeries, Total knee replacement, total hip replacement, trauma and deformity surgeries.
Esteemed Panel of Doctors
Dr. S.Kumar Singh (Orthopaedic surgeon)
Dr. K.P.Jaiswal (Orthopaedic surgeon)
Address
Meridian Nursing Home & Hospital Pvt Ltd
Opposite Power House, Ledupur, Ashapur
Varanasi (UP) Pin: 221007
---
Alliance Hospital
Located in the heart of the City in Varanasi, Alliance Hospital is an multispecialty clinic where you will get treatment for all diseases under one roof. It provides excellent health facilities at affordable prices. It provides advanced unique services in the field of Laparoscopic surgery & urology. It provides Lithotorfy surgery percutaneous nephro lithroscopy advanced laparoscopy. It has advanced treatments in the orthopedic department. This hospital provides best services at most affordable rates.
Salient Features
The center is well equipped with advanced machines in operation theatre according to international Parameter
Dialysis Unit Available
Availability of Lithodurmy Unit
ICU
NICU
C-ARM Machinery available
Laparoscopic Units available
Full Endoscopy treatment available
Provides cash less facility to R.S.B.Y. UNITS
In-house 24hr drug store
Ambulance Services available 24x7
Admission & Endoscopy surgery 24x7
Treatments and surgeries for Bone and joint disease
Esteemed panel of doctors to perform orthopedic treatments
Plaster and operation of all Preccr diagnosis
Treatment of arthritis and diseases of the spinal cord
C - arm machine facilitates available for complex operation
Arthroscopic unit available
Facilities for Hip and knee joints and joint replacement surgeries
Esteemed Panel of Doctors
Dr. Tariq Abdul Haleem (Spine Surgery)
Dr. G. B. Kale (Orthopedist)
Dr. Sameer Palaskar (Orthopedist)
Dr. Swapnil Kini (Orthopedist)
Address
Alliance Hospital
C-20/1-73, Ramakant Nager,
Pichash Mochan, Varanasi
---
Hari Bandhu Fracture Clinic & Trauma Centre
Hari Bandhu Fracture Clinic is a well known Multi Specialty Hospital. It is known for maintaining its professional standards. It is the leading centre for Orthopaedics and Orthopaedic Research. It has best specialties in the field of Surgeries, Joint Replacement,Trauma Care and Orthopaedics. It also has specially designed centre for Thoracic & Cardio Vascular Care, Nephrology, Neuro Surgery and Neurology, Paediatric Cardio Surgery, Liver Diseases & Gastroenterology and Cancer treatments like Surgical, Medical and Radiation Oncology and many other specialties.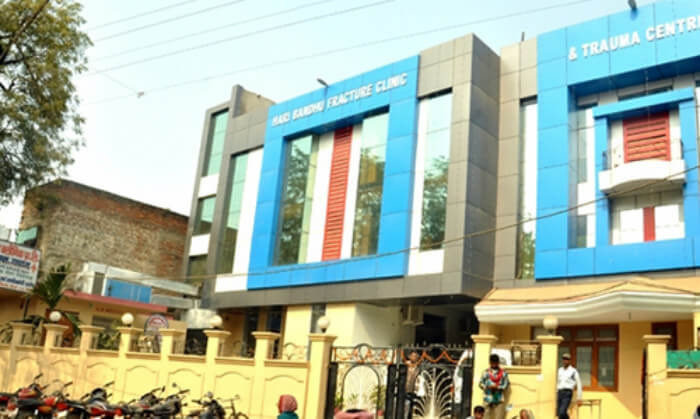 Salient Features
Novel medical infrastructure and facilities
Total Knee Replacement surgeries available
Total Hip Replacement surgeries available
Shoulder Replacement surgeries available
Treatment for Back pain problem
Best expertise in emergency surgery and trauma care
24*7 available Trauma surgeons, emergency medicine physicians and anesthesiologists
Esteemed Panel of Doctors
Dr. S. N. Yadav (Orthopedic Surgeon, joint Replacement, Arthroscopy & Spinal Surgeon)
Dr Sushil Jaiswal (Spinal Pain Management)
Address
Hari Bandhu Fracture Clinic & Trauma Centre
Paigamberpur, Ashok Vihar Road, Panchkroshi Chauraha,
Varanasi - 201007, U.P, India
---