Pristyn Care
This clinic is one of the highly equipped health care providers that follow all the safety measures and world-class health care guidelines to treat diseases like Piles, Hemorrhoids, Mulvyadh, Fistulas, Hernias, Anal Fissure, Gallstones, Pilonidal Sinus, Bleeding Disorders, Ruptured Hymen, Female Urinary Tract Problems, and Vaginal Discharge with a Foul Smell.
We follow strict safety measures like thermal screening of the patients and regular sanitization of hospital equipment. Visit Pristyn Care to undergo the best and safest surgical procedures like Hymenoplasty, Laser Piles Treatment, Pregnancy Care, Pelvic Pain Management, Laparoscopic Hernia Repair Surgery, Laser Fistula Surgery, Circumcision, and Laser Vaginal Tightening.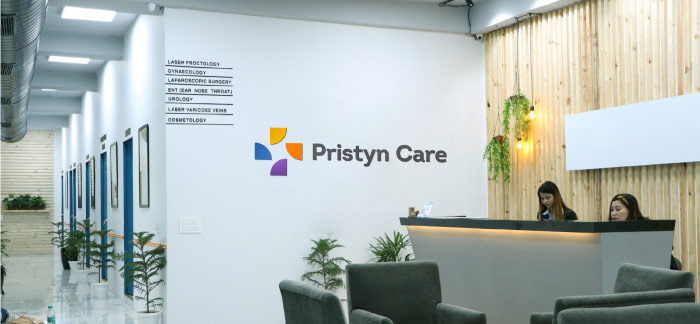 Timings: Monday-Saturday (10:00 AM-8:00 PM)
Speciality: General Surgeon
Address
Office No 102, Girme Heights, C Wing, Salunke Vihar Road, Wanowrie, Pune, Maharashtra 411040
Sahyadri Hospital, Hadapsar
The urology facility at Sahyadri Hospital serves world class medical aid ranging from clinical genito-urinary care to surgical and rehabilitation care. Located in the Hadapsar area of Pune city, this hospital is known to cater high quality healthcare facilities to its patients. It also consists of advanced surgical and minimal access approaches for treating urological cancer cases.
Salient Features
150 bedded medical facility
5 technologically developed surgical rooms
46 beds dedicated for ICU
Equipped with updated machines for screening and imaging purposes
Diagnostic and pathological urology labs backed with systems providing accuracy
Hospital is known to house one of the well equipped labs in Pune
Ultra-tech endoscopic suite providing many interventional and surgical services for urology
Virtual tour options available on the hospital website for international patients
Low radiation machines available for imaging urological organs before and/or during operations
Separate wards for female urology, andrology, urologic oncology and pediatric urology areas
Special equipment utilized in urethroplasty for managing issues related to stricture urethra
Esteemed Panel of Doctors
Dr. Irfan Shaikh - Consultant Urologist
Dr. Sachin Bhujbal - Urosurgeon
Dr. Shrikant Mhaskar - Consultant Urologist
Dr. Ketan Pai - Consultant Urologist
Dr. Shams Iqbal - Consultant Urologist
Dr. Yogesh Kaje - Urosurgeon
Address
Sahyadri Super Speciality Hospital,
S. No. 163, Bhosale Nagar, Hadapsar,
Pune, Maharashtra - 411028
---
Columbia Asia Hospital, Kharadi
Columbia Asia Hospital serves protocol based healthcare assistances for a wide range of urological ailments. Located in Pune, the medical center is most recognized to provide advanced urinary care services to its valuable beneficiaries. The center provides full time medical aid for urological trauma cases, emergency cases, obstructive urology, urinary infections and other intensive urological cases.
Salient Features
Backed with 100 hospital beds
Achieved accreditation by NABH quality community
Exclusive provisions like teleradiology and travel medicine support available
Daycare surgery centers for urology with advanced systems
Specialized facilities to treat issues affecting sexual health in male and female due to urological anomalies
Provision for reconstructive urological operations using LASER technologies
Different wards for conducting major and minor surgical processes with centralized sterile systems
Laser lithotripsy procedures for painless treatment from kidney stones
Flexible ureterorenoscopy processes for removal of stones formed in your urinary organs
Neuro-urology approaches for urodynamic evaluations and study
Esteemed Panel of Doctors
Dr. Arun Wesley David - Urology and Kidney Transplant Surgeon
Dr. Dhananjay Sathe - Urosurgeon and Andrologist
Dr. Sachin Bhujbal - Urosurgeon
Dr. Bhoopat Bhati - Urology and Kidney Transplant Surgeon
Dr. Hrishikesh Deshmukh - Urosurgeon
Address
Columbia Asia Hospital,
22/2A, Mundhwa Road,
Near Nyati Empire, Santipur,
Thite Nagar, Kharadi,
Pune, Maharashtra - 411014
---
Ruby Hall Clinic, Sassoon Road
Ruby Hall Clinic has the reputation of being one of the oldest hospitals around in Pune which started out as a modest 2 bedded nursing home in 1959. Today, it is a multi-specialty, housing treatments for all sorts of ailments known to mankind. It has varied medical branches and highly qualified specialists to treat patients. The urology unit of this medical facility has grown to accommodate diverse range of treatments belonging to the neurosurgical discipline of medical sciences.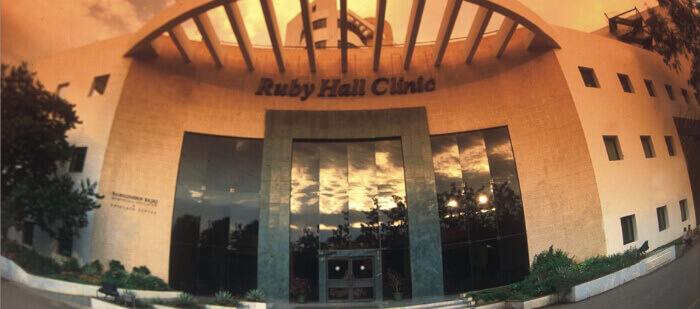 Salient Features
The hospital has the credit of being Pune's very first nationally accredited medical facility
TThe laboratory has been granted accreditation by NABL
TThe laboratory of the hospital is the only one in the entire city to be granted recognition by Zonal Transplant Co-ordination Center (ZTCC), Pune
TEvery bed has centrally attached suction, haemodialysis and oxygen system
TThe urology unit has advanced equipment like Dornier compact Alpha Lithotripter for treatment of kidney stones
TThe advanced treatment machinery has helped the unit to set benchmarks in treatment and diagnosis of kidney stones
TElectro-magnetic shock wave emitting technology available for lithotripsy
TTechnology like X-ray image intensifier allows better treatment of kidney and ureteric stones
TThe urology unit collaborates with many other departments to provide an effective line of treatment to patients
TPediatric urology, kidney transplants, treatments for urological cancers, erectile dysfunction are different treatments available here
TThe medical facility has a 24*7 available laboratory
TTie-ups with international insurance companies for ease of payment for patients from abroad
Esteemed Panel of Doctors
Dr. Himesh Gandhi - Consultant Urologist
Dr. Shirish Yande - Consultant Urologist
Dr. Rajendra Shimpi - Urosurgeon
Dr. Bhoopat Bhati - Urosurgeon
Dr. Ibrahim Kothawala - Urosurgeon
Dr. Rajeev Chaudhari - Urosurgeon
Address
Ruby Hall Clinic, 40,
Sassoon Road,
Pune, Maharashtra 411001
---
Sahyadri Speciality Hospital, Nagar Road
Sahyadri Speciality Hospital, Nagar Road is well known for its two main divisions - Andrology and Urology that offer state of art services for managing urological conditions in men, women and pediatrics. The department for andrology caters full range of medical care to improve urinary health in men. The center includes speciality clinics to carry out preventive and treatment measures to manage urinary infections and ailments.
Salient Features
Capacity of 130 hospital beds
All kinds of lab facilities accredited under NABL standards
Diagnostic centers backed with Colour Doppler to learn about neuro-urology issues
Endourology procedures conducted for efficient outcomes and quick healing
Infection control protocols utilized for handling urological infections cases
Minimal access approaches used for pediatric urogenital problems
Cystoscopy provision to study about the affected lining of the urethra
Nephrectomy and renal transplant surgery procedures for kidney cancer patients in their advanced stages
Reconstructive surgical methods for urethra for patients suffering from vesicourethral reflux
Radiology wards operational for 24 hours backed with unmatched doctors and staff
Esteemed Panel of Doctors
Dr. Ashish Bhave - Urosurgeon
Dr. Shrikant Mhaskar - Consultant Urologist
Dr. Abhirudra Mulay - Urosurgeon
Dr. Shashikant Bhanage - Urosurgeon
Address
Sahyadri Super Speciality Hospital,
Near Hermes Heritage, Shastri Nagar,
Nagar Road, Yerawada,
Pune, Maharashtra 411006
---
Noble Hospital, Hadapsar
Since its inception, Noble hospital is recognized as a healthcare center for catering world class urological services across Pune. The hospital has achieved many accreditations and awards for facilitating highest quality medical care to all its beneficiaries. The center for urology at this institution renders all types of clinical, surgical and therapeutic measures to prevent and cure urinary tract disorders.
Salient Features
Recognized NABH center
50 beds dedicated for oncology center that also caters uro-oncology procedures
Houses Burn ICU (First Burn ICU in the city) provisions with 10 bedded facility under the same roof
10 bedded Intensive Care wards with Laminar flow systems and HEPA filters
4 ultra-modern surgical wards
C-arm facilities with image reflectors for instant learning of ailments through high quality visuals
Lithotripsy (ESWL) procedures conducted for managing cases of larger and complex kidney stones using shock waves
Diagnostic and radiology tests available for detecting urinary tract cancers
High quality of medicines for clinically treating urinary infections and acute ailments of the urinary tract
Minimally invasive surgical methodologies performed using endocameras for better results
Esteemed Panel of Doctors
Dr. Shashikant Bhange - Consultant Urologist
Dr. Abhirudra Mulay - Urosurgeon
Dr. Milind Bapat - Urosurgeon
Dr. Irfan Shaikh - Urosurgeon
Dr. Vikram Satav - Urosurgeon
Address
Noble Hospital, 153,
Magarpatta City Road,
Hadapsar, Pune, Maharashtra - 411013
---
Sahyadri Speciality Hospital, Deccan Gymkhana
Sahyari Super Speciality Hospital is a one stop solution for all types of genito-urinary problems faced by men and women in Pune. The hospital advances in clinical, medical and surgical areas of urology to offer a complete spectrum of treatment for urinary tract disorders. Aiming towards quality, the hospital is backed with latest and updated systems to solve chronic and complex cases of urology in pediatrics and adults.
Salient Features
202 bedded healthcare unit
16 full scaled beds designed for neuroscience department, also catering neuro-urology processes
Fourth hospital in India to have achieved AAHRPP accreditation
Technological systems utilized with latest generation models in the diagnostic, clinical and surgical wards of urology
Equipped with dual source CT scan machines for efficient monitoring of various urinary tract infections and diseases
3 Tesla MRI for high quality imaging for diagnosis and surgeries of genito-urinary ailments
All sub-division infrastructured with digitized systems for easy accessibility
All types of endoscopic methods available for treating kidney stones, gallbladder stones, UTIs, etc.
Specialized andrology services for men dealing with sexual issues caused due to urinary disorders
Esteemed Panel of Doctors
Dr. Ketan Pai - Urosurgeon
Dr. Amol Talulikar - Urosurgeon
Dr. Shirish Yande - Urosurgeon
Address
Sahyadri Super Speciality Hospital,
Plot No. 30 - C, Erandwane, Deccan Gymkhana,
Pune, Maharashtra - 411004
---
AiMS Hospital, Aundh
With patients first approach, AiMS Hospital aims to delivery comprehensive and quality urology services for pediatrics and adults. The hospital is named among one of the top urology centers of Pune city. This tertiary care institution gives easy access to medical and diagnostic facilities followed under International standards.
Salient Features
101 bedded healthcare institution
5 surgical rooms equipped with technological setups
Inpatient and outpatient urological facilities available
Laparoscopic assistance provided to monitor and treat an array of urinary tract disorders
Corrective procedures for stress incontinence and its symptoms
Renders full scaled surgical and therapeutic management of genito-urinary cancers
Inter-department tie ups providing related clinical and surgical assistance for those in need
Laser adept machines and systems for surgical removal of kidney stones, gallbladder stones and tumors
Separate well maintained and children friendly urology rooms for pediatrics
24 hours of emergency and urology trauma care services provided
Esteemed Panel of Doctors
Dr. Hiralal Chaudhari - Consultant Urologist
Dr. Mhaske Sunil Madhaorao - Urosurgeon
Dr. Amol Talaulikar - Urosurgeon
Dr. Devendu Shah - Genito-urinary Surgeon
Address
Aundh Institute of Medical Sciences,
Survey No. 154, AIMS, Road, Near AIMS Square,
Aundh, Pune, Maharashtra - 411007
---
Surya Sahyadri Hospital, Kasba Peth
Established in the year 1984, Surya Hospital is listed as one of the topnotch medical care unit for treating all types of problems related to urinary tract. The pathology and radiology laboratories of this hospital provides full time accessibility to its valuable patients. It is backed with highly trained urologists, andrologist, urosurgeons and organ transplant surgeons and other medical staff aiming towards offering full range of urology care.
Salient Features
Exclusive clinical and therapeutic urology facilities available
Specialized programmes for follow up checkups, physiotherapy and dietary counseling for patients in their post-surgery phase
Painless procedures for treating problems like piles, kidney stones, etc.
Video endoscopy utilized for complex surgical intervention of urinary tract ailments
Lithotripsy options using shock waves techniques for breaking larger kidney stones
Pharmacy units operational for 24 hours backed with quality medicines and medical equipment
Uro-surgery rooms engineered with updated medical apparatus and tools
Specialized medical and therapeutic assistance for removal of tumors in urology cancer patients
Preventive programmes for children to teach them about urinary tract hygiene
Full time diagnostic services available for examination, screening and imaging purposes
Esteemed Panel of Doctors
Dr. Ketan Vartak - Urosurgeon
Dr. Yogesh Kaje - Consultant Urologist
Dr. Satish Tembe - Urosurgeon
Dr. Hrishikesh Deshmukh - Consultant Urologist
Address
Surya Sahyadri Hospital,
1317, Kasba Peth, Agarwal Road,
Near Shaniwar Wada,
Pune, Maharashtra - 411011
---
Sahyadri Hospital, Kothrud
Sahyadri Hospital is a reputed healthcare utility center that delivers all types of primary and secondary urology care services and facilities. With integrated systems, the hospital provides diagnostic, surgical and clinical aid to manage a wide spectrum of urinary disorders. The hospital provides full time trauma and emergency care for those who require immediate medical help.
Salient Features
Equipped with strength of 31 hospital beds
Imaging and monitoring centers well maintained with hi-tech systems
Advanced surgical options for complex cases of urinary tract disorders
Special therapy sessions conducted after surgery to help patients recover well
Minimal access method for removal of tumor in bladder & kidney cancer patients
Different approaches for renal transplant available
Bloodless treatment alternatives for treating urinary tract infections in men and women
Diagnostic rooms customized with video recording facilities
Pharmacy well equipped with highest quality drugs for 24 hours
Intensive care team works 24/7 to render comprehensive care for critically sick patients
Esteemed Panel of Doctors
Dr. Ketan Pai - Urosurgeon
Address
Sahyadri Hospital,
Plot No. 9-B, S. No. 148 A/B,
Opposite Vanaz Factory,
Neena Society, Lokmanya Colony,
Paud Road, Kothrud,
Pune, Maharashtra - 411038
---